International Internet Magazine. Baltic States news & analytics
Monday, 28.05.2018, 12:50
Ilves in Ottawa: Estonia and Canada are close and responsible partners
BC, Tallinn, 02.05.2013.

Print version
Estonia and Canada are close and responsible partners, Estonian President, Toomas Hendrik Ilves, said when arriving at the official state visit to Canada on Wednesday, informs LETA.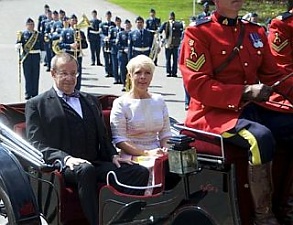 Toomas Hendrik Ilves with wife in Ottawa. Photo: president.ee
"We are both, Estonia and Canada, driven by the same ambition expressed in the motto of the Order of Canada – Desiderantes meliorem patriam. Desiring a better country," said President Ilves, the first Estonian head of state to arrive in Canada on an official state visit, the president's chancellery said.
"Geographical distance has never dissuaded us. As NATO allies and supporters of a strong Trans-Atlantic bridge, Estonia and Canada are close and responsible partners in the complex world of the 21st century," said President Ilves, in addressing the Governor General of Canada, David Johnston.
"Co-operation in the sphere of education and especially information technology, common experiences on the battlefield in the most dangerous parts of Afghanistan in the NATO-led operation and support for strong economic and political relations between Canada and the European Union – these are only a few of the important areas that characterise the similarity of our thinking, and more importantly, acting," said the Estonian President.
President Ilves also recalled his personal memories of Canada, where he spent a number of summers as a child in the Jõekääru Children's Camp, Ontario, and later lived for four years in Vancouver, where he taught Estonian language at Simon Fraser University.
The Estonian President thanked Canada for its support for NATO enlargement at yesterday's state dinner, given by Governor General Johnston, as Ottawa was the first to ratify Estonia's accession to the Alliance and to support the Baltic air security mission.
The Estonian President, who was welcomed at the residence of the Governor General by members of the local Estonian community, described Canada as a special country for families on both sides of the Atlantic Ocean, as Canada and Canadians reached out a helping hand to many Estonians who were escaping from the communist terror. They and their children grew up to become successful Canadians who have still preserved a piece of Estonia. "Parts of Estonia are scattered all across Canada," admitted President Ilves, who also acknowledged the Canadian Estonians who returned to Estonia after 1991 and are now working as successful diplomats, in other fields of public service, culture or business. Most recently, Ardo Hansson became President of the Estonian Central Bank.
The main purpose of the state visit of President Ilves is to strengthen bilateral political and economic relations between Estonia and Canada and to confirm the importance of Trans-Atlantic co-operation.
The Estonian Head of State will meet in Ottawa with the Governor General of Canada, David Johnston and the leaders of the Canadian Parliament.