International Internet Magazine. Baltic States news & analytics
Thursday, 02.12.2021, 21:13
Latvian president in Ireland: re-emigration plan not feasible
BC, Riga, 14.02.2013.

Print version
Taking into account the current development level of Latvia, the government's pending re-emigration strategy is not feasible, LETA/baltic-ireland.ie reports following President Andris Berzins' meeting with Latvians residing in Ireland.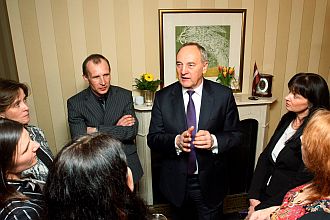 Andris Berzins' meeting with Latvians residing in Ireland. Photo: president.lv
During the meeting, Berzins said that the re-emigration plan was not feasible, given the current development and education level in Latvia, because the planned new jobs may look good on paper but many of them will never be created. "A few years ago, one of the ministers said that 50,000 new jobs would be created in a year. The current ministers are a little more down-to-earth and say that 30,000 new jobs will be created. But I can see that this is impossible at the moment. It is not that simple. If we continue to make grave, unforgivable mistakes, without taking in consideration the trends in Europe, Latvia may see very hard times in ten years. During the next ten years we will see whether Latvia can become a developed country," said Berzins.
The president said that many of the Latvians living in Ireland had to start everything from scratch. "It would be good if some of you, those who feel stronger than the people who shape politics and business in Latvia now, come back – then there will be hope," said Berzins, adding that Latvian politicians had already committed too many mistakes.
Baltic-ireland.ie writes that Latvians participating in the meeting observed that the president did not have his head in the clouds and was very well informed about the current trends and processes. "It was nice to see that the president did not hesitate to call a spade a spade when he had to. This also concerns some of the decisions made by ministers and ministries," writes the portal.
As reported, Berzins was visiting Ireland yesterday to meet with top Irish officials as well as members of the Latvian community in Ireland.