International Internet Magazine. Baltic States news & analytics
Monday, 21.05.2018, 23:41
Clinton: Latvia is a success story
Nina Kolyako, BC, Riga, 29.06.2012.

Print version
During a joint press conference with Latvian Foreign Minister Edgars Rinkevics in Riga yesterday, United States Secretary of State Hillary Clinton said that Latvia is a success story, and is a country that has gained much from integration into European and Trans-Atlantic organizations.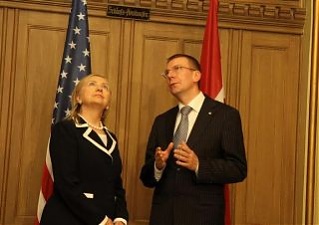 Hillary Clinton and Edgars Rinkevics. Riga, 29.06.2012. Photo: flickr.com
''Latvia is a success story, which has truly gained from integration into European and Trans-Atlantic organizations,'' Clinton pointed out, emphasizing that despite the achievements, every country must double their efforts to ensure democracy and prosperity throughout the continent, writes LETA.
Clinton expressed admiration to Latvia's achievements in overcoming the economic crisis, as well as to the fact that Latvia, despite its hardships, keeps making substantial contributions towards security and defense.
In turn, Rinkevics once again confirmed Latvia's commitment to increase defense spending to two percent of GDP by 2020.
''Latvia truly went through an economic recession, but you had the courage to make several tough decisions and carry out necessary economic reforms,'' Clinton emphasized, adding that Latvia's current economic growth figures are very impressive.
However, the U.S. secretary of state pointed out that regardless of economic progress, Latvia still has high unemployment, thus reforms must continue to be implemented, in order to improve competitiveness as well as transparency.
Clinton also praised Latvia's effort to diversify energy supply sources, and pointed out that the United States will look to see if it can offer its assistance in this area.
The U.S. secretary of state also thanked Latvia for its contribution towards to mission in Afghanistan, where currently 200 Latvian soldiers are serving shoulder-to-shoulder with U.S. troops and training the Afghan armed forces.
Meanwhile, Rinkevics said that a wide range of topics were discussed during the meeting, including political and economic cooperation, the future of Afghanistan, the Northern Distribution Network. The two sides also discussed the situation in such countries as Ukraine, Belarus, Moldova and Georgia, as well as relations with Russia.
Yesterday, visiting United State Secretary of State Hillary Clinton and Foreign Minister Edgars Rinkevics (Reform Party) laid wreaths at the base of the Freedom Monument in Riga.
Several hundred persons watched the wreath laying ceremony, including several tourists. Many people were holding small U.S. flags, and when Clinton walked by they waved and applauded her.
For security purposes, the area surrounding the Freedom Monument was cordoned off with police tape, with approximately 20 police officers keeping the peace. Furthermore, Latvian special forces officers were observing the event from roofs of buildings near the monument.
Clinton and Rinkevics arrived at the wreath laying ceremony by foot from Old Town. After both national anthems were played, both walked to the nearby University of Latvia building.
Latvia is the 100th country that Clinton has visited since taking office as secretary of state.