International Internet Magazine. Baltic States news & analytics
Friday, 30.10.2020, 21:19
Estonia in 2nd wave of coronavirus
BC, Tallinn, 04.08.2020.

Print version
While according to the Estonian Health Board, the current spread of the coronavirus in Estonia constitutes a second wave, the anti-COVID-19 research council advising the government does not quite agree with this assessment, Postimees reports, cites LETA/BNS.
"The number of cases, which for a while nearly dissipated, is on the rise again and we have a large outbreak in our hands," spokesperson for the Health Board Eike Kingsepp said.
Krista Fischer, member of the anti-COVID-19 research council and professor of mathematical statistics at the University of Tartu, said that it is too soon to call the outbreak a second wave.
"We don't know whether this outbreak will abate or proceed at an uncontrollable rate. In my view, however, it's too soon to call it a second wave," Fischer said.
Irja Lutsar, head of the research council and professor at the Institute of Biomedicine and Translational Medicine of the University of Tartu, likewise said that there is no second wave in Estonia yet.
"This is continuously the first wave. The virus has not gone anywhere," she said, adding that the number of new infections grows daily and days with no cases are rather an exception.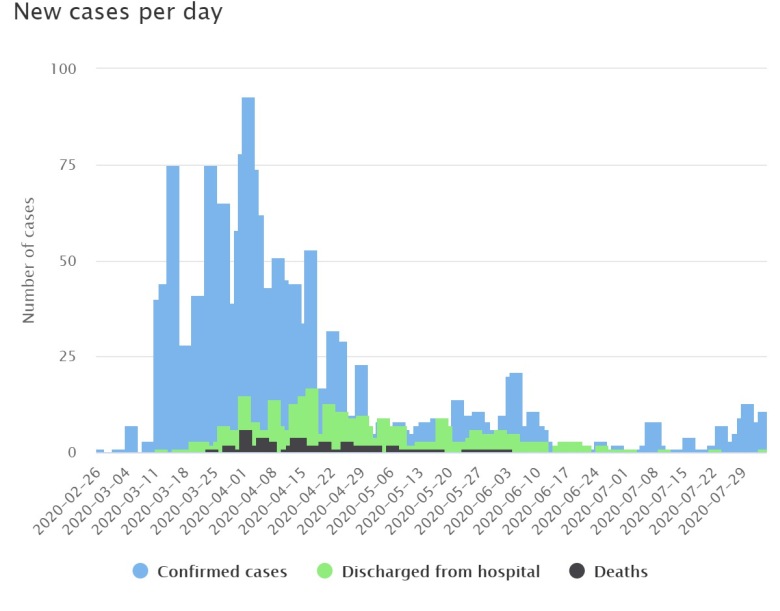 The World Health Organization (WHO) said at the end of last week that the next wave of the coronavirus may be driven by young people. The Estonian Health Board, too, said that current new cases have emerged among young people.
The average age of coronavirus patients who contracted the virus at Vabank nightclub in Tartu is 24.  "This only applies to the so-called first round of infections as currently the youngest virus carrier in this outbreak is less than 10 years old and the oldest is over 70," Kingsepp said.
Fischer confirmed that the virus spread is currently driven in Estonia by young people. "Whether or not this constitutes a wave is a separate issue. My understanding is that the virus has predominantly spread among young people and there haven't been many patients over the age of 50," she said.
Fischer noted that unless the spread reaches older age groups, there is currently no great cause for concern. The virus can severely affect young people, too, however. "A US study showed, unfortunately, that young people can also struggle quite a bit with this virus, and that for one-fifth, the course of the disease proves lengthy, possibly spanning one month," she said, adding that the virus spreading among young people will likely not overburden hospitals.
Lutsar noted that 15-18 percent of those who have contracted the disease are aged over 50, with the rest belonging to younger age groups.