International Internet Magazine. Baltic States news & analytics
Tuesday, 26.05.2020, 23:06
RAM: the market calm gone as Trump's protectionist policies raise uncertainty
BC, Riga, 16.03.2018.

Print version
The specialists of Rietumu Group have prepared an overview on the return of the investment funds of Rietumu Asset Management (RAM) for February 2018. Along with information on the structure and dynamics of the funds, the review contains the traditional analysis of the current political events and key economic factors that exert an influence on financial markets, reported BC Rietumu bank's press service.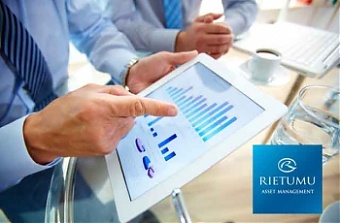 "Despite excellent news and favorable investment environment, main stock indices finished February in red. February drop halted 15-month winning spree for global stocks. Small correction in February replaced rapid growth of January – a healthy development that reminded investors about forgotten risks in the financial markets", say RAM experts in the review.

By the end of February majority of companies reported quarterly results. The earning season was exceptionally good - earnings growth rate for the S&P 500 was 14.8% and sales growth rate was 8.2%. Three sectors had double-digit sales growth rate – IT, energy and materials. These sectors also were top three by earning growth. Recent years trend on widening of valuation multiplicators has changed direction in February. This means that relative value of earnings growth for investors declined due to higher yields on the US government bonds.

Changes in the market inflation expectations led to higher yields on Treasuries. Inflation in the U.S., the economy growth pace fastest in more than two years and strong consumer confidence was reason behind much higher probability of four FOMC rate moves in 2018.

Slowing euro area inflation eased pressure on Draghi to start exit talks about extraordinary accommodative policy measures aimed on recovery of inflation and economy.

However, main reasons to worry were not political events in China, but actions of the president of the US. Trump announced intentions to sign an order to impose the tariffs on imports of steel and aluminum. "The move can partly fulfil his presidential campaign promises for greater protectionism, yet another forgotten risk after Trump's election. Moreover, the tariffs would hurt major US allies – Canada, Mexico, Japan, South Korea and EU the most, and it is unlikely that China would suffer the consequences. Even more, the decision to invoke "national security" to impose tariffs could trigger a "domino effect" as any country may use national security as an excuse for their own trade measures", note RAM experts.

The review on RAM and the current comments of the specialists can be found here.

Rietumu Asset Management (RAM) is part of Rietumu Bank, the leading private bank in Latvia. The company provides professional asset management services. RAM's products and services are intended for a wide range of investors and are designed to meet the specific demands and needs of each customer. In the current market conditions, RAM's specialists offer their customers the ability to reach an effective yield to risk ratio.