International Internet Magazine. Baltic States news & analytics
Thursday, 17.01.2019, 09:16
Davos Forum: European countries must be open to different opinions
BC, Riga, 26.01.2018.

Print version
Countries in Europe must be open to opinions of other countries, even if those opinions differ from their own, Latvian Prime Minister Maris Kucinskis (Greens/Farmers) said during the high-level discussion on the future of Europe and global challenges at the World Economic Forum in Davos, informs LETA.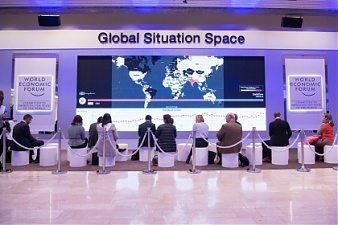 Photo: mk.gov.lv
Speaking about the future of Europe, Kusinskis said there were complicated issues that were diving the member states and affecting the sense of belonging with the EU, the prime minister's office said.
"It is vital that even the most complicated matters are put to a debate. But it is just as important that the member states should listen to each other and be open to the opinions of others, even if those opinions differ from their own," the Latvian prime minister said.
He said this time should be used to rebuild trust in Europe among the citizens that still felt the effects of the economic and financial crisis. This is also the time for continued efforts to strengthen resilience of policies to possible future challenges.
"Our future growth and competitiveness will increasingly depend on the labor force – a highly-developed and educated labor force. Quality of education, life-long learning, research and innovations - these components will be crucial in a competitive economy," Kucinskis.
Estonian Prime Minister Juri Ratas at the Economic World Forum in Davos on Thursday talked about the development of the Estonian digital society, digital identity, and in relation to that the e-residency, and said that the world is looking towards Estonia when it comes to the development of digital identity.
"Digital identity is one of the cornerstones of digital economy," Ratas was quoted by spokespeople as saying. "This was confirmed in Davos by the heads of countries as well as the heads of international economic organizations and large corporations. Estonia for 20 years has been building a digital society and developing e-services that are based on a digital identity. It is especially for this that we stand out from among other countries and we are expected to produce solutions, having a say in the development of the digital identity of the new generation," he said.
The prime minister emphasized that a digital society can only be built with openness and trust and for that, e-services must be secure and data processing must be carried out according to certain rules.
"Estonia has done a lot in legislation, we are flexible, fast and look toward the future. This has been noticed by a number of the world's large corporations like ABB, Telia and Royal Philips, who are interested in cooperation in innovative fields like digital medicine or artificial intelligence. But also, for example the city of Fukuoka, which is prominent in Japan for its number of startups, is looking for places for cooperation with the Estonian startup community. I hope that real business contacts will be born from the Davos meeting, which will bring more foreign investors to Estonia and open doors for Estonian companies abroad," Ratas said.
The World Economic Forum is a global non-profit organization promoting cooperation between the private and public sector, is operating in the name of creating a better future and is focused on groundbreaking technologies and accelerating their implementation.
Estonia started looking for possibilities for cooperation with the World Economic Forum approximately two years ago. The World Economic Forum has invited Estonia to participate in the System Initiative on Shaping the Future of Digital Economy and Society, participate in the annual meeting in Davos, contribute to the work of the Center for the Fourth Industrial Revolution and in fall 2017 Prime Minister Juri Ratas was invited to become a member of the European Young Leaders community.
The prime minister in Davos will participate in discussions on the future of Europe and the performance of world economy, and meet with representatives of companies who have already made foreign investments in Estonia as well as with possible future foreign investors. Among others, Ratas will meet with the heads of Telia Company, Carlsberg A/S, ABB, Royal Philips, Alibaba, AT&T, and Mitsubishi Motors as well as with the prime ministers of Armenia, Kyrgyzstan, and the Czech Republic.