International Internet Magazine. Baltic States news & analytics
Monday, 19.08.2019, 20:51
Lithuania responsibly implements OECD membership action plan
Petras Vaida, BC, Vilnius, 26.10.2015.

Print version
While on his visit to Paris on 22 October, Lithuanian Prime Minister Algirdas Butkevicius met with Angel Gurria, Secretary-General of the OECD to discuss Lithuania's progress towards full membership in the union of the most advanced world economies, reported BC the Government's press service.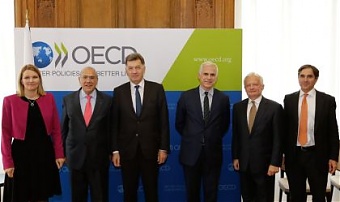 Photo: lrv.lt
"When like-minded countries with the same set of values are together, they are certain to achieve their goals much faster than usual. Therefore, our Government's priority and the interest of the entire people of the country is full-fledged membership of the OECD. Being in the community of most economically advanced countries of the world will enable Lithuania to move faster on the road of competitiveness, thus gaining a new momentum of economic growth," said the head of Government.
The Lithuanian PM thanked Gurria for OECD's support to Lithuania heading towards its membership in the organization. "It is not the speed that matters, but the quality of the accession process," said Gurria. "It is therefore necessary to carefully assess the recommendations and timely implementation of the necessary reforms. We work together with you and for you," the OECD Secretary-General.
Lithuania's responsible approach towards the implementation of the joint Lithuania-OECD action plan was noted in the meeting, as well as its efforts to review together with foreign experts different management areas, including state-owned enterprises, innovation policy, economic evaluation, youth employment and market openness.
"Our institutions are working consistently and responsibly reforming individual areas of the country's economic management model to meet the highest level of international standards. We hope that Lithuania's due efforts will be taken into account in the accession process." noted the PM.
On 9 April, a decision was made to invite Lithuania to begin the accession process to the organization. A formal decision was published on 4 June by the OECD Ministerial Council with the participation of Lithuanian PM Butkevicius. In July, the OECD confirmed an individual accession action plan, setting out relevant requirements and conditionalities for Lithuania. With the plan fast underway, the negotiation process is expected to be completed within three years.
The OECD is an organization, generally referred to as the Rich Man's Club. It is a think tank shaping and developing new economic and social policy guidelines to be later followed practically. Currently, the club includes 34 countries.
The PM completed his visit to Paris by an informal meeting with French Lithuanian Business Club and French Lithuanian community. He talked about measures taken by the Government to ensure sustainable economic growth, pointing out the important role of the Lithuanians living abroad for the future of Lithuania.