International Internet Magazine. Baltic States news & analytics
Tuesday, 21.05.2019, 14:23
President of Latvia hopes that his tasks will be accomplished
Alla Petrova, BC, Riga, 09.03.2009.

Print version
Latvia's president Valdis Zatlers believes that the government and Saeima will manage to accomplish the tasks that he has set for them.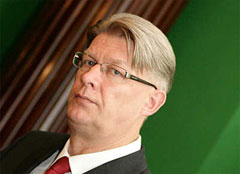 Valdis Zatlers.
In an interview to the LNT television's broadcast "900 sekundes" this morning, Zatlers said that he would evaluate the work of the government and the parliament no sooner than March 31, adding that one of the tasks that he had given to Saeima, to change the election laws, has already been accomplished; Saeima has also endorsed amendments to the Constitution in the first reading, writes LETA.
The work on selecting the next Corruption Prevention Bureau chief also continues, Zatlers pointed out.
Zatlers said that it would not be right to regard his tasks for Saeima and the government as an ultimatum. In Zatlers' opinion, at a time of crisis society will support such government that sets itself short-term goals and successfully attains them.
As reported, in the wake of the January 13 protests and rioting in Riga's Old Town, Zatlers assigned three tasks to Saeima. Zatlers said that if the tasks are not completed by the end of March, he would call a referendum on dissolving the 9th Saeima.
The first task is for Saeima to pass amendments to the Constitution, which would give the nation the right to propose dissolving the parliament. Second, Saeima must amend the laws on elections in accordance with Zatlers' proposals, to eliminate the principle of the so-called "locomotives" or the election tickets being headed by popular personalities, and to ban Saeima members from quitting their political parties and joining others in between Saeima elections. The third task for Saeima is to set up a supervisory council that will supervise the work on an economic recovery plan for Latvia and the utilization of international loan for Latvia.
Zatlers also gave three tasks to the government: to draw up an economic recovery plan for Latvia and start implementing it, appoint a new head for the Corruption Prevention Bureau, and urgently draw up a government and public administration reorganization plan.