International Internet Magazine. Baltic States news & analytics
Monday, 28.05.2018, 12:43
Estonian PM critical of rejection of ACTA
Йохан Тере, BC,Riga, 06.07.2012.

Print version
TALLINN, July 6 (LETA--ERR) - Estonian Prime Minister Andrus Ansip said there was "not much to be pleased about" in regard to the European Parliament's rejection of the Anti-Counterfeiting Trade Agreement (ACTA)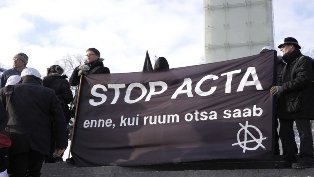 According to him, the problem of intellectual property protection remains unsolved,informs LETA.

"As some members of the European Parliament have said, emotions have become mixed with rational arguments. This flat rejection of ACTA cannot be considered well-founded, knowing that the European Court of Justice is still in the process of developing its position on this issue," Ansip commented at the government press conference on July 5.

Ansip also gave an example, noting that if Estonian entrepreneurs were interested in entering a small, remote market in a country that had signed ACTA, they would have felt safe doing business there. "As it is now, if they do not get to know the market thoroughly, they might lose their property. That is the reality."

As reported, ACTA was rejected by the European Parliament on July 4, 2012, and hence will not become law in the European Union.

This was the first time that the Parliament exercised its Lisbon Treaty power to reject an international trade agreement. 478 MEPs voted against ACTA, 39 in favor, 165 abstained.

While debating whether to give its consent to ACTA, the European Parliament experienced unprecedented direct lobbying by thousands of EU citizens who called on it to reject ACTA, in street demonstrations, e-mails to MEPs and calls to their offices. It also received a petition, signed by 2.8 million citizens worldwide, urging it to reject the agreement.

Estonian Foreign Minister Urmas Paet stated that the decision of the Europarliament on Wednesday to reject the anti-fraud trade pact ACTA the correct one and adds that there is room for discussions still.