International Internet Magazine. Baltic States news & analytics
Thursday, 12.12.2019, 14:21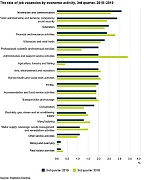 11.12.2019
According to Statistics Estonia, in the 3rd quarter of 2019, there were 11,892 job vacancies in the enterprises, institutions and organisations of Estonia. The number of job vacancies has remained above 10,000 since the 1st quarter of 2017.
11.11.2019
At the end of this past Ocober, the registered unemployment rate in Latvia was 5.7 percent of the economically active population, which is unchanged from a month ago, the State Employment Agency informed LETA.
29.10.2019
Three factors are having a significant impact in the Estonian labour market this year, and these are the loss of momentum in growth in the economy, the loss of competitiveness in the oil shale sector, and the large number of foreign workers coming to work in Estonia for the short term. Even so the labour market has been in a very good position as overall labour shortages have been more of an issue than unemployment. Of all those aged 15–74, 68% were in employment, which is one of the highest figures in the European Union. Unemployment was only 5%, which is very low.