International Internet Magazine. Baltic States news & analytics
Thursday, 09.04.2020, 03:29
Food quality needs additional attention from the EU institutions
Eugene Eteris, RSU/BC, Riga, 14.03.2018.

Print version
Food quality has become issues of great concern in the member states. Responding to consumers' demands, the European Commission started to assess problematic issues. The EU has started with administrative measures: it launched a "Centre for Food Fraud and Quality", which will complement the EU Food Fraud Network by providing an interface between science and policy-making.
Concerns about food fraud and food quality undermine consumer confidence and damage the whole food supply chain in Europe, from farmers to retailers. Recent cases of food fraud included olive oil, wine, honey, fish, dairy products, meat and poultry. In addition, consumers may be exposed to unfair commercial marketing practices, especially regarding food products with significant differences in composition offered in different markets but under a similar package.
The established "knowledge center" is a network made up of experts in and outside the Commission; it will support EU policymakers and the member states' authorities by providing access to, and sharing up-to-date scientific knowledge on food fraud and food quality issues. Tibor Navracsics, Commissioner for Education, Culture, Youth and Sport, is responsible for the Joint Research Centre, which administers the new "Knowledge Centre for Food Fraud and Quality"; the center is situated in Strasbourg.
European Commissioners are unanimous of the center's importance: thus, Commissioner Navracsics underlined that food was the sphere where science could "directly and tangibly" demonstrate the benefits to citizens. And because food fraud is a transnational criminal activity, the EU has a role to play; hence the launch of the "knowledge center", he argued, has been an important step to protect the integrity of the EU food chain and safeguard the quality of food products, generating a clear added-value for Europeans.
His colleague, Commissioner Jourová added that the Commission had already taken a number of concrete steps to tackle the issue. Thus, providing better scientific evidence on food quality (with newly created knowledge center) would bring together experts and knowledge from different locations, while further contributing to collecting and processing science-based evidence. Besides, she argued, the center's work would also contribute to developing a common testing methodology, which in turn would help apply and enforce food and consumer protection laws.
Quality schemes
In the EU member states there is a special agro-program (CAP's program) called "Quality schemes through quality policy". It provides a number of measures to help producers build on the high quality reputation of European products to sustain competitiveness and profitability.
A key tool in this approach is the register of European quality products, which includes more than 1 300 protected food names which are classified in 3 categories:
- Protected Designation of Origin (PDO),
- Protected Geographical Indication (PGI), and
- Traditional Speciality Guaranteed (TSG).
The production of these "registered quality products" contributes to diversity, development and growth in the rural areas where they are produced and protects local knowledge, skills and jobs.
For example, presently, France has 233 food products registered, of which 98 as PDO (such as Roquefort or Beurre d'Isigny), 134 as PGI (such as Saint-Marcellin, Sel de Guérande/ Fleur de sel de Guérande or Melon de Guadeloupe) and one as TSG (Moules de Bouchot).
The knowledge center's competences
- coordinate market surveillance activities, for example on the composition and sensory properties of food offered under the same packaging and branding on several markets across the EU;
- operate an early warning and information system for food fraud, for instance through media monitoring and providing this information to the general public;
- link information systems of Member States and the Commission, such as databases describing the composition of certain high value agro-food products such as wine or olive oil;
generate country-specific knowledge; for example by mapping the competencies and laboratory infrastructures in the member states.
The Knowledge Centre for Food Fraud and Quality will produce newsletters, interactive maps, databases and regular reports and will make this information publicly accessible. The Knowledge Centre will be fully funded by the European Commission.
The size of different expert groups will depend on the subject of its work. The Knowledge Centre will complement the EU Food Fraud Network by providing an interface between science and policy-making.
Alongside the launch of the knowledge center, there was an exhibition "Putting Science at the Heart of European Policymaking" at the European Parliament in Strasbourg, which charts the work and history of the Joint Research Centre since its creation in 1957.
The Joint Research Centre has long-standing expertise in food science including authenticity research and expertise in developing, applying and validating analytical test methods to detect fraud in the food chain.
EU legislative background for food quality
The food chain in the European Union is legislated by several legal acts. Among most important are:
= the General Food Law: Regulation (EC) No 178/2002 of the European Parliament & the Council of 28 January2002 laying down the general principles and requirements of food law, establishing the European Food Safety Authority and laying down procedures in matters of food safety.
= the Food Information to Consumers legislation: Regulation (EU) No 1169/2011 of the Parliament and the Council of 25 October 2011 on the provision of food information to consumers. = Unfair Commercial Practice directive: Directive 2005/29/EC of the European Parliament and of the Council of 11 May 2005 concerning unfair business-to-consumer commercial practices in the internal market.
These legislations require producers' compliance of certain compositional and quality standards of agricultural products.
The Knowledge Centre for Food Fraud and Quality is the fifth to be launched after the ones on Bioeconomy, in https://biobs.jrc.ec.europa.eu/ and EU bio-economy strategy (from 2012) in:
http://ec.europa.eu/info/law/better-regulation/initiatives/ares-2018-975361_en
Territorial Policies, in: https://ec.europa.eu/jrc/en/territorial-policies
Migration and Demography, in: https://ec.europa.eu/jrc/en/migration-and-demography, and
Disaster Risk Management, in: http://drmkc.jrc.ec.europa.eu/ .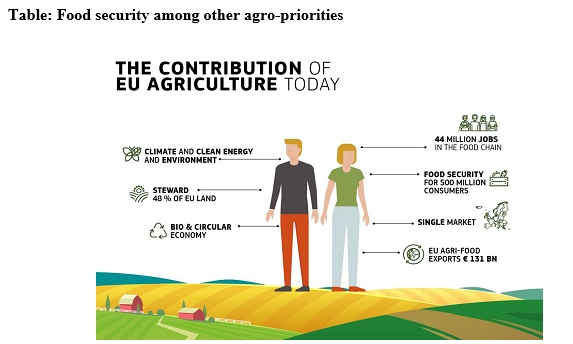 More information in: =Knowledge Centres of the Joint Research Centre; =The Joint Research Centre. EU policy-making based on facts (PDF).
General reference: http://europa.eu/rapid/press-release_IP-18-1744_en.htm/12.03.2018; Latvian version: http://europa.eu/rapid/press-release_IP-18-1744_lv.htm
Farmers' income is still lagging behind salaries in other sectors and whole economy.
Source: DG AGRI based on DG AGRI and Eurostat data, 2011-2013
Average CAP support: operating subsidies per worker incl. support covering possible negative market income. More on the European agricultural issues in: Commission Work Programme 2018 – An agenda for a more united, stronger and more democratic Europe, COM (2017)650 final of 24.10.2017. Source:
https://www.eumonitor.eu/9353000/1/j9vvik7m1c3gyxp/vkiqnh38o5zz