International Internet Magazine. Baltic States news & analytics
Thursday, 09.04.2020, 20:50
Latvian honorary consul caught with contraband cigarettes on Ukrainian-Hungarian border
BC, Riga, 20.02.2020.

Print version
Latvian honorary consul to Ukraine, Yuri Ignatko, has been caught on the Ukrainian-Hungarian border on February 19 with contraband cigarettes in his car, according to the Latvian public television LTV7 reports informed LETA.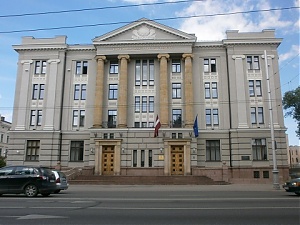 The television reported that border guards had to use force because the honorary consul refused to step out of the car. It turned out that Toyota car with diplomatic number plates had been packed with illegal cigarettes. The Latvian embassy in Ukraine reported today that Ignatko has been recalled from his position.
Foreign Ministry's spokesman Janis Bekeris reported that the ministry has been informed about the incident. The ministry asked Ignatko to explain the situation, but he refused to comment. "Of course, we have to establish all circumstances, but we have acted immediately, and the honorary consul has been recalled," said Bekeris.
He said that Ignatko is a citizen of Ukraine who mostly informally performed duties of the honorary consul, for example, assisting Latvian businessmen in forming contacts between Latvia and Ukraine.
"The network of honorary consuls is significant, we use it across the world because not everywhere we have representations. It is a significant instrument and the consul should have an impeccable reputation," said Bekeris.
It has been reported that no charges have been pressed against Ignatko, and he has not been detained. Bekeris underscored that Ignatko is not a Latvian diplomat or a representative of the Latvian diplomatic service. He is a Ukrainian citizen and has no diplomatic immunity.
"There are specific number plates used in Ukraine, showing that the person is an honorary consul. However, diplomatic immunity does not refer to honorary consuls," said Bekeris.