International Internet Magazine. Baltic States news & analytics
Sunday, 29.03.2020, 09:37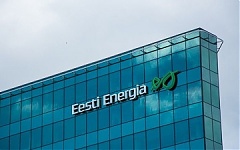 27.03.2020
The Estonian government has authorized Minister of Finance Martin Helme to increase the equity capital of state-owned energy company Eesti Energia by means of a cash contribution of 125 million euros to enable the establishment of a new Enefit 280 oil plant by Eesti Energia, reported LETA/BNS.
13.03.2020
Over 100,000 households across Lithuania were still without power on Friday morning due to strong winds, the country's power distribution company Energijos Skirstymo Operatorius (ESO) said LETA/BNS.
09.03.2020
Lithuania's average wholesale electricity price dropped by 11% last week compared with a week earlier, Litgrid said on Monday.
06.03.2020
Fermi Energia, an Estonian company exploring the possibility to set up a small modular nuclear plant of up to 300 megawatts in Estonia, is looking at the region of Tostamaa as one potential location for the would-be power plant, according to the Parnu Postimees articles writes LETA.
03.03.2020
The European Bank for Reconstruction and Development (EBRD) is set to exit E Energija, a Lithuania-based energy group, but is ready to lend money for its green energy projects, according to the Verslo Zinios information reported LETA/BNS.
03.03.2020
Vilnius Municipality and the municipal heat supply company Vilniaus Silumos Tinklai (VST) are seeking 560 mln euros from France's Veolia, a former operator of the Lithuanian capital's heating sector, in their Stockholm arbitration dispute, up from the previously announced amount of over 400 mln euros, informed LETA/BNS.
03.03.2020
Lithuania's average wholesale electricity price surged by 4 % last week from a weak earlier to 33.1 euros per megawatt-hour (MWh), Elektrum Lietuva said.
02.03.2020
Vejo Parkai, a company owned by Enefit Green, a subsidiary of Estonia's Eesti Energia, and foreign-owned Windfarm Akmene One are planning to build a total of around 50 wind turbines with a total capacity of almost 300 megawatts (MW) in the northern Lithuanian district of Akmene, informed LETA/BNS.
28.02.2020
The total revenue of Estonia's state-owned energy generating and distribution group Eesti Energia in 2019 hit an all-time high of almost 1.02 bin euros, marking the first time that the group's annual revenue has crossed the one billion euro mark, while net profit fell 78% to 23.2 mln euros, informed Eesti Energia`s representative.
28.02.2020
Natural gas distribution system operator Gaso turned over EUR 52.687 mln in 2019, which is about as much as a year before, while the company's profit declined 4.6% to EUR 10.465 mln, according to the company's unaudited financial statements, informed LETA.
27.02.2020
Estonia's Minister of Economic Affairs and Infrastructure Taavi Aas said at a meeting of European Union ministers responsible for competition on Thursday that while the energy sector must change, people's jobs and the security of supply of energy must not suffer, reported LETA/BNS.