International Internet Magazine. Baltic States news & analytics
Tuesday, 18.02.2020, 19:28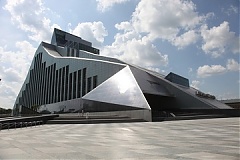 17.02.2020
In the following years, the National Library of Latvia will focus on the creation of digital archives in cooperation with higher education institutions and the Education and Science Ministry, the library's director Andris Vilks told LETA.
05.02.2020
In order to create a higher-value added economy, to provide a high quality and modern education and to increase Latvia's competitiveness in the global marketplace, major changes in the higher education system are needed. The American Chamber of Commerce in Latvia (AmCham) strongly supports the Ministry of Education and Science in its efforts to change the governance model of higher education institutions.
04.02.2020
The Latvian economy cannot provide jobs to all young scientists, Ojars Sparitis, President of the Latvian Academy of Sciences, said in an interview with TV3 channel on Tuesday, citing LETA.
04.02.2020
Ex-president Vaira Vike-Freiberga and the Science Academy of Latvia President Ojars Sparitis will this Wednesday announce the start of the Baltic Sea region's science cooperation project, informed LETA/BNS.
24.01.2020
The North Estonia Medical Center (PERH) and Tartu University Hospital signed a framework agreement on Thursday that is centered on cancer treatment, trauma treatment, treatment of rare diseases and developing a comprehensive patient journey, writes LETA/BNS.
23.01.2020
The Estonian government is about to allocate at its meeting on Thursday 353.75 million euros from the support fund to municipalities for the financing of education, informed LETA/BNS.
22.01.2020
Rimvydas Petrauskas, dean of Vilnius University's Faculty of History, has been elected its rector, the university's spokesman Ervinas Spudys told LETA/BNS.
21.01.2020
The Integration Foundation has announced a round of applications to find partners for organizing family stay language and culture learning for young people whose first language is not Estonian, informed LETA/BNS.
20.01.2020
Latvia's accession to the European Organization for Nuclear Research (CERN) has helped develop a community of excellent physicists also in Latvia, President Egils Levits said during a visit to CERN in Geneva today.
17.01.2020
Scientists are about to start creating a cyber defense environment for securing Estonia's vitally important systems, informed LETA/BNS.
15.01.2020
Placing a smart device in a blood vessel to act as a filter that would warn of the risk of stroke is the healthtech idea devised by the Smart Umbrella team formed by students from Rīga Stradiņš University (RSU).