International Internet Magazine. Baltic States news & analytics
Saturday, 25.01.2020, 05:28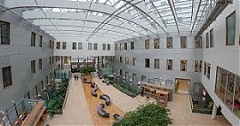 24.01.2020
The North Estonia Medical Center (PERH) and Tartu University Hospital signed a framework agreement on Thursday that is centered on cancer treatment, trauma treatment, treatment of rare diseases and developing a comprehensive patient journey, writes LETA/BNS.
17.01.2020
Scientists are about to start creating a cyber defense environment for securing Estonia's vitally important systems, informed LETA/BNS.
15.01.2020
Placing a smart device in a blood vessel to act as a filter that would warn of the risk of stroke is the healthtech idea devised by the Smart Umbrella team formed by students from Rīga Stradiņš University (RSU).
16.12.2019
Statistics Estonia prepared an analysis for Archimedes Foundation on the participation of international students in the Estonian labour market and its impact on the economy. It appeared that in the previous academic year, foreign students paid eight million euros in income and social tax in Estonia. International students who graduated the year prior contributed additionally over two million euros. The share of international students who work besides studying has increased significantly in the last three years. A half of them continue working in Estonia even after receiving a diploma.
16.12.2019
This week, UK Visas and Immigration (UKVI) announced IELTS, the world's most trusted language test, will continue to be accepted for UK visas that require applicants to demonstrate their English. Following a tender process, IELTS was reappointed as an official test provider for visas required as part of UK immigration applications.
13.12.2019
The Tallinn University of Technology (TalTech) said that it is fully cooperating with the European Commission on the latter's audit of the university's EU-financed projects, informed LETA/BNS.
11.12.2019
The Center for European Policy Studies (CEPS) presented in Tallinn on Wednesday its report on readiness for digital lifelong learning, according to which Estonia holds the leading position in this field, having achieved best results in the digitization of education, followed by the Netherlands and Finland.
09.12.2019
On 13th December, the MA-students from fashion, textile, accessories' and jewellery design at the Estonian Academy of Arts (EKA) will get a rare chance to pitch their newly refined brands and concepts to influential Scandinavian entrepreneurs and investors. They will come all the way to see which next big ideas will get a little help to grow and emerge from the local design market to an international scene. This exciting event is the result of a new programme at EKA designed and led by the internationally renowned business-professional Sissi Silván.
09.12.2019
On December 4, a public organisation the Baltic Center presented a concept of a new Turkish project "TURKEY: DISTANT AND CLOSE" at the RISEBA premises - H2O6 Center for Architecture and Media.
04.12.2019
In 2020, the European Institute of Innovation & Technology (EIT) will invest EUR 500 mln in its Knowledge and Innovation Communities across Europe – the EIT Governing Board decided. This investment will drive European innovation in the areas of climate (EIT Climate-KIC), digitisation (EIT Digital), food (EIT Food), health (EIT Health), sustainable energy (EIT InnoEnergy), advanced and sustainable materials (EIT RawMaterials), manufacturing (EIT Manufacturing) and urban mobility (EIT Urban Mobility).