International Internet Magazine. Baltic States news & analytics
Saturday, 29.02.2020, 00:03
Norwegian Labor Inspection Authority suspends Latvian trucking company Kreiss' operations in Norway
BC, Riga, 21.01.2020.

Print version
The Norwegian Labor Inspection Authority has suspended Latvian trucking company Kreiss' operations in Norway as the company paid its truck drivers much less than stipulated by the Norwegian regulations, the Norwegian Road Haulage Association said LETA.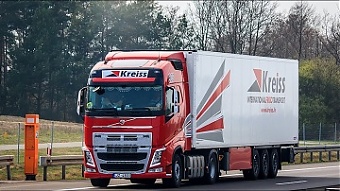 As a result, Kreiss will no longer be permitted to perform freight transport operations in Norway as of January 20, according to the association's website.
The Norwegian Road Haulage Association points out that the Norwegian Labor Inspection Authority has determined that Kreiss pays its truck drivers in Norway much less than required by the Norwegian regulations.
According to the association, Kreiss paid drivers only NOK 24 (EUR 2.43) per hour, although the minimum wage for truck drivers in Norway is NOK 175.95 (EUR 17.81) per hour.
Since Kreiss has not responded to the Norwegian Labor Inspection Authority, it has decided to halt the company's operations in Norway.
On the other hand, Kreiss CEO Andrejs Kuznecovs LETA that the situation with the Norwegian Labor Inspection Authority was due to circumstances beyond Kreiss' control, namely, due to intensifying international competition between the original European Union and European Economic Area members and new member countries from Eastern Europe.
"Although the EU trucking industry is subject to uniform regulations, each member country, in order to protect its internal market, individually adopts laws and regulations restricting other member countries' free access to market, such as regulations on drivers' salaries and social guarantees," Kuznecovs said, adding that Kreiss met all the requirements on truck drivers' salaries and social guarantees provided for in Latvian laws and regulations. However, in order to continue operations in other EU member countries, mostly in Germany, France, Spain, Italy, and the EEA country Norway, the company has to accept "business conditions that are often subjectively exaggerated, including salary and social security requirements".
However, Kreiss has successfully passed all the past annual independent audits in Norway that looked into the company's employment practices. Furthermore, Kreiss' salaries for employees in Norway are in line with the Norwegian laws and regulations. Kuznecovs also said that Kreiss had submitted full information requested by the Norwegian authorities, including by the Norwegian Labor Inspection Authority.
The decision by the Norwegian Labor Inspection Authority to temporarily suspend Kreiss' operations in Norway until the authority assesses additional information submitted by Kreiss will not have a substantial impact on the company's business. According to Kuznecovs, the company will repeatedly submit all the information requested by the authority and use all the legal means available to defend its interests.
In addition, Kreiss hopes for support from the Latvian government and Transport Ministry, as well as international organizations, so Latvian truckers in Norway would feel as comfortable as Norwegian companies do in Latvia, added Kuznecovs.
Kreiss was registered in 1994, the company currently employs 2,914 people, including 2,437 international truck drivers.
The company's turnover in 2018 amounted to EUR 174.149 mln. The company posted EUR 1.581 mln in losses in 2018 as compared to a profit of EUR 1.468 mln in 2017. Kreiss belongs to Kuznecovs (50%) and Sergejs Zalizko (50%).