International Internet Magazine. Baltic States news & analytics
Wednesday, 29.01.2020, 11:44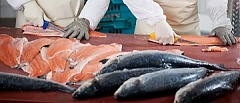 22.01.2020
Overumans Fisk AB, subsidiary of listed Estonian fish products seller PRFoods AS, has obtained an approval to establish an additional fish farm in the Vasterbotten region of Sweden, PRFoods informed the stock exchange.
14.11.2019
Estonian craft beer brewer Põhjala Brewery opened a pop-up bar in Beijing for two months, selling only craft beer from the Põhjala Brewery. The bar sells ten different Põhjala beers from barrels and the selection changes constantly. Põhjala Brewery entered the world's largest beer market in 2016 and the company is testing the market for further expansion plans.
12.11.2019
The weakening of Norway's krone against the euro has not yet hit Lithuanian exports to the market, but exporters say they have already begun to feel pressure to cut product and service prices in talks with their Norwegian partners, according to the Verslo Zinios reported LETA/BNS.
11.11.2019
Estonian producer of metal roofs with integrated solar panels Roofit Solar Energy has raised additional capital for its development and expansion onto export markets, informed LETA/BNS.
01.11.2019
Estonian fish processing companies are now able to export salmon and rainbow trout as well as products containing those fish to the People's Republic of China.
31.10.2019
Exports of Latvian food producers in the first six months of this year has risen by 7.3 percent compared to the respective period last year, Inara Sure, chairperson of the Latvian Federation of Food Companies (LPUF) said LETA.
18.10.2019
Estonian food industry companies produced some 800 million euros' worth of output in the first six moths of 2019, of which one-third was exported, wirtes LETA/BNS.
04.10.2019
The chief executive officer of Lithuania's bicycle manufacturer Baltik Vairas, which sells 95 percent of its products to the Netherlands and Germany, believes that the future belongs to electric bikes, the Lrt.lt online news site has reported, citing LETA/BNS.
02.10.2019
Lithuania is the leader of the Baltic dairy market, surpassing both Estonia and Latvia in terms of production and processing volumes, a survey of the Baltic dairy market by SEB indicates, informed LETA.
26.09.2019
M.V.Wool AS confirms that the fishery products of the company have always complied with the limit values established in the European Union and that the adverse effects of these fishery products on human health have been ruled out. Since the spring, M.V.Wool has been working closely with the Veterinary and Food Board (the VFB) and has established a zero tolerance for the presence of listeria bacteria. Samples taken in the last six months confirm that the company's products comply with the limit values with a good margin.
26.09.2019
Enterprise Lithuania, the government's export promotion agency, sticks to its forecast that exports of Lithuanian-origin goods, not including energy products, will grow by 7.4% to 14.5 bn euros this year, but expects services exports to expand by 14.1% to 11 bn euros, up from the previous projection of 7.4%.