International Internet Magazine. Baltic States news & analytics
Monday, 14.10.2019, 02:01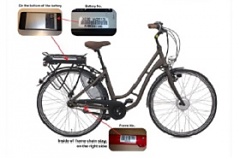 04.10.2019
The chief executive officer of Lithuania's bicycle manufacturer Baltik Vairas, which sells 95 percent of its products to the Netherlands and Germany, believes that the future belongs to electric bikes, the Lrt.lt online news site has reported, citing LETA/BNS.
24.09.2019
Lithuania's Nematekas gets green light to export meat products to Vietnam, informed LETA/BNS.
24.09.2019
Pühaste Brewery, which is already exporting its craft beer to 23 countries, launched a crowdfunding campaign on the platform Fundwise. The microbrewery is looking to raise at least 150 thousand euros from investors in order to increase its operating capacity, provide packaging in more ecological and better-quality cans and add alcohol-free drinks to its product range. While now the brewery exports 60 percent of its products, next year Pühaste is looking to grow its exports to 80%, informed Pühaste representatives.
24.09.2019
Estonian public transport ticketing company Ridango will be launching its services in the city of Imatra during the first half of 2020, which will also be the company's first step towards entering the Finnish market, informed LETA/BNS.
23.09.2019
Lithuanian-owned property administration and maintenance group City Service is combining its digital services into a single company named City Service Digital as part of plans to export its e-Bustas (e-Housing) mobile app and other digital projects implemented in Lithuania to foreign markets, informed LETA/BNS.
17.09.2019
Krekenavos Agrofirma, a meat processing company owned by the family of Viktor Uspaskich, the founder and chairman of the Lithuanian Labor Party, has become the first Lithuanian company to get the green light for beef exports to China, informed LETA/BNS.
13.09.2019
Monese, a mobile-only current account provider of Estonian origin, is planning to expand to America and Asia as well as Romania, Bulgaria and Turkey in the near future, informed LETA/BNS.
12.09.2019
Höhle OÜ, a plastic microduct manufacturing company unique in Estonia, opened its new factory in Lõiuse village in Rapla county. The factory produces over 200 km of micro ducts per day, which go to the domestic market as well as to 12 European countries. The total investment for the factory was over 4 mln euros, BC informed Höhle OÜ representative.
19.08.2019
Estonia and Lithuania saw their exports grow in the first half of 2019 compared with the same period last year, while Latvia's exports remained on the level of the first half of 2018, informed LETA/BNS.
15.08.2019
Consolidates unaudited turnover of SAF Tehnika telecommunications equipment maker in the 2018/2019 financial year was EUR 14.443 mln, up 8 % from the previous year, while the group's consolidated unaudited loss was EUR 414,299, almost twice as large as in the previous financial year, the company said in its statement to the Nasdaq Riga stock exchange.
16.07.2019
Viciunu Grupe (Viciunai Group), a business group controlled by Visvaldas Matijosaitis, mayor of Lithuania's second-largest city of Kaunas, has established a sales company, Vichiunai Sakartvelo, in the Georgian capital, informed LETA/BNS.