International Internet Magazine. Baltic States news & analytics
Saturday, 10.06.2023, 10:19
Savisaar: EU's urban policy should green-light public transport
Juhan Tere, BC, Tallinn, 20.02.2014.

Print version
Mayor of Tallinn Edgar Savisaar spoke at the European Commission forum 'Cities of Tomorrow: Investing in Europe', stressing the importance of the lowest possible public transport fare and the significance of a common urban policy for European Union, reported BC the city of Tallinn.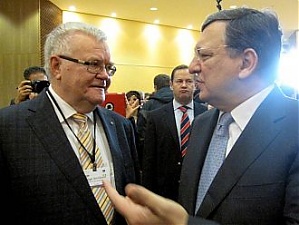 Edgar Savisaar and Jose Manuel Barroso. Photo: tallinn.ee
"According to a special research by Eurobarometer, published in mid-December, Europeans consider the most important measure of improving mobility in cities lowering the public transport fare. Especially noteworthy is that lowering the fare is considered the most important measure by people in some of EU's richest countries like Sweden (79%), Denmark (75%), Germany and Netherlands (both 73%)," Savisaar noted.
"Unfortunately, Estonia is not among five richest European countries but our capital Tallinn has a year-old experience of keeping public transport fare at its lowest, i.e. zero. And I assure you that free public transport does strengthen society's social ties while stimulating local economy and sparing environment. This is, indeed, smart policy. Green-lighting public transport is certainly one of the goals that the urban policy of European Union should support more effectively than the EU policy thus far," Savisaar stressed in his speech.
Among other things, the mayor of Tallinn drew his listeners' attention to the fact that EU capitals' common plan of action would better the well-being of people and EU's competitive performance. "A city's plan of action would better the well-being of people and EU's competitive performance if there were effective financing and management. For this we need EU's Ccommon Urban Policy just like we have Common Agricultural Policy, for example. Othewise it would just be the case of trying to coordinate all the existing policies and measures, another vague cloud which in a couple of years would have to be mentioned in past sense. We all remember well enough the Lisbon Strategy or the life-cycles of the macro-regional Strategy for the Baltic Sea," Savisaar said.
"The idea of European Green Capital, which was born in Tallinn, is an element in the formation of a common urban policy. But it's time to move on from exchanging titles and banners, because Europe's common urban policy has to meet people's actual needs. European capitals are without exception countries' largest cities both by population and economic power. To define EU urban policy, it is extremely important to engage capitals as the most important cities," said Tallinn's mayor.
In the course of the two-day forum the Mayors of European capitals also met with the President of European Commission Jose Manuel Barroso and the European Commissioner for Regional Policy Johannes Hahn.
Forum's participants included the mayors of Rome, Vienna, Sofia, Zagreb, Warsaw, Bratislava, Riga, Bucharest, Nicosia, Helsinki, Ljubljana, Lisbon, Athens, Valletta and Amsterdam.