International Internet Magazine. Baltic States news & analytics
Monday, 28.05.2018, 08:17
Lapsa: Latvian MP Zakis avoids paying EUR 8,800 VAT on purchase of new automobile
Alla Petrova, BC, Riga, 05.06.2012.

Print version
According to documents made public by journalist Lato Lapsa, who also writes for the investigative journalism portal ''Pietiek.com'', the head of Unity's group at Saeima Dzintars Zakis purchased a new ''Volvo XC60'' sport-utility vehicle at the beginning of the year without paying the state approximately EUR 8,880 in value-added tax (VAT).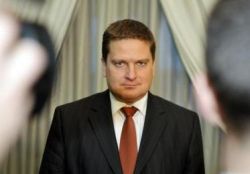 Dzintars Zakis.
Lapsa has submitted his findings to the Corruption Prevention Bureau (CPB). In a press briefing today, Lapsa said that Zakis purchased the vehicle through a company owned by him – Datoru centrs Ltd., informs LETA.
Zakis loaned his company LVL 34,571. This money was then transferred to the company's account so that Zakis could purchase the automobile and exempt him from personally paying the VAT for the vehicle.
However, for the deal to go through so that Zakis does not have to pay VAT for the vehicle, the car was initially sold to a Lithuanian company for EUR 40,100, but that company afterwards sold the vehicle to Zakis' company.
The Lithuanian company was paid EUR 1,000 for the service, while Zakis' company was exempt from paying VAT for the vehicle.
''As a result, Latvia lost EUR 8,800 in tax revenue from the deal,'' Lapsa pointed out.
After this, Zakis signed an agreement with his own company that the new automobile will be given to him to use while he remains a parliament member in the 11th Saeima. Furthermore, on April 13 of this year, Zakis' company pawned the vehicle to Zakis himself for LVL 27,971.
Lapsa previously asked Zakis to comment the deal, however, the parliament member did not answer his questions, and only confirmed that he has loaned money to a company he owns.
Lapsa has also acquired e-mails exchanged between him and Musu Motors Riga car dealership's representative Toms Rubulis, who discuss the details of the deal.