International Internet Magazine. Baltic States news & analytics
Thursday, 26.05.2022, 10:33
Flick invites Dombrovskis to meet; blames Kampars for making threats
Alla Petrova, BC, Riga, 01.07.2011.

Print version
Today, national airline airBaltic President Bertolt Flick announced in his statement to the press that he invites Prime Minister Valdis Dombrovskis (Unity) to a meeting. At the same time, Flick informed that he has received threats from Economy Minister Artis Kampars (Unity).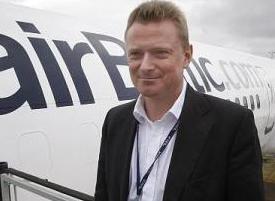 Bertolt Flick.
The airline's president pointed out that he has been informed that Kampars and Dombrovskis have met with the potential investors in airBaltic. The government has met with everyone – except its private partner in the airline, emphasized Flick.
Flick stresses that Kampars and Dombrovskis did not inform the public, the Cabinet, or the private shareholder about their initiative, writes LETA.
Kampars has expressed threats to the private shareholder and airBaltic president, he claimed. The minister deliberately spreads information that has a negative impact on the airline, and raises concern among its partners. Kampars' activities are destructive and decreasing the airline's value. Its losses are being estimated, said Flick.
The prime minister has not disassociated himself from these destructive activities and is only speaking half-truths about the information he holds. The state, as airBaltic shareholder, has not made any decision on the airline and justifies this with a "lack of information", even though the premier has access to all necessary information about the company, emphasizes Flick.
Economy Minister Artis Kampars, in response to airBaltic President Bertolt Flick's biting statement released today, urges him to attend the next Cabinet meeting because it is "important for the government to receive complete, grounded and audited information on the airline's financial state as Latvia has invested major sums of money."
Kampars also responded to Flick's allegation about secret meetings held, calling it "mere speculation."
As for the threats Flick claims were made by Kampars, he said that this "borders on defamation of character." Kampars urges Flick, instead of releasing such "absurd" statements, to cooperate in solving the airline's financial problems.
As reported, the Cabinet continues to evaluate several possibilities to ensure "airBaltic's" liquidity.
At the moment, the government considers increasing the airline's share capital, however, there are also other suggestions that will be assessed in cooperation with the financial consultant Prudentia.
Transport Minister Uldis Augulis (Union of Greens and Farmers) said that even though there have been rumors about several potential investors in the airline, so far the ministry has received a written offer only from the British charter flights company Ocean Sky Aviation Ltd.
The government will continue consulting with Prudentia and could review the offer during at one of the next sessions.
Currently, it is planned that the meeting of airBaltic's shareholders will be held on July 25. During the meeting, the shareholders will elect a new council and decide on a possible increase of the airline's share capital.