International Internet Magazine. Baltic States news & analytics
Sunday, 25.09.2022, 13:12
Flick rejects Dombrovskis' proposal to make airBaltic shareholders agreement public
Alla Petrova, BC, Riga, 05.10.2010.

Print version
National airline airBaltic co-owner Bertolt Flick has rejected Prime Minister Valdis Dombrovskis' (New Era) suggestion to make the airline's shareholder agreement public.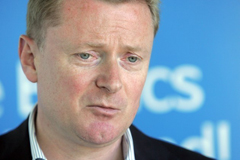 Bertolt Flick.
Dombrovskis' Press Secretary Liga Krapane told LETA that the correspondence between the airline's shareholders was confidential and she could not comment on Flick's letter to Dombrovskis, admitting, however, that Flick "had not granted his permission."
Dombrovskis previously sent a letter to Flick's company Baltijas aviacijas sistemas (BAS), which, together with the state of Latvia, owns airBaltic, asking the company's permission in making public the airline's shareholders agreement signed on March 4, 2009, as well as shareholders agreement signed on April 30 this year.
Under these agreements, the state of Latvia cannot make these documents public without BAS's consent.
"Latvia's taxpayers undoubtedly have the right to know why the state, a majority shareholder, cannot properly manage its shares in airBaltic, and why the minority shareholder has been given unjustified remit," stressed Dombrovskis, asking for the shareholder agreements to be made public.
The state of Latvia holds a 52.6% interest in airBaltic, whereas Flick's BAS – 47.2%.