International Internet Magazine. Baltic States news & analytics
Sunday, 25.09.2022, 14:43
Flick: it's time to stop the chatter about conflicts of interests in Latvia
Alla Petrova, BC, Riga, 23.09.2010.

Print version
There has been too much chatter over possible conflicts of interest regarding airBaltic chief Bertolt Flick's activity in running the Latvian national airline while at the same time becoming a private investor in a newly-established Lithuanian airline. This was the opinion expressed by Flick himself in an interview with the "Diena" newspaper, where the airline's president sharply criticized representatives of the state who badmouthed airBaltic in the public space but avoided entering into normal talks with the airline's second largest shareholder – Flick's Baltijas aviacijas sistemas (BAS).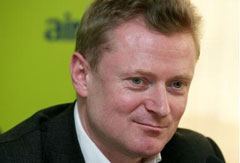 Bertolt Flick.
Asked to comment on recent statements by state officials that Flick was sitting in two chairs and would have to choose just one, the businessman indicated: "Something has been mixed up here. BAS is a foreign investor in airBaltic. It is not the case that BAS can only invest in one airline; moreover, I have also looked at other investments. I am not sitting in two chairs; I have a business which invests in various other businesses, and I manage airBaltic. It is time to stop the chatter about conflicts of interest – I refuse to chatter all the time about conflicts of interest".
The airline founded in Lithuania is to operate as a low-cost airline, with only one class of service. The new company will not concentrate on transit, but on the local market – flights to and from Vilnius. The head of airBaltic promises that competition with the Latvian airline will be minimal.
Asked as to why airBaltic did not simply found a subsidiary company in Lithuania, Flick claimed that Prime Minister Valdis Dombrovskis (New Era) has called for the airline to focus its activity in Riga.
"Although I read in the press that it is difficult to influence me, in fact until now there has been not one concrete demand from the state to change our strategy. There has not been one reprimand from the council or the (Transport) Ministry about any concluded agreement or deal, or concerning the sale of the brand. Everything that is currently going on in the public space is more or less just political slandering. There are people who are trying to bully me and blacken my reputation. I think that here the issue is not about business," stressed Flick.
The airline president believes these processes are connected with preparations to privatize airBaltic. Flick is not currently planning to sell his shares in airBaltic, but revealed that if the airline was registered on the stock exchange and sold there through auction, BAS would be happy to wave its right of first refusal on the state's share packet.