International Internet Magazine. Baltic States news & analytics
Tuesday, 22.09.2020, 03:51
EU funds will not be available for purchase of Pasazieru vilciens diesel trains
BC, Riga, 14.09.2020.

Print version
EU co-funding will not be available to purchase of Pasazieru Vilciens diesel trains, said the company's board chairman Rodzers Janis Grigulis in an interview with commercial TV3 television today, referred LETA/BNS.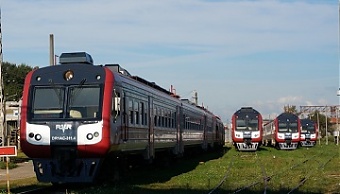 "The diesel train procurement was launched with a thought that it will be financed from EU structural funds. Unfortunately, the European Commission did not support allocation of financing, therefore money should come from the government budget," said Grigulis.
He said that, according to preliminary estimates, about EUR 75 mln are necessary for the diesel trains.
He also said that the company has to receive a permission from the Cabinet of Ministers for such significant investments.
Transport Ministry's representative Ilze Greiskalna said that the ministry is working on the informative report that should be submitted to the Cabinet of Ministers.
As reported, the procurement commission of Pasazieru Vilciens passenger train company has selected three of five candidates for the second round of negotiations procedure.
In total five candidates applied for the tender on supply of eight new diesel trains - Metrowagonmash, Construcciones y Auxiliar de Ferrocarriles (CAF), Pojazdy Szynowe PESA Bydgoszcz, Kryukovsky Railway Car Building Works and Stadler Polska. Three candidates were selected - CAF, Pojazdy Szynowe PESA Bydgoszcz and Stadler Polska.
The three candidates will receive technical specifications for development of their proposal for the second round of the negotiations procedure.
Pasazieru Vilciens needs new diesel trains in order to replace the current DR1A model trains with engines made by Russian plant Zvezda that has been included in the list of the US sanctions.
Pasazieru Vilciens is planning to sign contract on delivery of the new diesel trains by December 31 this year, after which the winning bidder will have to design, manufacture, certify and deliver the new trains to Pasazieru Vilciens in three years.