International Internet Magazine. Baltic States news & analytics
Tuesday, 25.09.2018, 02:45
Finland's business community, politicians show strong interest in Rail Baltica
BC, Riga, 10.11.2017.

Print version
Finland's business community and politicians have demonstrated strong interest in Rail Baltica European-gauge railroad project, LETA was told at RB Rail, the joint venture established by the three Baltic states to oversee the project's implementation.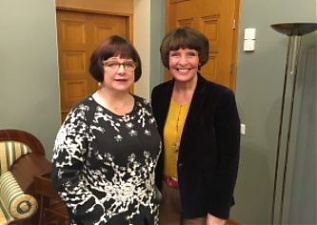 Photo: railbaltica.org
On November 8, the company's management met with Anne Berner, Minister of Transport and Communications of Finland, Ossi Savolainen, Regional Mayor of Helsinki-Uusimaa Regional Council and Finnish business representatives to introduce Rail Baltica opportunities and benefits.
During the meeting with Anne Berner, RB Rail CEO Baiba Rubesa underlined Finland's strategic role in both the implementation and operational phases of the project. Berner and Rubesa also discussed Finnish businesses interest in Rail Baltica.
Rubesa explained that it is crucial to learn at this early stage, in the design phase of the project, what the Finnish business community's logistical expectations from Rail Baltica are to construct an infrastructure, which will most accurately respond to the interests of future customers. Anne Berner affirmed that Rail Baltica will provide good opportunity for Finnish entrepreneurs to transfer their cargo. Related projects – the Arctic Rail and the Finest Link – were also discussed.
Rubesa asked the minister to shore up Finnish support for Rail Baltica financing in the EU post-2020 multiannual financial framework negotiations.
During the visit Rubesa addressed the Finnish business community and outlined the opportunities offered in the process of creating an economic corridor in the North-East region. She presented the Rail Baltica development and explained its benefits compared to sea and road freight transportation.
"Rail Baltica is a true winner as the most sustainable freight transportation mode – it has the best performance in road safety, reduced noise pollution, it permits decongestion, wildlife protection, lower carbon footprint. It also has a full advantage regarding economies of scale for freight consolidation and partly with reliability and punctuality," Rubesa said.
Participants in the Finnish business community meeting emphasized that Rail Baltica will create remarkable social economic benefits and opportunities to the whole region.
Representatives of RB Rail also urged Finnish companies to participate in Rail Baltica tenders and to join Industry Suppliers' Day during the Rail Baltica Global Forum in April 2018 in Tallinn.
RB Rail AS is the central coordinator for the Rail Baltic/Rail Baltica project, which involves the construction of a high-speed rail line from Tallinn to the Lithuanian-Polish border. The connection will be an electrified public use rail line enabling speeds of up to 120 kmh for freight trains and up to 240 kmh for passenger trains.
EU support is expected to account for 80-85 percent of the estimated total investment of EUR 5.8 billion.