International Internet Magazine. Baltic States news & analytics
Wednesday, 26.06.2019, 23:38
Criminal case on breaches in Southern Bridge construction process in Riga launched
Alla Petrova, BC, Riga, 27.04.2009.

Print version
The Economy Police have opened a criminal case on suspected violations in construction of the Dienvidu (Southern) Bridge in Riga.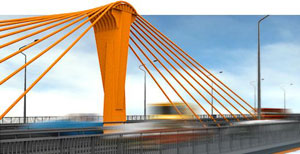 Dienvidu Bridge.
Sintija Virse from the State Police's Press and Public Relations Bureau informed LETA that the criminal case deals with possible violations at the Riga City Council during the procurement procedures and securing the financing for construction of the bridge from January 1, 2002 to September 30, 2008.
The criminal case was opened pursuant to the Criminal Law's Section 24 – criminal offenses in the work of public institutions.
As reported, Auditor General Inguna Sudraba said that the Riga City Council had squandered LVL 27 million in construction of the Dienvidu Bridge.
Sudraba revealed that out of LVL 570 million, which was meant to cover the expenses of the first two stages of the bridge construction, LVL 264 million was spent on attracting financing. This means that each lat, needed for construction of the bridge, cost additional 87 santims.
As reported, the Dienvidu Bridge was unveiled on November 17 last year.
The Southern Bridge is 34.28 meters wide, 803 meters long with three lanes in each direction, plus cycling tracks and sidewalks. The bridge ensures traffic connection between the two shores of River Daugava, allowing cars to reach various neighborhoods of the capital without driving into the city center, thus, lessening congestion.
According to the Riga City Council's data, planning and construction costs of the first stage of Dienvidu Bridge project (not including the previous years' inflation and funding attraction costs), totaled LVL 85.5 million, VAT included. The construction costs were LVL 35.4 million for the bridge itself and additional LVL 17.5 for the scaffold bridges.
The cost of the second stage of Dienvidu Bridge project, according to the agreement, signed by members of the Riga City Council, is set at LVL 313.4 million, of which LVL 170.3 million are planning and construction costs, whereas LVL 143.2 million – expenses for attraction of funding.
The construction costs are calculated taking in consideration expected inflation quotient of 14.3%, which has been the average inflation level over the past three years.
The third stage of the Dienvidu Bridge project will cost LVL 28 million.