International Internet Magazine. Baltic States news & analytics
Monday, 18.06.2018, 19:59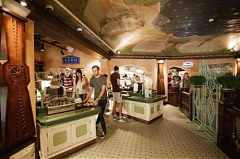 18.06.2018
Vermanitis, a popular self-service restaurant of the Lido chain in the Riga center, reopened on June15th after a month-long renovation, informs LETA.
06.06.2018
According to the latest data of the Central Statistical Bureau (CSB), in 2017, as compared to 2016, the number of same-day trips of Latvian residents grew by 5.8% and their expenditure – by 11.1%. As compared to the previous year, the number of overnight trips reduced by 2.6% and the number of nights spent – by 5.0%; expenditure, in turn, rose by 21.0%. In total Latvian residents spent EUR 930.9 million on all trips last year, which is EUR 141.4 million or 17,9% more than a year ago.
06.06.2018
According to Statistics Estonia, in April 2018, domestic and foreign tourists staying in accommodation establishments numbered 251,000, which is 3% less than in April 2017. The number of foreign tourists decreased, while the number of domestic tourists stayed at the level of the previous year.
05.06.2018
Data of the Central Statistical Bureau show that, compared to the 1st quarter of 2017, during the 1st quarter of 2018 the volume of freights carried by land and pipelines decreased by 2.3 million tonnes or 7.7% and freight turnover1 – by 10.4%.
05.06.2018
In May 2018, 275,000 passengers passed through Tallinn Airport, 16% more than in the same month the year before, and the total of number of passengers who have passed through the airport since the start of the year is more than 1 million, which is 15% more than in the same period in 2017, reports LETA/BNS.
04.06.2018
The Latvian airline airBaltic in cooperation with the international tour operator Tez Tour Latvija on May 27, 2018, launched new charter flights connecting Riga with Peloponnese (Araxos airport) in Greece, but this week on June 3 will start operations on new route from Riga to Marche (Ancona) in Italy, informed BC press service of the airline.
01.06.2018
Estonian bus operator Lux Express has added 15 new buses to its bus fleet and 14 daily departures on its Tallinn-Tartu route as of June 1st, 2018, reports LETA/BNS.
30.05.2018
International Airport Riga in 2017 generated EUR 54.639 million in turnover, up 8.3% from 2017, while the company's profit increased 9.7 times to EUR 3.487 million, writes LETA, according to Firmas.lv business database.
28.05.2018
Vilnius posted a 7.5% year-on-year growth in tourist arrivals for the first quarter of 2018, with the number of German visitors alone soaring by over 40%, informs LETA/BNS.
28.05.2018
Akvaparks, the operator of Livu Akvaparks, one of the largest water amusement parks in the Baltic states, last year generated EUR 4.639 million in sales, up 5.7% from a year ago, while the company's profit dropped 5.6% to EUR 435,992, informs LETA, according to the company's financial report submitted to the Latvian business register.