International Internet Magazine. Baltic States news & analytics
Friday, 27.03.2015, 19:17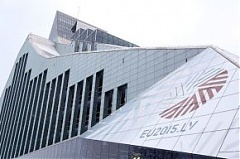 27.03.2015
The new Latvian National Library building has been named the best public facility in Latvia in 2014 by the Latvian Builders Association, as the association's representative Aija Zule told LETA.
26.03.2015
Data of the Central Statistical Bureau (CSB) show that compared to January, construction cost level in Latvia in February 2015 grew by 0.1%. Prices of building materials increased by 0.1%, while labour remuneration of workers, as well as maintenance and operational costs of machinery and equipment did not change significantly.
25.03.2015
The question of restitution of the Jewish community's pre-war property should be solved at once, but if the current proposal is approved, the Jewish community will be in a "lose-lose" situation, as Dmitrijs Krupnikovs from the Council of the Jewish Communities of Latvia said at the Saeima Foreign Affairs Committee's meeting today, cites LETA.
25.03.2015
Opened in June 2014, the Latvian National Library can now count the first hole in its roof, the daily Diena reported Wednesday, cites LETA.
24.03.2015
The emergency alarm in the new municipal building in Riga-Imanta, is heard regularly, however, doctors in the building's health center ignore it and continue tending to patients, and in tandem, the patients remain in line to avoid missing their turn, the daily "Neatkariga" reported on Tuesday, cites LETA.
23.03.2015
During today's meeting with Transport Minister Anrijs Matiss (Unity), Latvian President Andris Berzins urged him to make sure that the number of private property affected by the Rail Baltica project is as low as possible, informs LETA.
23.03.2015
In the fourth quarter of 2014, compared to the third quarter of 2014, housing prices in Lithuania dropped by 4.3%. Prices of old construction housing decreased the most, by 4.7%. Of them, prices of flats in one and two dwelling buildings decreased by 17.2%, while in multi-dwelling buildings by 1%, reports LETA/ELTA.
23.03.2015
On March 20th, SEB banka granted its first two state-guaranteed mortgage loans for Latvian families with children, the bank informed LETA.
20.03.2015
According to Statistics Estonia, the Dwelling Price Index increased by 13.7% in 2014 compared to the average of 2013. In the annual comparison, the prices of apartments increased by 15.5% and the prices of houses by 9.1%.
20.03.2015
A fire of unknown origin hit the Riga Circus complex yesterday. Riga Circus reports that despite a mostly successful evacuation of all animals from its burning complex, there was one fatality – a python is dead, informs LETA.
18.03.2015
Returning specific buildings to the Latvian Jewish community would testify to Latvia's consistent policy in regard to overcoming historical injustices, Foreign Ministry State Secretary Andrejs Pildegovics said during a Saeima Foreign Affairs Committee meeting today, cites LETA.