International Internet Magazine. Baltic States news & analytics
Thursday, 27.10.2016, 13:55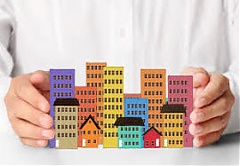 26.10.2016
Investing in new real estate projects in Latvia has shrunk by one third over the past three years, Martins Vanags, the head of the National Real Estate Development Alliance, said today at the construction industry forum "Competitiveness. Growth. Investment", reports LETA.
17.10.2016
The listed Estonian electrical equipment maker Harju Elekter last week acquired Kiinteisto Oy Uutvallinkulma, lessor of premises to its Finnish subsidiary Finnkumu, for 518,000 euros, reports LETA/BNS.
17.10.2016
The attempts to stop Lidl investments in a building in Vilnius are unacceptable, and all obstacles on the path should be removed, Diana Varnaite, director of the Lithuanian Cultural Heritage Department says LETA/BNS.
16.10.2016
In September 2016, prices of standard design apartments in Riga's residential neighborhoods climbed 0.2% against August 2016 and 6.2% against September 2015 to EUR 696 per square meter, Arco Real Estate company said in its latest apartment market review, writes LETA.
13.10.2016
The three Baltic countries registered the EU's highest quarterly increases in house prices in the second quarter of 2016, according to the latest figures released by the EU statistics office Eurostat, writes LETA/BNS.
13.10.2016
- Enterprise Estonia (EAS) has claimed back 19,039 euros from the company Ermamaa following a written notice from its owner Toomas Hendrik Ilves about the company not continuing the provision of tourism services at Arma farm, which received 190,392 euros in support via EAS in 2006, reports LETA/BNS.
12.10.2016
The real estate fund Baltic Horizon Fund has decided to distribute to unit holders 1.1 mln euros of this year's operating profit or 0.026 euros per units, writes BHF.
11.10.2016
City Service , the Lithuanian real estate maintenance group with operations in the Baltic states, Poland, Spain and Russia, is expanding its residential building maintenance business in Latvia, writes LETA/BNS.
11.10.2016
altic private equity fund Livonia Partners has agreed to acquire Hortes, a leading home and gardening product retailer in Estonia, adding a second company to its portfolio this year, reports LETA.
10.10.2016
Property developer Real Estate Deals And Solutions plans to sell the Good Stay Eiropa hotel at 56 Juras Street in Jurmala for EUR 6.5 mln, according to information posted at city.24.lv writes LETA.
07.10.2016
Nearly half of Latvia's population, or 47%, expect property prices to grow in the near future, according to SEB Banka's latest Housing Price Indicator.