International Internet Magazine. Baltic States news & analytics
Saturday, 23.10.2021, 03:30
PM: Latvia and the United States bound by close strategic and economic partnership
BC, Riga, 05.11.2015.

Print version
On Thursday, November 5, Prime Minister Laimdota Straujuma held a meeting with representatives of the American Chamber of Commerce in Latvia to discuss current issues on the government's agenda and the reform plans, as well as the strategic cooperation between the two countries, reports BC press secretary to the Prime Minister Aiva Rozenberga.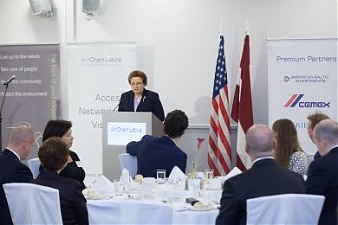 Photo: flickr.com
In her address to the representatives of the American Chamber of Commerce, the Prime Minister emphasized that the United States is the strategic ally of Latvia, and Latvia is grateful to the US for its support for the strengthening of our security, and that the two countries have a great potential for strengthening the economic ties.
Discussing the government's priorities for 2006 and 2007, L. Straujuma pointed out that it is planned to increase the competitiveness of the Latvian economy, to implement the reforms in the fields of education, health, justice, and the public sector reforms, as well as to strengthen the internal and external security of Latvia. It is also planned to increase the defence budget of Latvia to 2% of GDP by 2018.
The key priorities mentioned by L. Straujuma included fight against corruption, the "gray economy" and economic crimes by reviewing efficiency of existing instruments. As regards the justice sector, it was stressed that it is necessary to speed up court proceedings and to improve the regulatory framework for insolvency proceedings. In the education sector, it is planned to gradually introduce the quality and efficiency criteria at all levels of education. The Prime Minister also mentioned that the level of skills of the unemployed population and pre-retirement age people, in particular, should be more actively improved. In the health sector, it is necessary to facilitate access to health care, including for vulnerable groups, and to gradually move towards compulsory social insurance.
Highlighting the EU-US strategic partnership, the Prime Minister pointed out that the United States is the EU's largest economic partner; therefore, it is necessary to continue work on the Transatlantic Trade and Investment Partnership (TTIP) that will also promote the development of Latvian economy and increase employment. L. Straujuma stressed the importance of closer involvement of the US in strengthening the energy security in Europe and Latvia.
In conclusion, the Prime Minister called on the US entrepreneurs to increase investment in Latvia, by mentioning that the economic cooperation between Latvia and the US has increased significantly over recent years. The total turnover of trade in goods last year was nearly EUR 200 million. In addition, the US companies, e.g. GE Money, Cabot Corporation and Citadele already make substantial investments in Latvia.