International Internet Magazine. Baltic States news & analytics
Thursday, 09.07.2020, 17:45
JKP will call for state to take control of administration over Ventspils Port - Strike
BC, Riga, 10.12.2019.

Print version
The New Conservative Party (JKP) will call for the state to take control of the administration over Ventspils Port in wake of the U.S. sanctions imposed against Ventspils Mayor Aivars Lembergs, the head of JKP's group at Saeima Juta Strike told LETA.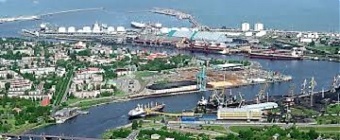 The politician noted that the JKP is in favor of such a solution, which in the party's view would be the most radical of the possible scenarios. This requires decisive action that should have been taken 15 to 20 years ago, the politician said.
According to unofficial information obtaine by LETA, the government coalition has discussed several options on how best to move forward, such as the appointment of a new board of the Ventspils Port, which would require amendments to the law that would foresee the port's board to be approved by the government. Another solution would be to create a new state-owned company, which would be responsible for the administration of Ventspils Port.
In order to prevent such situations from repeating themselves, it is necessary to carry out reforms initiated by JKP and Minister of Justice Janis Bordans (JKP) - to make changes in the appointment process of the Prosecutor General, to establish an economic affairs court and to amend criminal procedure regulations, added Strike.
As reported, the Office of Foreign Assets Control (OFAC) of the US Department of The Treasury on Monday imposed sanctions on a number of people and legal entities in Europe, Asia and Latin America, including on Mayor Lembergs, based on the so-called Magnitsky act.
According to OFAC, Latvian oligarch Aivars Lembergs is designated for being a foreign person who is a current or former government official responsible for or complicit in, or directly or indirectly engaged in, corruption, including the misappropriation of state assets, the expropriation of private assets for personal gain, corruption related to government contracts or the extraction of natural resources, or bribery.
Lembergs has served as the Mayor of Ventspils, Latvia, since 1988. From that time, he has been repeatedly accused of money laundering, bribery, and abuse of office. Lembergs controls entities through political parties and corrupt politicians, and systematically exploits those entities and individuals for his own economic gain. Lembergs has used his influence over leadership of political parties to shape government personnel and place certain government officials in positions, as well as to obstruct other government officials from obtaining leadership positions.
Additionally, Lembergs has leveraged and corrupted law enforcement officials to protect his interests and subvert politicians whom he otherwise was unable to control.
The Magnitsky Act is a bipartisan bill passed by the U.S. Congress and signed into law by President Barack Obama in December 2012, intending to punish Russian officials responsible for the death of Russian tax accountant Sergei Magnitsky in a Moscow prison in 2009.
Since 2016 the bill, which applies globally, authorizes the US government to sanction those who it sees as human rights offenders, freeze their assets, and ban them from entering the U.S.