International Internet Magazine. Baltic States news & analytics
Tuesday, 18.06.2019, 10:09
Rigas Satiksme to claim over EUR 5 mln from Skoda
BC, Riga, 09.01.2019.

Print version
Rigas Satiksme municipal transport company plans to claim over EUR 5 million from the Czech company Skoda for a failure to deliver transport vehicles on time, Rigas Satiksme acting CEO Anrijs Matiss told LETA.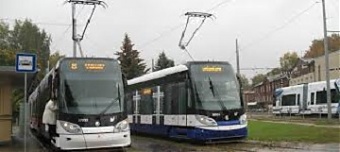 He said that Rigas Satiksme together with Ernst & Young Baltic auditors is currently examining the procurement deals featuring in the company's corruption scandal. It has been established that Rigas Satiksme might be able to claim at least EUR 5 million in contractual fines. Rigas Satiksme has only received 54 of the 100 trolleybuses and seven of the 20 trams the Czech company was supposed to deliver.
"Both tenders have been concluded but the transport vehicles have not been delivered, and the contracts include penalties for a failure to meet the contract terms. It is already clear at this point that we will be able to claim more than EUR 5 mln" Matiss said.
Meanwhile, a procurement deal in which Rigas Satiksme is buying 175 passenger buses from Poland's Solaris Urbino is still being analyzed. To date, Rigas Satiksme has received 140 of these vehicles. The terms of this deal allowed for increasing the number of buses by 30%, which the previous Rigas Satiksme management did, extending the delivery deadline to 2020. "However, here too several deadlines have been missed, so there will be contractual penalties," Matiss said.
He said it was "very strange" that the former Rigas Satiksme management did not demand the contractual penalties as the delays had been obvious.
It has also been established during the audit that Rigas Satiksme had paid around EUR 5 mln in advance for the still undelivered transport vehicles. This money can still be recovered, Matiss said.
As reported, the criminal probe started by the Corruption Prevention Bureau (KNAB) against Rigas Satiksme is related to three tenders organized by the municipal transport company.