International Internet Magazine. Baltic States news & analytics
Friday, 02.06.2023, 12:36
Latvian MFA: we expect Azerbaijan to be represented at the highest level at the Riga Summit
BC, Riga, 16.04.2015.

Print version
On 15 April 2015, Foreign Minister Edgars Rinkevics met with Elmar Mammadyarov, the Foreign Minister of Azerbaijan, who was in Latvia on an official visit. During the meeting, Edgars Rinkevics acknowledged the advancement of bilateral relations between Latvia and Azerbaijan, reported BC the Latvian MFA.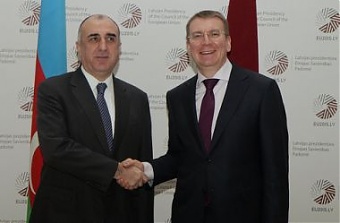 Elmar Mammadyarov and Edgars Rinkevics. Riga, 15.04.015. Photo: flickr.com
The Minister indicated that it was important to address measures for increasing trade volumes. Both Ministers concurred that Latvia and Azerbaijan have good potential for investment projects in sectors such as aviation, transport and logistics. Elmar Mammadyarov expressed condolences over the untimely death of the Ambassador of Latvia to Azerbaijan, Hardijs Baumanis, and praised Ambassador Baumanis's personal contribution to strengthening relations between Latvia and Azerbaijan.
Referring to the Eastern Partnership Summit in Riga, Edgars Rinkevics emphasised that Latvia expects Azerbaijan to be represented at the highest level at this event. The Riga Summit should send a clear signal about individualised approach within the Eastern Partnership in view of the partner countries' aspirations for cooperation with the EU, while retaining the Eastern Partnership as a common platform.
Foreign Minister Mammadyarov said that Azerbaijan was interested in signing a strategic partnership agreement with the European Union. Edgars Rinkevics emphasised that it would be important to see EU-Azerbaijan cooperation in energy reflected in the Summit Declaration.
In regard to the Nagorno-Karabakh conflict, Edgars Rinkevics said that the conflict should be resolved peacefully, in accord with recommendations from international organisations.
The Latvian and Azerbaijani Foreign Ministers welcomed the agreement reached between the E3+3 and Iran in the talks on Iran's nuclear programme. Views were also exchanged on the developments in Ukraine.
As part of his official visit, the Foreign Minister of Azerbaijan also met with the President of Latvia, Andris Berzins, the Chair of the Saeima (the Latvian Parliament), Inara Murniece, and Latvia's Prime Minister Laimdota Straujuma.