International Internet Magazine. Baltic States news & analytics
Wednesday, 08.12.2021, 15:23
Estonian leaders e-vote
BC, Tallinn, 20.02.2015.

Print version
Estonian Prime Minister Taavi Rõivas and President Toomas Hendrik Ilves were among the thousands of Estonian people who cast their e-vote at the Riigikogu elections on Thursday, the first day that it was possible to do so, reports LETA.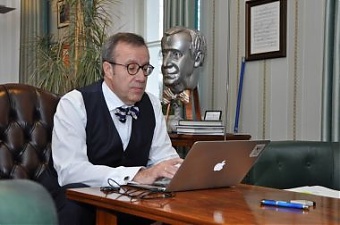 Источник: facebook.com
By 5.15 p.m. on Thursday, 22,011 people had already e-voted, which already exceeded the result of the first day of e-voting at the previous parliamentary election in 2011, when 18,676 people cast their e-votes by midnight on the first day of e-voting, Delfi reports.
Prime Minister Taavi Rõivas e-voted at around noon on Thursday in the Stenbock House at his work desk and invited photographers to record the event.
Estonian President Tooams Hendrik Ilves also e-voted on Thursday and posted on his Facebook page a corresponding photo, with the writing: "I have already e-voted, what about You?".
Electronic voting started at 9 a.m. on Thursday, and lasts till 6 p.m. on February 25.
Estonian people could for the first time e-vote at the local municipality elections in 2005, when 9,317 people did so. At the 2007 Riigikogu elections 30,243, at the 2009 European Parliament elections 58,669 and at the 2009 local municipality elections 104,415 voters voted via internet.
After that, the participation in e-voting has been between 100,000 and 140,000 depending on the general turnout. The past five years' statistics show that a third of voters cast their vote with the help of an ID card electronically. In the 2011 Riigikogu elections, 140,846 people e-voted.