International Internet Magazine. Baltic States news & analytics
Monday, 18.01.2021, 21:18
Azubalis invites China to implement joint transport projects with Lithuania
Danuta Pavilenene, BC, Vilnius, 26.04.2011.

Print version
Lithuania is interested in implementation of joint transport projects with China and in attracting Chinese investment into large infrastructure projects in this sector, Lithuanian Minister of Foreign Affairs Audronius Azubalis said at the meeting with China's Deputy International Trade Representative Chong Quan, on 22 April in Vilnius, reported the press service of the Foreign Ministry. The participants of the meeting discussed the promotion of Lithuanian-Chinese bilateral economic and trade cooperation, the investment environment in Lithuania.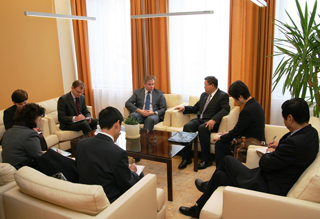 Photo: urm.lt
Azubalis appreciated attention towards Lithuania and the willingness to develop the bilateral relations shown by China in recent years. He stressed that Lithuania values China as its strategic partner in Asia.
"We will make every effort to ensure the successful bilateral cooperation, especially in the economic field," the Minister said.
Chong Quan and the accompanying delegation from Chinese Ministry of Commerce also met with Lithuanian Deputy Minister of Foreign Affairs Asta Skaisgiryte Liauskiene who drew attention to the imbalance of Lithuanian-Chinese trade and low activity of Chinese investors in Lithuania.
The Deputy Minister acquainted Chinese government representative, who is in charge for the international economic cooperation, with the opportunities of Lithuanian economy and invited Chinese businessmen to take advantage of them.
"We see great untapped potential for the successful development of bilateral relations in such fields as investment, transport, tourism and trade. And we suggest developing our economic cooperation in these sectors," Skaisgiryte Liauskiene noted.
Lithuanian-Chinese trade balance has been negative since 1990. In 2010, Lithuania's imports from China exceeded exports to that country for LTL 1,39 billion (about EUR 0,4 billion). Lithuanian biotechnology and pharmacy, laser, metal and food products, furniture, tourism and education services are held promising exports to China. China, which has become important foreign investment attraction zone in recent years, also invests heavily through private and public companies. The main investors abroad are Chinese technology-oriented communication, financial services, steel, automotive components and industrial equipment companies. Some of them set up scientific research and pilot testing or new product testing departments in Europe, procure high-tech companies.
Chinese direct investment in Lithuania for 31 December 2010 amounted to LTL 7,9 million. (EUR 2,28 million). China occupies only 45th place among foreign investors in Lithuania.
Attracting foreign investments in the sectors of information technology, high-tech and traditional industries that create high added value, is one of Lithuania's economic policy priorities. Azubalis plans to visit China in May. During the visit the head of Lithuanian diplomacy will meet with Chinese Minister of Commerce Chen Deming. He visited Lithuania in May 2010. It is planned that during his visit to China Lithuanian Minister of Foreign Affairs will be accompanied by delegation representing Lithuanian tourism sector.