International Internet Magazine. Baltic States news & analytics
Wednesday, 22.05.2019, 10:09
airBaltic Airbus A220-300 participates in the Airshow China 2018
BC, Riga, 06.11.2018.

Print version
Latvian airline airBaltic together with the aircraft manufacturer Airbus from November 6-8, 2018 for the first time ever participates in China International Aviation and Aerospace Exhibition in Zhuhai. During the China International Aviation and Aerospace Exhibition airBaltic and Airbus presents the most advanced commercial jet aircraft Airbus A220-300, informed the company's representative.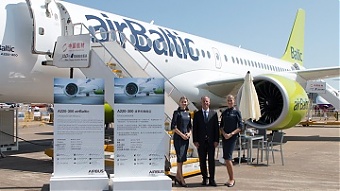 Photo: airBaltic.
Martin Gauss, CEO of airBaltic: "As the launch operator of the Airbus A220-300 aircraft, we are delighted to participate in China International Aviation and Aerospace Exhibition with our partner. We are proud that during the exhibition our Airbus A220-300 is presented as part of the Airbus portfolio."
The airBaltic Airbus A220-300 will fly to Chengdu on November 8, 2018, as part of its demonstration tour after its display at the show.
On May 28, 2018, airBaltic announced a firm purchase agreement for the sale and purchase of 30 Airbus A220-300 aircraft with options for an additional 30 aircraft of the same type. The order complements the existing order of 20 A200-300 aircraft and forms the backbone of the new airBaltic's business plan Destination 2025 that builds on the successful progress of the current airline's business plan Horizon 2021.
Since the launch operations on December 14, 2016, airBaltic Airbus A220-300's have been in 35 countries and landed in 70 airports. Most often airBaltic fly Airbus A220-300's to Moscow, Amsterdam, Paris, London and Barcelona.
Thus far, airBaltic has carried over 1 700 000 passengers on the Airbus A220-300 aircraft with every third airBaltic passenger flying on the aircraft. Airbus A220-300's have completed more than 16 210 flights and flown over 43 606 block hours.
The Airbus A220-300 aircraft offers excellent flying experience with such benefits for passengers as wider seats, larger windows, more hand luggage space in the cabin, improved lavatories and more. New aircraft is also much quieter – with four times smaller noise footprint. Moreover, at the moment, it is the greenest commercial aircraft in the world, as it is the first aircraft to have a transparent declaration of the life-cycle environmental impact, helping to reduce CO2 and NOX emissions by 20% and 50% respectively.