International Internet Magazine. Baltic States news & analytics
Monday, 17.12.2018, 05:26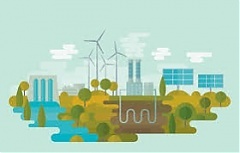 14.12.2018
As climate discussions are underway among global leaders at COP24, the annual United Nations Framework Convention on Climate Change (UNFCCC) conference, a new report released Tuesday showcases the feasibility of a European energy transition to 100% renewable sources. The new scientific study shows that the transition to 100% renewable energy will be economically competitive with today's conventional fossil fuel and nuclear energy system, and lead greenhouse gas emissions to zero before 2050, infromed Energy Watch Group.
07.12.2018
The price of electricity rose in line with expectations and as a result of colder weather in November in Estonia, Finland and Latvia alike, whereas in Lithuania the price moved lower, the state-owned power generating and power distribution group Eesti Energia said on Friday.
05.12.2018
Estonian electricity and gas seller Eesti Gaas will open compressed natural gas (CNG) stations in the towns of Viljandi and Rakvere this week, and in the near future also in Johvi, where in addition to CNG also bio-methane is sold, inforned LETA/BNS.
05.12.2018
Smart Energy Fund powered by Lietuvos Energija, managed by Contrarian Ventures is investing in French and US start-up Sterblue which develops software for non-pilot aircraft (drones) allowing inspecting power lines and wind turbines without human intervention, Lietuvos energija representative informed BC.
05.12.2018
The price of electricity grew in almost all price areas of Nord Pool in November, the average price of electricity per megawatt-hour in Estonia exceeded that in Finland by 2.54 euros, or 5%, reportes LETA/BNS.
05.12.2018
Kairos, the world's largest LNG bunker supply vessel, meant for Klaipedos Nafta, the operator of the LNG terminal in the Lithuanian port of Klaipeda, has reached Europe, the Lithuanian company said LETA/BNS.
04.12.2018
Lithuania last week registered the largest increase in power generation among the three Baltic countries, but its electricity market price was the highest in the region, Elektrum Lietuva said LETA/BNS on Tuesday.
03.12.2018
In the nine months of 2018, Latvenergo Group's revenue amounted to EUR 642 mln, which is 5% less than in the same period last year, while the group's profit was EUR 83.111 mln, a decrease of 37.5%, according to Latvenergo's unaudited financial statement submitted to Nasdaq Riga stock exchange.
30.11.2018
Lithuania's National Commission for Energy Control and Prices has on Friday approved new gas prices for households for 2019, proposed by Lietuvos Energijos Tiekimas, with the new tariffs set to come into force on Jan. 1, reported LETA/BNS,
29.11.2018
As colder weather has set it, the amount of natural gas pumped out of the Incukalns underground gas storage facility has increased three times to nine million cubic meters a day, said Dace Baltabola, a representative of Latvia's Conexus Baltic Grid (Conexus) natural gas and storage operator LETA.
29.11.2018
Lithuania's Energy Ministry is looking for experts to carry out a feasibility study for the installation of wind farms in the Baltic Sea as the country wants to operate wind farms with a total capacity of 200-3,350 MW in the sea in the future, reported LETA/BNS.