International Internet Magazine. Baltic States news & analytics
Tuesday, 27.01.2015, 22:58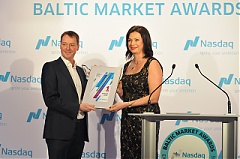 27.01.2015
According to evaluation of the stock exchange group NASDAQ OMX Riga, for the second year in a row, JSC Ventspils nafta (NASDAQ OMX RIGA: VNF1R) has been recognised as the company that implemented the best interactive investor relations in 2014 between the companies listed in the Baltic securities market. The stock exchange award was presented on Thursday, January 22, 2015, at the Baltic Market Awards ceremony, reports BC communications consultant at Ventspils nafta Elina Dobulane.
23.01.2015
As Social Democrat MP Birute Vesaite voiced her doubts whether the Government is not investing too much in the heating sector reforms in Vilnius and Kaunas, Lithuanian Prime Minister is confident about the benefits of these projects and says that Lithuania follows the proven methods from Western Europe, reports LETA/ELTA.
23.01.2015
Nasdaq's Tallinn, Riga and Vilnius Stock Exchanges declared AS Tallinna Vesi as the company with the Best Investor Relations in the Baltic countries on Thursday, LETA/Postimees Online reports.
23.01.2015
Lithuania is approaching the target established in the waste management plan to recycle or reuse at least 45% of municipal waste, informs LETA/ELTA.
23.01.2015
London-based energy and commodity price reporting agency Argus Media has opened a subsidiary in Riga, representatives from Argus Media informed LETA.
22.01.2015
On 20 January, 2015, the NATO Energy Security Centre of Excellence (NATO ENSEC COE) in Vilnius and the Department of Foreign Affairs, Trade and Development of Canada signed a contract on allocating roughly CAD 1 million support to the NATO ENSEC COE, reported BC Lithuania's Ministry of National Defence.
22.01.2015
President Dalia Grybauskaite, currently attending the World Economic Forum in Davos, presented to world energy experts Lithuania's experience in ensuring energy security and discussed global energy trends, reported BC presidential press service.
21.01.2015
The annual poll by CV Keskus indicates that the Estonian state-owned energy giant Eesti Energia won this year the title of the most valued employer for job-seekers, LETA/Delfi Ärileht reports.
21.01.2015
Estonia's state-owned energy giant Eesti Energia is considering production of motor fuels from oil shale in some European refinery, which would replace building a costly diesel fuel plant in Auvere, North East Estonia, said Hando Sutter who took over management of the energy group in December, LETA/Postimees Online reports.
21.01.2015
Nasdaq Commodities has welcomed Lietuvos Energijos Gamyba, the national electricity generation company, which combines all electricity generation capacities controlled by the state of Lithuania, as a new market maker for the Latvian Electricity Price Area Differential, EPAD RIGA, contracts, reports LETA/ELTA.
21.01.2015
Partly Estonian investors-owned renewable energy producer Nelja Energia invests EUR 115 million in developing a 60 MW wind farm in Silute, Lithuania, LETA/Postimees Online reports.