International Internet Magazine. Baltic States news & analytics
Sunday, 26.03.2017, 21:47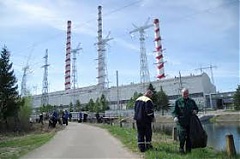 24.03.2017
Lithuania's state-owned electricity production group Lietuvos Energijos Gamyba (Lithuanian Energy Production, or LEG) is set to distribute 12.702 million euros as dividends, or 0.02 euros per share, to shareholders for the second half of 2016, bringing to 40.01 mln euros the total dividend payout for the year, reports LETA/BNS.
20.03.2017
AS Eesti Gaas sold 57.7 mln cubic meters of natural gas in February, 1.3 million cubic meters more than in February 2016, reports LETA/BNS.
20.03.2017
Latvian power grid operator Sadales Tikls is going to buy 200,000 smart meters for installation across Latvia, the company announced LETA.
17.03.2017
Incukalns underground natural gas storage facility might be closed if a solution on financing its operational costs is not found, Conexus Baltic Grid natural gas transmission and storage operator's representative Sandra Adamsone said LETA/BNS.
17.03.2017
Amid discussions at the Polish electricity transmission operator PSE about building a marine link instead of a second air line, Lithuania's power transmission system operator Litgrid says synchronization would be possible with the one existing LitPol Link power line, reports LETA/BNS.
17.03.2017
The state owned Estonian energy group Eesti Energia is about to invest 52.5 mln euros in Attarat Power Company (APCO), a company set up to carry out a large scale, oil shale based power generating project in Jordan, reports LETA/BNS.
16.03.2017
Attarat Power Company (APCO) has announced that it has reached financial close for the 2.1-billion-U.S.-dollar project to build the first oil shale fired power station and open cast mine in Jordan, reports Eesti Energi.
16.03.2017
Progress has been reported in the Kaunas combined heat and power ( CHP ) plant project that has been subject to heated discussions – 75 million euros worth of contracts were Thursday signed with German, Finnish, French and Czech companies, writes LETA/BNS.
15.03.2017
After rising last week, the price of electricity in Nord Pool's Lithuanian bidding area fell to record lows in the early hours of Wednesday, the power transmission system operator Litgrid said LETA/BNS.
15.03.2017
The import of natural gas to Estonia in February increased by 4.7% over February 2016 to 64.8 mln cubic meters, the transmission system operator Elering said LETA/BNS.
14.03.2017
Last year the Estonian electricity distribution system operator Elektrilevi invested 88.5 mln euros in assuring and increasing quality, building 253 substations and 2,699 kilometers of new lines, reports company.