International Internet Magazine. Baltic States news & analytics
Thursday, 30.07.2015, 23:14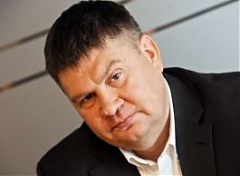 30.07.2015
Former Prime Minister Aigars Kalvitis is one of the five to six candidates running for the CEO at Latvijas Gaze, according to Juris Savickis, CEO of the company's shareholder Itera Latvija, writes LETA.
28.07.2015
Lithuanian dairy Vilkyskiu Pienine AB has signed a contract on connection to a gas distribution system with the energy company Lietuvos Dujos AB. Gas supply to the dairy farm is expected from the fourth quarter of 2016, the dairy reports LETA/ELTA.
27.07.2015
Over the past five years, the Estonian state-owned companies have allocated sponsorship money for 4.9 million euros, LETA/Public Broadcasting reports.
27.07.2015
The market share of Estonian state-owned energy giant Eesti Energia in electricity sale was 61.6% at the end of June, by a 1.3% smaller than a month earlier, reported LETA, referring to Elering.
24.07.2015
Klaipeda combined heat and power plant Fortum Klaipeda intends to move from biofuel and incinerate only waste. Fortum Klaipeda power plant, operating since spring 2013, is generating heat and electricity by incinerating sorted municipal waste, non-hazardous industrial waste and biofuel, reports LETA/ELTA, referring to Vakaru ekspresas.
24.07.2015
The Lithuanian subsidiary of the Polish oil company PKN Orlen – Orlen Lietuva, has been able to increase its productions capacity in the second quarter of the year 2015 to 86%, but in June the company's production capacity reached 92%, the company informed LETA.
23.07.2015
Orlen Lietuva benefits from restructuration and very favorable macroeconomical conditions in Q2 of 2015. Production capacity utlilization reached 86% (reaching 92% in June, which was the highest level since two years), informed BC company's press service.
23.07.2015
The Skonto buve construction company is continuing liquidation of acid waste ponds in Incukalns even though the State Environmental Service said yesterday that it would take the project over; likewise, the company's contract with the Environmental Service on liquidation of the acid waste ponds still stands, Skonto buve spokeswoman Ilga Sokolova told LETA.
22.07.2015
During her recent visit to the United States, Economy Minister Dana Reizniece-Ozola (Greens/Farmers) had several high-level meeting with U.S. officials, during which she received strong confirmations of support in opening Latvia's gas-market and strengthening energy independence, the Economy Ministry informs LETA.
21.07.2015
The consumption of renewable energy in Estonia grew in the second quarter of the year 2015 and formed 16.7% of total electric energy consumption, while being 14.2% at the same time last year, LETA/Public Broadcasting reports.
21.07.2015
The turnover of the Jekabpils multi-branch company Osukalns increased by 41% in 2014, reaching EUR 28.72 million, as compared with EUR 20.37 million in the 2013, reports LETA, according to Firmas.lv information.