International Internet Magazine. Baltic States news & analytics
Sunday, 25.09.2016, 06:44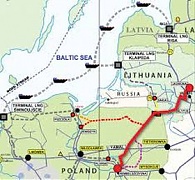 23.09.2016
After Poland postponed the end of implementation of the Gas Interconnector Poland-Lithuania (GIPL) gas pipeline by 2.5 years, Lithuania's gas transmission company Amber Grid will have to terminate the tenders of pipeline acquisition and gas pipeline construction before calling new ones, reports LETA.
19.09.2016
The European Commission has approved 150 million euros in support for a 345-million-euro biomass and waste-fired cogeneration plant that the state energy group Lietuvos Energija (Lithuanian Energy) is building in Vilnius, reports LETA/BNS.
19.09.2016
The 500-megawatt LitPol Link power interconnection between Lithuania and Poland is back online after a week of planned maintenance work, reports LETA.
15.09.2016
A senior executive of Lietuvos Gelezinkeliai (Lithuanian Railways, or LG) says that Orlen Lietuva has asked for tens of mlns of euros worth of discounts on rail freight rates, noting that this could be the price for Poland's position not to hamper Lithuania's strategic energy projects, particularly the Baltic grids' synchronization with the Western European system, reports LETA.
15.09.2016
The Fortum group companies Anne Soojus AS and Fortum Eesti AS received altogether 1.7 mln euros of renewable energy support in August, more than any other generating party in Estonia, figures published by the transmission system operator Elering show, reports LETA/BNS.
15.09.2016
The state-owned Estonian energy group Eesti Energia will start selling natural gas to household customers in November,Eesti Energia representatives told BC.
15.09.2016
Lithuania and Poland are starting to analyze possible routes for a second LitPol Link power interconnection between the countries as part of preparations for synchronizing the Baltic electricity grids with the Continental European network, reports LETA/BNS.
14.09.2016
Joint-stock company Norvik Ieguldijumu Parvaldes Sabiedriba (Norvik Investment Management Company) has become the sole owner of the wind power developer Winergy, according to Firmas.lv writes LETA.
14.09.2016
The Estonian natural gas seller Eesti Gaas sold 15.6 mln cubic meters of natural gas in August, 0.5 mln cubic meters or 3.3 % more than in the same month in 2015, reports LETA/BNS.
13.09.2016
The state-owned Estonian energy generating group Eesti Energia is preparing to conduct tests of the production of oil from used tires and has announced a tender to buy 1,000 tons of shredded tires for this purpose, BC informs Eesti Energia representative.