International Internet Magazine. Baltic States news & analytics
Monday, 29.05.2017, 14:36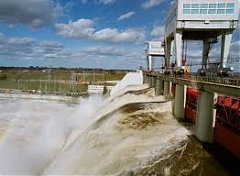 26.05.2017
n the first four months of 2017, Latvia's hydro power plants generated by 69.2% more electric power than during the same period in 2016, according to the information from the Central Statistical Bureau.
22.05.2017
Unit Nine at Lithuania's Elektrenai power plant was switched on after electricity prices in Nord Pool Spot's Lithuanian bidding area jumped on Monday, a spokesman for Lietuvos Energijos Gamyba (Lithuanian Energy Production) confirmed to LETA/BNS.
19.05.2017
Electricity prices for Latvian households were the 15th highest in the European Union in July-December 2016, while gas prices were the seventh lowest; however, electricity and gas prices in Latvia were both higher than in Lithuania and Estonia, according to Eurostat.
18.05.2017
The supervisory board of the state owned Estonian energy company Eesti Energia on Thursday elected Vaino Kaldoja as its chairman, Eesti Energia informed BC.
17.05.2017
atest data compiled by the Central Statistical Bureau (CSB) show that, in 2016 the volume of electricity produced in combined heat and power (CHP)1 plants kept increasing and accounted for 3 767.4 gigawatt hours (GWh), which constitutes 59 % of the total volume of electricity generated in Latvia. Compared to 2015, last year the volume of electricity produced in CHP plants grew by 7%, and the volume of heat (comprising 6 023.1 GWh) by 14%.
15.05.2017
A new shipment of liquefied natural gas (LNG) from Norway's Statoil is to arrive in Klaipeda on Tuesday, marking the eight LNG delivery to the Lithuanian port since the start of the current gas year on Oct. 1, 2016 and the third one for the fertilizer manufacturer Achema, reported LETA/BNS.
15.05.2017
The Lithuania-Sweden power interconnection NordBalt was briefly offline last week due to an error of IT systems, writes LETA/BNS.
12.05.2017
The supervisory board of the Estonian state forest manager RMK held a meeting on Friday to decided how to hold the auction of the Tootsi wind farm plot and a decision regarding the auction should be made in the next few days, informed LETA/BNS.
12.05.2017
An increase in the price of electricity on the Nordic electricity exchange Nord Pool (NP) in April was mostly related to the annual maintenance work carried out at the Olkiluoto nuclear power plant in Finland, and at the same time the price was under pressure by a relatively good level of Nordic and Baltic hydro reservoirs, informed LETA/BNS.
12.05.2017
Latvia's Conexus Baltic Grid gas transmission and storage system operator is addressing market players who potentially might store natural gas in Incukalns underground gas storage facility, the company's representative Janis Eisaks said at the conference "Towards an integrated regional natural gas market in the Baltic countries and Finland" today сiting LETA.
11.05.2017
Finance Minister Sven Sester, acting in his capacity as extraordinary general meeting of Eesti Energia, on Thursday recalled Veiko Tali and Rannar Vassiljev from the supervisory board of Eesti Energia and endorsed the new lineup of the supervisory board effective from May 12, 2017, informed Eesti Energia.