International Internet Magazine. Baltic States news & analytics
Tuesday, 23.09.2014, 23:20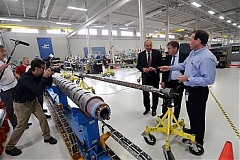 23.09.2014
Starting his working visit to the United States on Monday, Latvian President Andris Berzins visited Houston (Texas), where he met with the management of the leading U.S. gas and transportation companies in order to acquaint them with Latvia's energy sector and opportunities for them to invest, taking into account not only Latvia's national, but also regional interests in reducing energy supply risks and attracting strong investors from alternative regions, LETA was informed by the Presidential Press Service.
22.09.2014
In the first half-year of 2014 JSC "Latvian Shipping Company" and its subsidiaries (hereinafter – LSC Group) continued to improve their financial indicators – in 2013 in the same period the Group suffered a loss of 26.60 million USD, but this year – 8.32 million USD. The total income from the fleet in the first half of 2014 was 47.14 million USD, informed BC the company's press service.
22.09.2014
The results of a study conducted by BiotaP OÜ provide hope that in the future, biogenic methane gas could be produced from argillite that is found in Estonia, LETA/Delfi Ärileht reports.
20.09.2014
Electricity price in Nord Pool Spot power market Lithuanian trading zone in August 2014 was LTL 0.191 (EUR 0.055) per kilowatt hour. Lithuania imported 64% of electricity, reports LETA/ELTA.
19.09.2014
The European Parliament (EP) welcomes the ratification of the Association Agreement with Ukraine and steps being taken to restore peace in Ukraine, at the same time condemning the Russian Federation for waging an undeclared "hybrid war" against Ukraine, urging the European Union member states to cancel planned agreements with Russia in the energy sector and to support farmers affected by Russia's food embargo, as Marta Ribele, acting head of the EP Information Office in Latvia, informed LETA.
19.09.2014
On 18 September in Vilnius, Minister of Foreign Affairs of Lithuania Linas Linkevicius and new Ambassador of Spain to Lithuania Emilio Fernandez-Castano y Diaz-Caneja discussed partnership within international organisations, economic cooperation, and issues relating to the EU internal energy market, reported BC the Ministry of Foreign Affairs.
18.09.2014
Blind stubbornness of the authorities has gone over the top as in the light of the current geopolitical crisis the Construction Inspectorate is demanding to destroy a newly built biofuel plant in Vilnius when Lithuania is facing an energy blockade from Russia and the heating season is about to begin, reports LETA/ELTA, referring to Lietuvos rytas.
18.09.2014
Saeima passed amendments to the Electricity Market Law in the final reading today, the amendments stipulate mechanisms to compensate low-income earners, needy residents, and large families for electricity price growth, reports LETA.
18.09.2014
Estonian chemical industry Viru Keemia Grupp (VKG) successfully launched its Petroter II plant, which is already running at full capacity for two weeks, LETA/Postimees Online reports.
18.09.2014
Natural gas supply and trade company Litgas signed an agreement with bank Swedbank on Wednesday over a LTL 287.73 million (EUR 83.3 million) credit line, reports LETA/ELTA.
17.09.2014
Estonian state-owned foundation Environmental Investments Centre (EIC) supports from European Union funds the necessary preliminary studies for reorganising the Paldiski nuclear object with EUR 2,116,000, LETA/Public Broadcasting reports.