International Internet Magazine. Baltic States news & analytics
Sunday, 29.03.2015, 10:20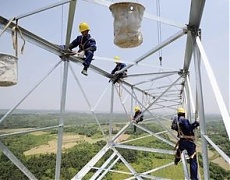 27.03.2015
Lithuania's National Commission for Energy Control and Prices (VKEKK) on March 26th 2015 fined Lithuania's electricity transmission system operator Litgrid EUR 100,000, informs LETA/ELTA.
25.03.2015
JSC Ventspils nafta the holding company, made a loss of 5.28 million EUR in 2014 (2013 loss of 28.15 million EUR), largely as a result of a 9.67 million EUR impairment (2013: 47.32 million EUR) recognised in respect of VN's investment in LatRosTrans Ltd., reports BC VN's press service.
25.03.2015
The EU's political steps to reduce its energy dependence need to be accompanied by in-vestments in the energy infrastructure. A good starting point in this process may be the construction of the North–South Corridor of energy, transportation and telecommunica-tions, as promoted in a report presented by Central Europe Energy Partners (CEEP) and the Atlantic Council.
24.03.2015
The government of Latvia today approved of a proposal to extend the deadline for use of obsolete liquefied petroleum gas cylinders that do not meet the European Union's requirements, which means that households will be able to use them until the end of 2017, informs LETA.
24.03.2015
Although the state of Estonian waters is considered to be one of the best in Europe, the local sources of danger are still agriculture, wastewater, and heavy metals stored in sediments over the years, LETA/Public Broadcasting reports.
24.03.2015
Estonian state-owned energy giant Eesti Energia became a member of the Lithuanian natural gas exchange GET Baltic; as gas exchange member, Eesti Energia can conduct gas purchase and sales transactions, LETA/Postimees Online reports.
20.03.2015
Norwegian oil company Statoil could supply Latvia with liquefied natural gas after the gas supply market in Latvia is opened, Economy Minister Dana Reizniece-Ozola (Greens/Farmers) said in an interview on this morning's edition of the Latvijas Neatkariga televizija (LNT) news program "900 Seconds", cites LETA.
20.03.2015
In 2014, JSC Latvian Shipping Company (LSC) operated with a profit of 1.6 million EUR comparing to profits of 0.4 million EUR in 2013, reports BC communication consultant at JSC Latvian Shipping Company Elīna Dobulāne.
20.03.2015
Estonian state owned main grid company Elering announced on Friday that with the completion of major investments, it invested a total of 100.5 million euros in the development of the electricity system in 2014, informs LETA.
20.03.2015
EU leaders meeting in the capital of Belgium Brussels discussed the European Commission's proposal for building an energy union, which aims to strengthen EU policies in five key areas – ensure transparent and secure energy supplies, complete the EU internal energy market, increase energy efficiency, promote innovations and pursue efforts for more renewable energies, reported BC the press service of Lithuanian president.
19.03.2015
While Vilnius Mayor-Elect Remigijus Simasius is speaking in favour of liberalising the heating sector and competition in Vilnius, Lithuanian Prime Minister Algiras Butkevicius says that the Cabinet will stick to a strict regulation of the sector, reports LETA/ELTA.