International Internet Magazine. Baltic States news & analytics
Friday, 31.10.2014, 13:21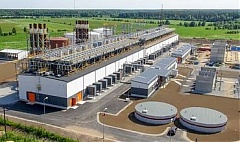 31.10.2014
Estonian Minister of Economy and Infrastructure Urve Palo, Elering's CEO Taavi Veskimägi and the Vice President of the Finnish Wärtsilä Group are inaugurating Elering's emergency reserve power plants on Friday, Elering announced, cites LETA.
30.10.2014
Lithuanian oil producers are worried: the fall of oil prices does not seem to end soon, which results both in lower income of their companies and the state budget, reports LETA/ELTA, referring to Lietuvos rytas.
30.10.2014
Dana Reizniece-Ozola (Greens/Farmers), who has been nominated for the economy minister's position in Latvia, promises to assess the opportunities of reducing support for large natural gas power stations, reports LETA.
30.10.2014
During a shareholders' meeting last week, shareholders of joint-stock power-supply company Latvenergo decided to enter into loan agreements with the winning bidders of the bank loan tender which was announced this past April to attract capital of up to EUR 150 million under the borrowed capital attraction plan, according to an announcement today at the ''Nasdaq'' Riga Stock Exchange, cites LETA.
28.10.2014
European Commission's ambitious proposal to cut off at least 40% in greenhouse gas emissions has been approved by the member states in October 2014. The proposal was revealed in January 2014 but at that time the idea seemed as a wrong thing at the wrong moment. Now the reduction was unanimously approved by the European Council.
28.10.2014
On Tuesday morning, the LNG tanker Golar Seal is bringing a test cargo of the liquefied natural gas (LNG) – around 107,000 cubic metres of gas – to the Klaipeda LNG terminal, informs LETA/ELTA.
28.10.2014
Following the global fall in prices of oil products, Neste Latvija repeatedly reduced fuel prices at all of 62 Neste Oil gasoline stations in Latvia, thus, fuel prices in Latvia have reached a four-year low, the company informed the business portal Nozare.lv, cites LETA.
28.10.2014
The LNG storage vessel Independence for the liquefied natural gas (LNG) terminal arrived in Klaipeda on Monday. Attending the welcoming ceremony, Prime Minister Algirdas Butkevicius stressed that this is a historic day not only for Lithuania, but for the Baltic region as a whole, reported LETA/ELTA, referring to the PM's press service.
28.10.2014
Estonian Minister of Foreign Trade and Entrepreneurship Anne Sulling said in a speech at the arrival ceremony of the floating LNG terminal in Klaipeda on Monday that the LNG terminal increases energy independence of Lithuania as well as all Baltic States, reports LETA.
27.10.2014
More than two thirds of European citizens are living in towns and cities; hence the necessity to increase healthy environment in urban areas, i.e. support cities with a green vision. The European Green Capital Award is recognition of a city with environmentally-friendly way of living. The award helps in setting higher standards in sustainable urban development and pioneering innovative solutions to environmental challenges.
27.10.2014
President Dalia Grybauskaitė attended the welcoming ceremony for the arrival of the liquefied natural gas (LNG) storage vessel "Independence" in Klaipėda. This terminal is a guarantor of energy and geopolitical security that will ensure energy self-sufficiency and security of Lithuania, reported BC press service of the president.