International Internet Magazine. Baltic States news & analytics
Monday, 25.05.2015, 16:27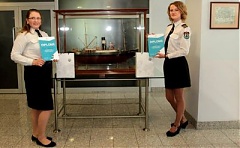 25.05.2015
In 2015, the student research paper competition "The Port for the City" is held to commemorate the 815th Anniversary of the Freeport of Riga. The students' ideas related to enlargement of the Riga Passenger Port earned the highest evaluation. The winners of the competition Karlina Osa and Zane Narnicka (Latvian Maritime Academy Maritime School) hope that their future profession will be linked with the port of Riga.
19.05.2015
On Monday, 18 May the Minister for Education and Science of Latvia, Marite Seile chaired the meeting of the Education, Youth, Culture and Sports Council in Brussels. The Council adopted conclusions on reinforcing youth work, highlighting its contribution to personal development, social inclusion, cultural diversity and active citizenship, informs eu2015.lv.
18.05.2015
The Prosecutor General's Office in Latvia has opened a criminal process on termination of the Skolas.lv school portal project.
14.05.2015
Latvia may have to consolidate the 2016 state budget by 0.3% of the gross domestic product, as Martins Zemitis, economic advisor at the European Commission Representation in Latvia, told reporters today, cites LETA.
14.05.2015
Latvia is in 24th place in global school rankings released by the Organization for Economic Cooperation and Development (OECD) – ahead of Lithuania but way behind Estonia. Asian countries are in the top five places, reports LETA/BBC.
13.05.2015
Data of the Central Statistical Bureau (CSB) show that in the 1st quarter of 2015 unemployment rate (the number of unemployed persons in the total number of economically active population) accounted for 10.2%, which is 1.7 percentage points less than a year ago.
13.05.2015
In an interview today on Latvian Radio, Education and Science Minister Marite Seile said that Latvian schools with a small number of pupils will not be able to employ a disproportionate number of teachers, reports LETA.
12.05.2015
With the implementation of the new teachers' salary model, at least 70% of Latvia's teachers could see their salaries grow, reports LETA, according to Education and Science Minister Marite Seile.
12.05.2015
Lithuania's competitiveness must be boosted through education and social reforms, said Prime Minister of Lithuania Algirdas Butkevicius after a meeting with representatives of the Business Council, cites LETA.
08.05.2015
Vilnius University (VU) is reported as the best in Lithuania by as the magazine Reitingai (Ratings) introduced its institutional ranking of Lithuanian universities, VU reports BC.
07.05.2015
President Dalia Grybauskaite on Thursday met with President of Lithuanian Confederation of Industrialists (LPK) Robertas Dargis. She emphasised that the whole Government must be responsible for regulating labour relations and not one ministry, informs LETA/ELTA.