International Internet Magazine. Baltic States news & analytics
Tuesday, 16.07.2019, 18:12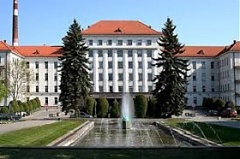 15.07.2019
The Education, Science and Sport Ministry proposes to provide funds to help young people from Ukraine's war-hit eastern regions of Luhansk and Donetsk to complete a bachelor's degree in Lithuania, reported LETA/BNS.
05.07.2019
A Soyuz rocket launched from the Vostochny cosmodrome in Russia on Friday morning took into orbit a new generation Tallinn University of Technology (TalTech) student satellite named "Koit" (Dawn), reported LETA/BNS.
04.07.2019
The European Organization for Nuclear Research (CERN) will establish two incubators in the Lithuanian cities of Vilnius in Kaunas, the only ones in Central and Eastern Europe, under an agreement by Lithuanian Minister of Economy and Innovation Virginijus Sinkevicius and CERN representatives on Thursday, informed LETA.
04.07.2019
Estonian Minister of Education and Research Mailis Reps is to attend the education ministers' meeting of the G7 in Paris on Thursday at the invitation of French Minister of Education Jean-Michel Blanquer, writes LETA/BNS.
02.07.2019
The amount of time that Estonian residents aged 50 and above have spent in education and employment is longer than in most other countries of Europe, it appears from the findings of the Survey of Health, Ageing and Retirement in Europe (SHARE).
01.07.2019
Lithuania's Minister of Education, Science and Sports Algirdas Monkevicius has confirmed an integrated Lithuanian education program for Lithuanian schools abroad, reported LETA/BNS.
27.06.2019
European Commission announced first EU higher education institutions' selection to create "European Universities" alliance to enhance the quality and attractiveness of European higher education and boost cooperation between institutions, their students and staff.
27.06.2019
The University of Latvia and the Art Academy of Latvia have been selected to participate in the European Universities Initiative, a project aimed at boosting cooperation among higher education institutions across the EU, the European Commission said.
27.06.2019
The Estonian government intends to support at a sitting on Thursday a proposal to increase the maximum rate of student loans by 500 euros to 2,500 euros per applicant, reported LETA/BNS.
26.06.2019
The EU provides states with both advice and support for high youth's quality and inclusive education. The idea is to give students needed knowledge and skills for adequate response to new opportunities and challenges opened by globalisation and technological change. These challenges are to be incorporated into the national education policies in order to tackle the needs of the perspective labour market's requirements.