International Internet Magazine. Baltic States news & analytics
Wednesday, 18.07.2018, 00:17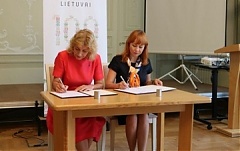 13.07.2018
Lithuania is set to launch on September 1 a state-funded program for schoolchildren aimed at improving their access to cultural and educational projects and events, reports LETA/BNS.
05.07.2018
Riga Technical University (RTU) has topped the list of Latvian universities recommended by employers and Riga Technical College has been named the most recommended college, a survey by the Latvian Confederation of Employers and Prakse.lv career website shows, cites LETA.
04.07.2018
Dr. Elena Lukyanova (Law), Director of Institute of Law Enforcement Effectiveness Monitoring, Professor of the Justice Department, NRU, a well-known international expert in the protection of rights and freedoms, who specialises in the Latvian situation, has sent a letter concerning language amendments to the Law on Higher Education Institutions to Mr. Raimonds Vējonis), President of the Latvian Republic. The renowned expert in the field of justice points out the consequences of these amendments that cause damage to property, contrary to the international documents. BK publishes the uncensored text of the address below.
04.07.2018
Latvian President Raimonds Vejonis has promulgated the bill that would ban use of Russian as the language of instruction also at private universities in Latvia, writes LETA, according to the announcement published in the official newspaper Latvijas Vestnesis.
27.06.2018
Of Estonian workers, 56% would be willing to work abroad, which is slightly less than four years ago, but at the same time 76% of Estonian residents with a higher education degree and 69% of the young generation would be ready to work outside Estonia, it can be seen from the results of the fresh Decoding Global Talent 2018 international survey, cites LETA/BNS. Latvia is 72nd and Lithuania 67th in this survey.
25.06.2018
The Commission's 2018 European Innovation Scoreboard shows that the EU's innovation performance continues to improve, but further efforts are needed to ensure Europe's global competitiveness.
21.06.2018
In the academic year 2017/2018, there were 153,300 students acquiring general education, 24,100 vocational education and approximately 46,200 higher education in Estonia. Compared to the previous academic year, the number of students in general education increased by 4,100; in vocational education it decreased by 900 and in higher education by 1600.
20.06.2018
Latvia and Peru have agreed to expand business, educational and science cooperation, LETA was told at the Latvian Foreign Ministry.
19.06.2018
A program agreement was signed between Estonia, Iceland, Liechtenstein and Norway on June 18th, according to which Estonia will utilize more than eight million euros' worth of support of the European Economic Area (EEA) Financial Mechanism Programme for carrying out research and higher education cooperation projects, reports LETA.
18.06.2018
The consolidated turnover of Latvian book publishing company Zvaigzne ABC reduced by 5.7% to EUR 12.39 million in 2017, writes LETA according to Firmas.lv.