International Internet Magazine. Baltic States news & analytics
Friday, 22.11.2019, 18:30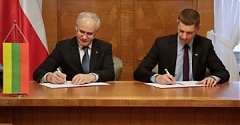 21.11.2019
The Lithuanian and Polish education ministers met in Warsaw on Wednesday and signed a declaration on ethnic minority education in the two countries and committed to step up cooperation in preparation and adaptation of textbooks and raising teachers' qualifications, informed LETA/BNS.
06.11.2019
Central banks both in Europe and in the U.S. continue to conduct their expansionary monetary policy, which means that interest rates are going to be kept at very low levels also looking forward. These are good news for the borrowers as loans are not expected to become more expensive. On the other hand, it is not possible to get decent returns on the invested cash in this environment: deposit rates just marginally exceed zero percent level, while government bond yields are virtually 0%. If one also adds the inflation rate, it becomes clear that the cash capital is losing its value.
04.11.2019
Six undisclosed applicants have expressed their wish to become rector of Vilnius University, informed LETA/BNS.
30.10.2019
Lithuania's government on Wednesday allowed a Vilnius-based private British school to work under the English national education program, reported LETA/BNS.
24.10.2019
The Council of the Latvian Trade Union of Educational and Science Employees (LIZDA) decided today to organize teachers' protest in March 2020 unless the government provides guarantees by that time that the teachers will get the promised pay rise, the union's leader Inga Vanaga told LETA.
23.10.2019
The Education and Science Ministry has offered the University of Latvia to discuss a possible out-of-court settlement in the dispute over the election of Indrikis Muiznieks as the university's rector, Muiznieks told LETA.
23.10.2019
The Ministry of Defense (MoD) is in talks with higher education institutions to include the basics of military medicine in medical study programs, reported LETA.
23.10.2019
In September, spine surgeons at East Tallinn Central Hospital started performing surgeries using a new robot, which helps surgeons place implants and navigate the spine. The robot is the first of its kind in Northern Europe, East Tallinn Central Hospital representatives informed BC.
23.10.2019
The existing agreements with teachers' trade unions are not fully implemented in the next year's budget bill, Lithuanian Education Minister Algirdas Monkevicius admits, noted LETA/BNS.
23.10.2019
The Estonian Ministry of Education and Research said that the higher education reform has to a great extent fulfilled its purpose as access to higher educations has improved and admittance to several specialities, the specialists of which are lacking on the labor market, has increased, reported LETA/BNS.
15.10.2019
During present Finnish Presidency of the Council of the EU, the 2019 European Vocational Skills Week in Helsinki (14-18.x.) took place with the idea of encouraging people of all ages to 'discover their talent' through vocational education and training (VET).