International Internet Magazine. Baltic States news & analytics
Monday, 24.11.2014, 21:59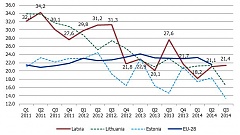 24.11.2014
In the 3rd quarter of 2014 the number of unemployed persons in the age group 15 to 74 years accounted for 104.9 thsd persons, according to the results of the Labour Force Survey conducted by the Central Statistical Bureau of Latvia (CSB). 18.9 thsd or 18% of the total number of unemployed persons were aged 15-24.
20.11.2014
The Estonian Riigikogu adopted on Wednesday with 54 votes in favour, 24 against and one abstention the new Child Protection Law, which during the proceedings got a lot of criticism from child protection officials and opposition politicians, LETA/Postimees Online reports.
19.11.2014
The book explores Swedish national policy in regional development in line with the EU regional policy ideas to strengthen economic, social and territorial cohesion by reducing disparities in the level of development among regions in the member states. It means, literary, investing in regions' indigenous potential to promote competitiveness of regional economies and providing permanent catch-up of those lagging behind with more prosperous areas.
19.11.2014
Research and development expenditure in Lithuania in 2013 amounted to EUR 332 million, while back in 2004 it stood at EUR 137 million. In 2013, the EU28 member-states spent almost EUR 275 billion on R&D, informs LETA/ELTA.
18.11.2014
Members of the European Commission's post-monitoring mission have recommended Latvia to pay closer attention to several areas, including higher education and energy, Prime Minister Laimdota Straujuma (Unity) told a press conference after a meeting with representatives from the Commission's post-monitoring mission, cites LETA.
14.11.2014
Statistics Lithuania informs that, according to the Labour Force Survey data, in III quarter 2014, against II quarter 2014, the unemployment rate decreased by 2.1 percentage points, against III quarter 2013 – by 1.8 percentage points. In III quarter 2014, the unemployment rate in the country stood at 9.1%.
14.11.2014
On Friday, taking part in the opening of the KTU (Kaunas Technology University) Science and Technology Centre and Technological Business Incubator, Lithuanian Prime Minister Algirdas Butkevicius stressed that funds properly invested in science and technologies always bring great returns, informs LETA/ELTA.
14.11.2014
Minister of Economy Evaldas Gustas met with European Commissioner for Research, Science and Innovation Carlos Moedas and stressed that high technology and engineering industry form research and innovation potential in Lithuania, reports LETA/ELTA.
13.11.2014
The Intergovernmental Panel for Climate Change (IPCC) published its 5th Assessment Report (AR5), which provides a review of the current state of scientific knowledge relevant to climate change. It integrates the results of assessments on the latest research carried out over the past six years. The report will be part of negotiations under the UN Framework Convention on Climate Change (UNFCCC) in December 2014 in Peru.
13.11.2014
The board of the Latvian Trade Union of Education and Science Employees will hold a meeting on Wednesday, November 19, in order to decide on launching an education workers' strike.
11.11.2014
The Lithuanian Geological Survey under the Ministry of Environment (LGT) tested samples of rock with shale and found that the heavy metal levels contained in them presented no hazard to the environment, informs LETA/ELTA.