International Internet Magazine. Baltic States news & analytics
Friday, 04.12.2020, 16:59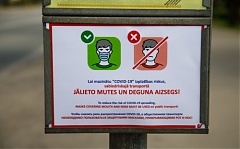 03.12.2020
Various additional Covid-19 restrictions come into force in Latvia from today, December 3rd, informs LETA.
27.11.2020
The European Parliament demands a prompt, thorough, and independent investigations into the murder of art-teacher Raman Bandarenka and the protest related deaths of other Belarusian civilians, LETA was informed by the European Parliament's press service.
25.11.2020
The Latvian Trade Union of Education and Science Employees (LIZDA) has decided to call for the resignation of Education and Science Minister Ilga Suplinska (New Conservative Party), LIZDA Chairwoman Inga Vanaga said during a press conference today, informs LETA.
25.11.2020
The Norway-based global developer of learning platforms Kahoot on Wednesday announced the acquisition of Drops, a start-up founded in Estonia that is one of the fastest growing language platforms in the world, informs LETA/BNS.
25.11.2020
It is planned to introduce a childcare allowance when looking after children during the Covid-19 pandemic in Latvia, according to the amendments to the Law On Maternity and Sickness Insurance approved at the extraordinary government meeting, informs LETA.
25.11.2020
Due to the Covid-19 outbreak, the government decided on harsher restrictions in education and sports, as agreed by the Cabinet and the Crisis Management Council, writes LETA.
24.11.2020
The international education technology company Mindvalley is expanding its business in Estonia and is about to increase its employee numbers here severalfold as part of its vision to become the biggest provider of future education globally, informs LETA/BNS.
24.11.2020
The Health Ministry in Latvia has proposed toughening coronavirus restrictions in education and sports, Santa Livina, head of the ministry's public health department, told journalists today, cites LETA.
23.11.2020
At a teleworking session on Monday, the Estonian government approved additional anti-coronavirus measures agreed upon on Friday last week in order to protect the health and lives of Estonian people and prevent the health care system from being put under an excessive strain; among other restrictions, wearing a mask will be made mandatory in public indoor environments from Tuesday.
20.11.2020
Center Party politician Mailis Reps, who this week found herself in the center of a scandal related to the use of ministry vehicles for the needs of her family, on Friday announced her resignation from the post of minister of education and research, reported LETA/BNS.
17.11.2020
Magnetic MRO, an aviation maintenance company headquartered in Estonia and owned by China's Guangzhou Hangxin Aviation Technology, together with the Estonian Aviation Academy have been announced as a winner of the 2020 Awards for VET Excellence, an award program which is part of the European Vocational Skills Week organized by the European Commission, informs LETA/BNS.