International Internet Magazine. Baltic States news & analytics
Sunday, 25.09.2022, 13:54
Daughter of Latvian refugees receives top technological award at White House
BC, Riga, 14.10.2009.

Print version
Esther Sans, the daughter of political refugees from Latvia, went off to kindergarten five decades ago in Ohio barely knowing any English – but now she knows better than anyone how to power the human heart when Mother Nature isn't quite up to it, reported BC the Latvian Institute.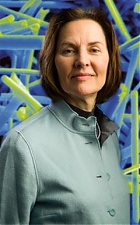 Esther Sans Takeuchi.
And that discovery led Sans – now Esther Sans Takeuchi – to the White House on Wednesday, where President Obama presented the University at Buffalo professor the nation's top award for technological achievement.
Obama honoured Takeuchi for inventing the battery that powers many of the world's implanted medical devices, but he just as easily could have lauded her as living proof that the American dream still comes true.
As the daughter of immigrants, she once wore the patchwork dresses her mother made from the scraps of cloth her father brought home from the coffin factory where he worked. And now she's the mother of one of medicine's great inventions and the third woman in 25 years to be named an individual recipient of the National Medal of Technology and Innovation.
Obama presented Takeuchi the medal as a Marine in dress uniform read a citation.
Takeuchi won the award "for her seminal development of the silver vanadium oxide battery that powers the majority of the world's lifesaving implantable cardiac defibrillators, and her innovations in other medical battery technologies that improve the health and quality of life of millions of people," the citation said.
Takeuchi's parents, Mary and Rudolf Sans, didn't live to see their daughter win that honour, which had previously gone to computer pioneers Bill Gates and Steve Jobs. Yet in a way, Takeuchi's honour was born of her parents' travails and their achievements.
As Takeuchi tells it, the Sanses were a prominent family in Riga, Latvia, when the Soviets occupied the Baltic state in the last years of World War II.
The Soviets purged Latvia of its elite, sending 120,000 people to prison, or the gulags, including Rudolf Sans' brothers. Worried about their own fate, Rudolf Sans, an electrical engineer, and his wife fled for Germany in 1945. They spent several years in a refugee camp before moving to America in 1951 and settling in Kansas City, where their daughter Esther was born. Rudolf Sans took a job at a coffin factory, where he started gathering those swatches of cloth that Esther and her sister would end up wearing.
Sans eventually found an engineering job in Akron, Ohio, but when Esther first went to kindergarten there, she spoke the Latvian she heard at home and not the English she suddenly heard all around her.
"You figure it out as you go," she said. "I don't remember it being particularly traumatic. I remember it being odd."
This article by Jerry Zremski appeared on October 8, 2009, in "The Buffalo News".