International Internet Magazine. Baltic States news & analytics
Sunday, 29.11.2020, 19:03
Solutions dictated by the need for IT professionals: from non-formal education to corporate academies
Kaunas IN Business Department , 06.02.2020.

Print version
The growing demand for IT specialists is heating the market not only in the world or Lithuania, but also in Kaunas. In order to prevent the limited supply of skilled workers from becoming a barrier to development and growth, companies are taking a variety of decisions. Nowadays they start looking for talent not in universities but in high schools. However, an equally important factor - the retraining of adults - brings some fresh perspectives and pushes companies to look at the shortage of professionals in a different way.
Retraining is driven by an extremely strong motivation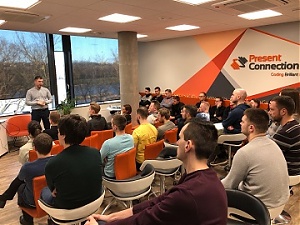 Photo A. Aleksandravicius, Kaunas Coding school, Present Connection
Not by chance this summer, Kaunas Coding School triumphed in the K.A.V.A. 2019 (Kaunas Growing Business Awards) category Kaunas is Proud. Kaunas Coding School is the only adult retraining school in Lithuania that focuses solely on adults and their career in IT.
In Kaunas alone, over 750 people have graduated from this school's various training programs and, as the school's headmaster Justina Kugytė notes, the number of graduates is growing every year, "The scale of non-formal education is increasing along with the growing awareness among people that there is a need for continuous improvement and learning and that you might face tasks that require the knowledge in IT, in any area of your life."
In addition to the growing number of groups attending the school, the variety of programs is also expanding. Just a few months ago the School of Data Analytics - the Data School - was launched here. The need for it was dictated by obvious market trends showing a growing need for these professionals.
"To make their work more effective, companies across sectors, face data and discover tools that help manage that data. Medical, legal, or finance sectors require data analysts to help companies become more efficient. Five groups of students have already completed this training, among which we had many diverse final theses - from sales forecasting to forecasting in the medical sector," J. Kugytė says.
The school's model is unique in that it involves adults who have no previous experience in the field of IT. Although they come from a wide range of professions, the students have two important things in common - the desire to enter the IT market and very strong motivation.
"One thing we have noticed over the years is that when a person decides to change their profession, his or her decision is undoubtedly driven by strong motivation. This is obvious both during the studies and later at work. That is why our students are so valued by partner companies that later invite aspiring graduates with relevant skills to work for them. What's more, they bring the so-called soft skills from the former professions, for example, they know how to work in a team setting, understand what are projects and how to manage them, and so on," J. Kugytė claims.
In total, Coding School has about 150 partner companies in Lithuania, 60 of them in Kaunas. Some of these partners are IT companies, while others are businesses of different profiles with their own IT departments.
On the 29th of February, Coding School will host the first tech fair for employers - Tech Fair 2020, where companies will be able to present themselves to the employees who are retraining and invite them to join the quick job interviews. The first such fair will take place in Vilnius and later it is expected to be organized in Kaunas as well.
Retrained employees help with the growth
One of the successful examples of the partnership between adult retraining institutions and business is that graduates who have received vocational training at Kaunas Coding School find employment and continue their career at Present Connection. Programmers of this company include former biotechnology and food technology specialist, a chemical engineer, metalworker and so on. The company currently employs 19 of them.
"It is no secret that experienced specialists are still lacking in Kaunas. That's why we put a lot of effort into cultivating them. We implement partnerships, organize training academies, collaborate with universities and other organizations. Only in this way we can ensure that we will be able to offer our services to the clients abroad and warrant their quality," Domantas Jovaišas, Head of Present Connection says.
Academy that lures back the emigrants
NFQ founded 18 years ago, an international company of digital innovation, is implementing large-scale web development, business digitalization, business intelligence, data science projects, and is in dire need of IT professionals. The NFQ Academy, which was launched in 2012 not only helps the company to attract talent but also contributes to the development of the Lithuanian community of programmers.
The principle behind the NFQ Academy is simple: it is a bridge between the university and the real world of professionals, a 3 month-long accelerator of theoretical and practical knowledge. Students are given homework with the assistance of NFQ specialists who also give necessary lectures; they are also put in teams curated by mentors.
For a long time, studies were organized in several cities, but from 2019 the autumn program was merged and lectures were broadcast live, connecting IT students in all three cities - Kaunas, Vilnius, and Šiauliai.
"We are the first in Lithuania to offer distance learning for emigrants with the opportunity to return to their homeland and pursue a career in the IT sector. The idea was dictated by our own insights: many high-level specialists working in our company have returned to create and work in Lithuania after living abroad. I was among them. Having worked in the UK and Australia for seven years, I have convinced myself that the world Lithuanian community is full of talented people with an exceptional experience, who have graduated from the best universities. Their knowledge can produce added value to Lithuania and they would be happy to work in our technology sector. All we have to do is create the right reasons and opportunities for these talents to realize their potential. According to the Lithuanian Department of Statistics, more than 463 thousand Lithuanians live abroad, so we are sending the message that a talented and motivated person is needed in Lithuania, and the NFQ Academy can be a great reason and motivation to return," Petras Janulevičius, the Academy's coordinator, says.
In total, since 2012, 650 people have graduated from NFQ Academy. Over 120 of them were employed by NFQ and HomeToGo. Today, most of them are high-level experts in mid/senior programming positions and are working on large projects. This fall, the Academy received applications from at least 10 different foreign countries, from England, Romania to the United Arab Emirates. 4 Lithuanians successfully graduated from the 16th edition, 3 of them are actively participating in a recruitment process. In 2020, NFQ intends to continue this mission and hopes to discover talent not only in Lithuania.