International Internet Magazine. Baltic States news & analytics
Wednesday, 16.01.2019, 16:42
Flower business for sale in Riga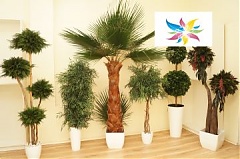 Fixed Assets:

Company – the official representative in Latvia of the world famous company Verdissimo in selling stabilized flowers, plants, moss and trees – is offering business for sale in Riga.

Stabilized plants are natural live plants grown in a special way with the slowed down aging process.

Such plants are suitable for home, office, saloon, hotel, restaurant, shopping mall etc., filling the premises with a delicate flavour. Their expiry date is up to 7-10 years even without watering and sunlight. These plants do not require any maintenance.

Advantages of stabilized plants:

- no maintenance (watering and sunlight)

- anti-allergenic

- are not subject to disease

- the absence of seasonal factors (green all year round)

- expiry date up to 7-10 years

- cost savings due to the lack of maintenance

The top companies in Latvia are among our customers – T/C SPICE and T/C Sēlija, Līvu akvaparks, restaurants: Bibliotēka N1, Kolonāde, Melna Bite, International, Melna kaķa mājas restorāns, Jūras Orients, hotels: Wellton Hotel, Opera and SPA Hotel, Dome Hotel, shops: mobile operators LMT and Amigo, game rooms: Vulkāns, Munhauzena Unda, as well as private clients.
Additional information:

SIA Juridiskais birojs INLAT PLUS
Brīvības iela 40-15, Rīga, LV-1050
www.inlatplus.lv
Tel.: +371 67505970
Mob.: +371 26403577
Fakss: +371 67505978