International Internet Magazine. Baltic States news & analytics
Monday, 21.05.2018, 23:50
Assisted living project offered in Latvia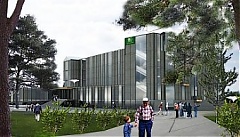 | | |
| --- | --- |
| Price: | Call |
| Share: | 100% |
| Place: | Latvia, Jurmala |
| Income: | Call |
| Object type: | |
Fixed Assets:

The purpose of the project is to introduce a new business in Latvia - assisted living –providing high-quality care for the elderly (70 +) meeting western standards. Over the last few years the demand for such services has grown considerably. Similar organizations focusing on providing comprehensive personal care for the elderly are successfully operating in the Czech Republic and Russia. Despite the high cost of living such residences are constantly overbooked.

Latvia being a target market for this particular service has been selected after having monitored European market and that of the former Soviet Union. This project is the first ever Elite Private boarding care in the Baltics for seniors over 70. Investments in the project have a low risk due to the peculiarities of the market: stable demand on the part of lessees, long-term contracts (usually 4-10 years).

Our client has 15 years of experience in this business. His company provides services to 250 guests in 5 boarding facilities (with 180 employees).

For the implementation of this project quite a lot has already been achieved:

- A plot of land has been purchased in Jurmala near the river. On this plot of land there is a building requiring reconstruction (land is 5541 sq.m, building is 3078 sq.m.).

- A rent agreement has been concluded with Jurmala City Council on favorable terms till 2054 regarding 2 adjoining plots of land (1200 sq.m. with the right of commercial development and 5062 sq.m. a park area).

- Technical project has been developed for the construction of a multifunctional complex "Green Home Jurmala", including the reconstruction of the existing building. The living area is 2979 sq.m. (50 apartments). Public area is 3691 sq.m. Estimated cost of the project is 5 mln. EUR.

- A business plan of this project has been drawn up.




There are special conditions for those clients who are not residents of the EU enabling them to obtain a temporary residence permit in Latvia.
Additional information:

Terms of participation in the project can be discussed during a personal meeting. For further information please contact the law firm INLAT PLUS:

Brivibas street 40-15, Riga, LV-1050, Latvija
Tel.: (+371) 67505973, 67505979

Mob: (+371) 25945748, 26403577

ip@inlatplus.lv
www.inlatplus.lv

www.investplus.lv
http://www.facebook.com/inlatplus