International Internet Magazine. Baltic States news & analytics
Wednesday, 20.06.2018, 22:00
High-potential investment project offered for sale – oil terminal in Liepaja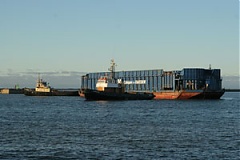 Fixed Assets:

The proposed investment object is a terminal located in Liepaja, Latvia, at the coast of Baltic Sea. The terminal is located within the city with railway and road infrastructure, wharf wall with 200 m in length, as well as the city communications.

A company offered for investors' consideration possesses project documentation in respect of constructing the terminal for transshipment and storage of base oil, light and dark oil products, with a blending capability. The planned annual transhipment capacity is about 1,56 million tons. The potential total construction costs are about 15,8m EUR. The investment can take place in more than one phase according to the technical project. The company plans to employ 40 workers.

The terminal may serve as a new independent channel for the traders of the oil products from CIS. The project team has completed all necessary phases in order to start construction of the terminal.
Additional information:

Please contact the law office INLAT PLUS regarding the purchase of the drugstore business:

Latvia, Riga, Brivibas St. 40-15

Phone: (+371) 67505970

Fax: (+371) 67505978

Mob. phone: (+371) 29405246

e-mail: ip@inlatplus.lv