International Internet Magazine. Baltic States news & analytics
Wednesday, 29.07.2015, 20:54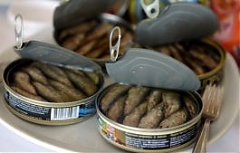 29.07.2015
The Veterinary Supervision Authority of Kazakhstan has decided to introduce temporary restrictions on the import of Estonian and Latvian fish products, including canned fish, following the lead of Russia, LETA/Public Broadcasting reports.
28.07.2015
The Moscow Sheremetyevo International Airport announced on the ceremony devoted to punctuality awards that Estonian Air was the most punctual airline, the Estonian national carrier announced BC.
28.07.2015
After making it to Latvia, increasingly more illegal immigrants choose to seek asylum in Latvia, Interior Minister Rihards Kozlovskis (Unity) said during the Saeima European Affairs Committee's session at the "Mucenieki" refugee center yesterday, cites LETA.
28.07.2015
The Kremlin has not set any rules or issued any oral recommendations prohibiting state officials or the heads of state companies to mention the name of oppositionist Alexei Navalny, presidential spokesman Dmitry Peskov said on July 27th, cites TASS/LETA.
27.07.2015
One of the most important ICT events in the Baltic State region will be held in Riga from August 10 to August 13, 2015: the fifth anniversary International Telecommunications Conference and Exhibition TELCO TRENDS 2015 will start at the hotel Radisson Blu Hotel Latvija.
24.07.2015
Statistics Lithuania informs that an annual publication Demographic Yearbook 2014 has been released. The publication provides statistical information about the structure and demographic development of the Lithuanian population: birth and death rates, marriages, divorces, migration. Comparable demographic statistics of the European Union member states and population projections of the Statistical Office of the European Union (Eurostat) are provided.
24.07.2015
Lithuania is a tiger in the European zoo. The future looks bright for a country that chose a totally different path from Greece. Investors and entrepreneurs take note!
23.07.2015
A meeting of the Business Council for Economic and Trade Cooperation between Lithuania and Ukraine was held at the Lithuanian Confederation of Industrialists (LPK). The Business Council addressed business development potential in Ukraine and promotion of bilateral economic cooperation, informs LETA/ELTA.
23.07.2015
Estonian Health and Labour Minister Rannar Vassiljev and Moldovan Health Minister Mircea Buga signed on July 21st the action plan of the health cooperation agreement between the two states, the Social Ministry announced LETA.
22.07.2015
The European Commission today disbursed a loan of EUR 600 million to Ukraine. This corresponds to the first installment under the new Macro-Financial Assistance (MFA) program for Ukraine, which amounts to a total of EUR 1.8 billion, LETA found out from the European Commission.
21.07.2015
Latvia could increase its fish export to Ukraine, while Ukraine is being invited to consider working out a less encumbered procedure for import of this product. The above was recommended at a meeting of Ukrainian Ambassador Yevgen Perebyinis and Latvian Agriculture Minister Janis Duklavs (Greens/Farmers), reports LETA.