International Internet Magazine. Baltic States news & analytics
Wednesday, 10.02.2016, 00:31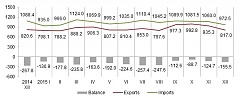 09.02.2016
Provisional data compiled by the Central Statistical Bureau of Latvia (CSB) show that in 2015 foreign trade turnover at current prices in Latvia amounted to EUR 22 860.1 million – by EUR 42.9 million or 0.2% less as compared to 2014. Exports value increased by EUR 122.9 million or 1.2%, while imports value decreased by EUR or 165.8 million or 1.3%.
09.02.2016
Ukraine, a member of Viking container shuttle train project, has launched a new Silk Road to China bypassing Russia and invites the Lithuanians to use this route for freight transportation to Asia. However, Lithuania is cautious about this idea, the Verslo Zinios business daily reports on Tuesday, cites LETA/BNS.
09.02.2016
Estonia's Port of Tallinn is holding talks with several investors over building at the Paldiski South Port a refinery capable of processing 3-6 million tons of crude annually, informs LETA.
09.02.2016
Insufficient measures are being taken in Ukraine to eradicate corruption, Lithuanian Minister of Foreign Affairs Linas Linkevicius says after Ukraine's Lithuanian-born Minister of Economic Development and Trade Aivaras Abromavicius resigned, informs LETA/BNS.
08.02.2016
The Russian producer of organic cosmetics Pervoye Reshenie has opened a plant in Estonia through which it hopes to win back the Ukrainian market and enter European markets, informs LETA/BNS.
08.02.2016
SEB Bankas' economist Gitanas Nauseda regards plans by recession-hit Russia to privatize some state-owned companies as the right path that other countries in a poor macroeconomic situation should follow as well, the Delfi news website reported on Monday, cites LETA/BNS.
08.02.2016
February 9 is the birthday of Alisher Navoi, the glorious son of the Uzbek people. This date is annually widely celebrated in all cities and regions of the country. In Tashkent, the poet's admirers, as usual on this day, will gather at the foot of the majestic monument to Alisher Navoi, which is located in the National Park of Uzbekistan named after him, to pay tribute to the great ancestors.
08.02.2016
Interior Minister Hanno Pevkur and representatives of the Police and Border Guard Board met in the southeastern regional capital Polva on Friday with the leaders of the municipalities situated next to Estonia's land border to offer an overview of the state of affairs in the construction of the border and speak about cooperation with municipalities, informs LETA.
05.02.2016
Lietuvos Duju Tiekimas (LDT), a leading natural gas supply company which is part of the Lietuvos energija energy company group, has entered into an agreement for the supply of liquefied natural gas (LNG) with Statoil whereby it will meet over a half of LDT's gas demand, informed BC communication manager at Lietuvos Duju Tiekimas Paulius Jakutavičius.
05.02.2016
Lithuania's road haulers keep a close eye on attempts by Poland and Russia to reach an agreement on haulage permits for 2016, as they believe that the advantages negotiated by Poland would also have an effect on Lithuania, the Verslo Zinios business daily reports on Friday, cites LETA/BNS.
05.02.2016
Trade of logs in Baltic Sea region fell 10% in 2015 because of substantially lower demand for softwood pulplogs in Finland and Sweden, reports BC the Wood Resource Quarterly.