International Internet Magazine. Baltic States news & analytics
Friday, 19.09.2014, 22:53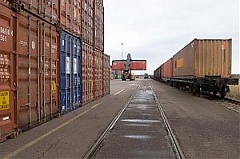 19.09.2014
Eesti Transiidikeskus (Estonian Transit Centre) Manager Erik Laidvee said that reductions in automotive production in Russia have not yet had an impact on the container train that transports details from Muuga to the Mitsubishi assembly plant in Kaluga, Russia, every other day, LETA/Postimees Online reports.
19.09.2014
The Latvian Medical Association has established a fund to support victims of the Ukraine conflict, the association's spokeswoman Sendija Burka-Saicanova informed LETA.
19.09.2014
In the first half of the year 2014, compared to the same period last year, the Latvian town of Sigulda registered a 27.8% increase in the number of guests staying at local accommodation establishments, LETA was informed by the Sigulda Regional Council.
19.09.2014
President of Lithuania Dalia Grybauskaite met with the leadership of Lithuanian Riflemen's Union to discuss the importance of the organisation in the light of escalating geopolitical situation and its readiness to defend the country, reports LETA/ELTA.
18.09.2014
Liepajas metalurgs investors are haunted by scandals and lawsuits, the Latvian magazine "Ir" reports, cites LETA/Nozare.lv.
18.09.2014
The Culture Ministry of Latvia supports preserving the notorious former KGB headquarters in Riga, known by locals as the ''house on the corner'', as a historical landmark and memorial, LETA was informed by the ministry.
18.09.2014
Ukrainian President Petro Poroshenko has revealed that during one of his recent conversations with Russian President Vladimir Putin, the Russian leader had threatened to him that ''I could capture Riga, Vilnius, Tallinn, Warsaw and Bucharest within two days if I wanted to'', informs LETA/UNIAN.
18.09.2014
The amount of Russia's direct investments in Estonia has increased in the first half of the year 2014, commented economic analysts of four major banks at a debate on Wednesday, LETA/Delfi Ärileht reports.
18.09.2014
Blind stubbornness of the authorities has gone over the top as in the light of the current geopolitical crisis the Construction Inspectorate is demanding to destroy a newly built biofuel plant in Vilnius when Lithuania is facing an energy blockade from Russia and the heating season is about to begin, reports LETA/ELTA, referring to Lietuvos rytas.
18.09.2014
Saeima passed several draft bills in the final reading today stipulating deferred or split tax payments for companies that have delayed tax payments due to Russia's restrictions on food import.
18.09.2014
Today Saeima turned down amendments to the Immigration Law repeatedly proposed by All for Latvia! - For Fatherland and Freedom/LNNK (VL-TB/LNNK), stipulating that in order to prevent threat to national security, the government must suspend issuing residence permits to Russian citizens, informs LETA.