International Internet Magazine. Baltic States news & analytics
Wednesday, 01.04.2015, 19:31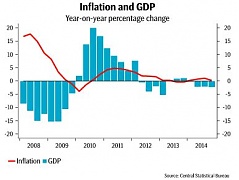 01.04.2015
Gradual economic recovery continues in Central European and Baltic countries despite the Russia-Ukraine conflict in 2015, Russia's food embargo, and the economic downturn in Russia, according to "Eastern European Outlook" published by SEB banka, informs LETA.
31.03.2015
Creating a program of TV channels without Russian TV is not a problem; the problem is to find a buyer for such a program, CEO of Lattelecom Juris Gulbis said in an interview with Latvian Radio this morning, cites LETA.
31.03.2015
With declining export and weakening economic growth, household consumption is becoming an ever increasing factor of economic growth. Having reached its peak ever since late 2007, consumer confidence provides hope that the negative influence of declining export to the Commonwealth of Independent States (CIS) may be at least partially counterbalanced by growing consumption. On the other hand, it seams that Lithuanians will tend to save more this year, says Chief Economist of Swedbank, Vaiva Seckute, cites LETA/ELTA.
31.03.2015
Russia is using measures whose purpose is to destabilize the situation in the Baltic region: Lithuanian president's office agrees with this statement, informs LETA/ELTA.
30.03.2015
The establishment of a Latvian Television (LTV) channel in Russian could cost EUR 6 million in the first year, reports LETA, according to the TV3 show "Neka personiga".
30.03.2015
In its annual threat assessment for the year 2014, Lithuania's State Security Department (VSD) stated that Vladimir Malygin, Russia's former consul general in Klaipeda, was sent out from Lithuania in April 2014 because he was a Russian spy, informs LETA/ELTA.
30.03.2015
At 24.00 on April 11, the submission of entries to VII International advertising and marketing Festival White Square, Minsk, Belarus, will be finished. No more prolongation!!!
30.03.2015
In its annual threat assessment for the year 2014, Lithuania's State Security Department (VSD) stresses that the country's security environment was most of all influenced by increasingly aggressive activities of Russian and Belarusian intelligence agencies, which were mainly triggered by Vilnius' principled stance in respect of the conflict in Ukraine, reports LETA/ELTA.
30.03.2015
Based on trade value, Russia, Latvia, and Poland were Lithuania's top three partners in exports of goods in 2014, Eurostat, the statistical office of the European Union, said. Last year, Russia accounted for 21% of all Lithuanian exports, Latvia – 9%, and Poland – 8%, cites LETA/ELTA.
30.03.2015
On 26–27 March 2015, in Bishkek, the capital of Kyrgyzstan, during a conference organised by the Organisation for Security and Cooperation in Europe (OSCE), Maris Rukers, a delegate from Latvia with pertinent expertise, presented Latvia's experience on the establishment of a single national system for registration of residents, the right to privacy and mechanisms for personal data protection and their importance – given the potential risks that arise when they are absent, reported BC the Latvian MFA.
27.03.2015
Software created by the Estonian Ministry of Internal Affairs Information Technology and Development Centre (SMIT) enables scanning documents of train passengers directly to a data information system starting March 2015 on the Tallinn-St Petersburg-Tallinn train route, which means that the handwritten lists that were used for border control for 20 years are finally replaced with a digital system, LETA/Public Broadcasting reports.