International Internet Magazine. Baltic States news & analytics
Friday, 13.12.2013, 14:44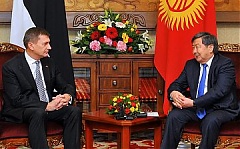 13.12.2013
Tthe development of co-operation, including in economy and information technology, between the two countries was discussed at the meeting between Prime Minister Andrus Ansip and Prime Minister of Kyrgyzstan Zhantoro Satybaldiyev. Prime Minister Ansip also confirmed that Kyrgyzstan is an important partner for Estonia and the European Union, whose developments are supported, informed BC press service of Estonian government.
12.12.2013
On Wednesday, the Lithuanian Government approved a proposal to grant Holocaust rescuers a status of freedom fighters, thus rendering them qualified for the state pension, reported BC the prime minister's service.
12.12.2013
Interior Minister of Latvia Rihards Kozlovskis (Reform Party) is convinced that the Zolitude tragedy investigation will not require a year, informs LETA.
11.12.2013
Latvian catering company joint-stock Lido operates the Lido restaurant/amusement complex on Krasta Street in Riga, which in the winter months has a capacity of 1,000 persons, but in the summer months seating for over 1,500, the company's board chairwoman Rita Auzina told the business information portal Nozare.lv, informs LETA.
11.12.2013
Lithuanian dairy producers calculated the results of 9 months activities in 2013. Ban on dairy imports in Russia and increase in milk price has reduced the profit of dairy producers. However, it applies not to all companies, informs LETA/ELTA, referring to Kauno diena.
11.12.2013
The Security Police of Latvia do not perceive that the controversial television broadcast about Lithuania aired by the Latvian-based Russian language television channel Pervij Baltijskij kanal (the First Baltic Channel, PBK) in October 2013 was inciting ethnic hatred.
11.12.2013
Latvian Foreign Minister Edgars Rinkevics (Reform Party) has expressed hope Ukraine President Viktor Yanukovych's readiness to sit down to solve the political crisis in the county will lead to a gradual normalization of the situation in the country and avert an escalation of the situation, informs LETA.
11.12.2013
Estonian foreign minister Urmas Paet estimated that the European Union made several mistakes connected to Ukraine's potential joining the association and free trade agreement, LETA/Public Broadcasting reports.
10.12.2013
Ukrainian investors have opened up a new beer restaurant called Stargorod in Riga on Republikas Square 1 in downtown opposite the Riga Passenger Port, the restaurant's representative Jelena Lucanska confirmed to the business information portal Nozare.lv, writes LETA.
10.12.2013
These last months the Eastern partnership countries got worldwide attention. The reason for the increase of interest in these countries is due to a set of political events, decisions and actions that recently took place in that region. Before the Eastern Partnership Summit in Vilnius started, some Eastern partnership countries were facing a dilemma regarding the choice of their geopolitical future – a choice between the EU's model of integration and the Russian Eurasian course.
10.12.2013
Dairy company Limbazu piens, which suspended operations ten months ago, has been acquired by foreign investors who have restored the company's operations, Limbazu piens Director Evalds Putnins informed Nozare.lv, cites LETA.