International Internet Magazine. Baltic States news & analytics
Thursday, 29.01.2015, 00:14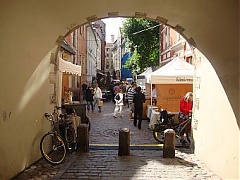 28.01.2015
The number of Russian tourists visiting Latvia last year reduced by 6% when compared to 2013, reports LETA, according to statistics from the Economy Ministry and the Latvian Tourism Development Agency (TAVA).
27.01.2015
Lithuania's National Paying Agency (NMA) will start disbursing temporary assistance funds to milk producers who incurred losses due to dairy product embargo imposed by the Russian Federation, reports LETA/ELTA.
27.01.2015
Swedbank has reduced Latvia's GDP growth forecast for the year 2015 to 1.9%, reports LETA.
27.01.2015
On Tuesday, January 27th, Prime Minister Algirdas Butkevicius, together with Georgian Prime Minister Irakli Garibashvili, participated in the Lithuanian-Georgian Business Forum, which focused on the promotion of investment, strengthening of bilateral partnership and search for new export markets. The Forum convened Lithuania's largest food companies, reported BC press service of Lithuanian government.
27.01.2015
In Berlin on 26 January 2015, Latvian Foreign Minister Edgars Rinkevics met with Frank-Walter Steinmeier, the Federal Minister for Foreign Affairs and talked about the tense security situation in the region, and the attack by pro-Russia separatists on the civilian residents of the city of Mariupol in Ukraine, reports BC the press service of Latvian MFA.
27.01.2015
Milk processors have adjusted the range of their products after Russia closed its market for Lithuanian produce. Processors have increased manufacture of products with longer shelf-life, reports LETA/ELTA, referring to Vakaro zinios.
27.01.2015
Prime Minister of Lithuania Algirdas Butkevicius attended a meeting at the Lithuanian Embassy in Tbilisi with the Baltic Business Association founders and representatives, informs LETA/ELTA.
27.01.2015
On 26 January 2015, Lithuanian Foreign Minister Linas Linkevicius met with UK Minister for Europe David Lidington in London and discussed possible results of the forthcoming EU's Foreign Affairs Council, reports BC press service of Lithuanian MFA.
26.01.2015
Estonian President, Toomas Hendrik Ilves, took part in high-level panels that focused on digital development and geopolitics at the World Economic Forum in Davos. The Estonian Head of State met with the leaders of several global technology enterprises within the framework of the World Economic Forum, such as Kudelski Group, Google and Cisco; he also met with the Minister of Foreign Affairs of Canada, John Baird, reports BC presidential press service.
26.01.2015
The Baltic States, which have freed themselves from the Soviet rule, can help the West to better understand Russia's problems, says Lilia Shevtsova, researcher at the Carnegie Moscow Center, reports LETA.
26.01.2015
In order to discuss cooperation in the agricultural sector, Agriculture Minister Janis Duklavs (Greens/Farmers) met with the Tajikistani Ambassador to Latvia Kozidavlat Koimdodov, reports LETA.