International Internet Magazine. Baltic States news & analytics
Thursday, 21.10.2021, 20:53
Grybauskaite: there are many perspective areas in which Lithuania-Israeli relations could be expanded
Danuta Pavilenene, BC, Vilnius, 31.07.2013.

Print version
Lithuania's President Dalia Grybauskaitė met with the President of Israel and Nobel Peace Prize laureate, Shimon Peres, who arrived on a state visit to Lithuania. During their meeting, the Presidents discussed bilateral relations, economic cooperation, perpetuation of the memory of Holocaust victims and Jewish cultural heritage issues, the EU's relations with Israel, and the Middle East peace process, informed BC presidential press service.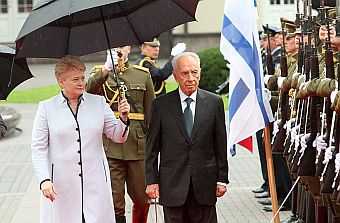 Dalia Grybauskaite and Shimon Peres. Vilnius, 31.07.2013. Photo: lrp.lt
"Maintaining good and close relations with Israel is in the interests of Lithuania. We aim to assess the painful historical past and look forward to the future building bilateral relations based on friendship, mutual respect and understanding," the President said.
According to the President, there are many perspective areas in which relations between Lithuania and Israel could be expanded. Lithuania is especially interested in cooperation in the areas of innovation, biotechnology and research.
Both countries are successfully developing high technologies. Lithuania is the global leader in laser technologies and communications, and Israel is the frontrunner in research and innovation.
Pharmaceutical company Teva-Biotech Sicor, which is producing biopharmaceuticals by employing the most advanced research and production technologies, is one of the major Israeli investors in Lithuania. National innovation agencies of both countries have been conducting their projects in the areas of biotechnology, telecommunications and electronics.
The President has noted that a visit by Lithuanian start-ups to Tel Aviv this coming autumn will open up new opportunities for economic cooperation. Israel is the second most favourable place to start business after the Silicon Valley in the USA. And direct flights from Vilnius to Tel Aviv which are to be launched soon will promote tourism and business.
The President also emphasized that Lithuania was continuing its studies on the Holocaust and the Evaluation of Nazi Crimes: the International Commission for Evaluation of the Crimes of the Nazi and Soviet Occupation Regimes has resumed its activities, and the National Holocaust Education Programme has been approved. 90 tolerance centres set up in schools and local communities are actively engaged in educational activities, nurturing tolerance and countering racial, ethnic and other forms of hatred.
Discussion topics included the Middle East peace process. The Lithuanian Presidency of the Council of the EU welcomes the resumed peace talks between Israel and Palestine following a three-year deadlock and supports the peaceful two-state solution to the problem, the President said.
Tomorrow, the Presidents of Lithuania and Israel will pay a visit to the Tolerance Center of the Vilna Gaon State Jewish Museum and will honor the Victims of the Holocaust at the Paneriai Memorial.
The Israeli President arrived on a visit to Lithuania at the invitation of President Dalia Grybauskaitė on the eve of his 90th birthday.