International Internet Magazine. Baltic States news & analytics
Sunday, 19.04.2015, 15:34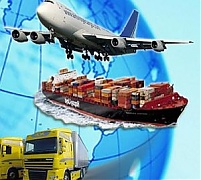 16.04.2015
Latvia's exports in the first two months of the year 2015, compared to the same period last year, reduced by 2%, according to Eurostat. Thus, Latvia registered one of the smallest reductions in exports in the EU, writes LETA.
10.04.2015
Statistics Lithuania informs that, based on non-final data obtained from customs declarations, Intrastat reporting and VAT returns data, exports in February 2015 amounted to EUR 1.7 billion (LTL 6 billion), imports – EUR 1.9 billion (LTL 6.7 billion). Exports of goods of Lithuanian origin amounted to EUR 1 billion (LTL 3.4 billion). Over the month (February 2015, against January), exports increased by 11.4, imports – by 13.5%.
09.04.2015
Provisional data of the Central Statistical Bureau (CSB) show that in February 2015 compared to January exports value of goods at current prices reduced by 2.0%, but imports value of goods – increased by 1.2%.
08.04.2015
Minister of Foreign Affairs of Lithuania Linas Linkevicius, on an official visit to Brazil, in Brasilia, the federal capital of the country, on 7 April, met with Minister of External Relations Mauro Vieira and Deputy Minister of Development, Industry and Foreign Trade Ivan Ramalho, reported BC the MFA.
08.04.2015
On April 7, 2015, the American Chamber of Commerce in Latvia (AmCham) sent a letter to the Prime Minister, Minister of Economics, Minister of Foreign Affairs, Chairman of Economic, Agricultural, Environmental and Regional Policy Committee of the Saeima and Chairman of the Foreign Affairs Committee of the Saeima calling to open a permanent economic representation office of Latvia in the US in the near future in order to strengthen and develop the bilateral economic relations between the two countries, reported BC executive director Liga Smildzina-Bertulsone.
07.04.2015
The fruit and vegetable processing company Spilva earned EUR 1.39 million in 2014, a 21% increase on EUR 1.15 million the company earned in 2013, the company's director Lolita Bemhena informed LETA.
07.04.2015
Estonian meat industries posted sales revenue of 310.3 million euros and profit of 16.8 million euros in 2014; the profit grew by over 55% in a year, it appears from the Ministry of Agriculture Estonian 2014 meat processing sector review, informs LETA.
07.04.2015
On Friday, 3 April 2015, Lithuanian Prime Minister Algirdas Butkevicius visited Vilnius' apparel and textile companies Audejas and Lelija. The prime minister and representatives of apparel and textile sector discussed promotion of export, training of specialists and other relevant issues, informs LETA/ELTA.
06.04.2015
Lithuanian fish product manufacturers have received great news – Brazil's market will open up for their production, reports LETA/ELTA.
02.04.2015
63% of 150 largest Baltic companies' CEOs are expecting higher turnover in 2015, and 21% of them believe that turnover growth will be over 10%, according to a survey carried out by SEB banka, cites LETA.
02.04.2015
Estonia's second-largest producer of alcohol Altia Eesti AS's net sales grew by nearly 15% in 2014, reaching 37.3 million euros, on which the company paid 17.4 million euros in excise duties, LETA/Delfi Ärileht reports.