International Internet Magazine. Baltic States news & analytics
Friday, 20.07.2018, 00:10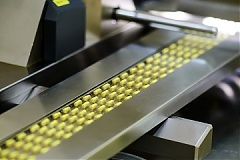 19.07.2018
During the first half of 2018 Latvia's Olainfarm medicines producer raised sales by 5% against the same period a year ago to EUR 61.887 mln, according to preliminary figures released by the company.
09.07.2018
Revenue of the Estonian ride-sharing service Taxify in 2017 increased six times compared to 2016, totaling 18 million euros, while the company's net loss totaled 11 million euros, informs LETA/BNS.
06.07.2018
Orkla Foods Latvija, the owner of Spilva and Gutta food and beverage brands, increased export volumes by 32% in the first half of 2018 against the same period last year, the company's marketing head Raitis Avots told LETA.
05.07.2018
In the first four months of the year 2018, Latvia exported EUR 811.31 million worth of forestry products, up 9.5% against the same period last year, writes LETA, according to information released by the Agriculture Ministry.
29.06.2018
The Bank of Lithuania and Statistics Lithuania announce that in I quarter 2018, exports of services amounted to EUR 2.0 billion, imports – EUR 1.3 billion. The surplus of balance of services amounted to EUR 773.8 million, or 7.8% of GDP, and against I quarter 2017 increased by EUR 179.6 million, or 30.2%.
29.06.2018
The consolidated sales revenue of the software and technology company Nortal in 2017 rose 11% on year to 48.3 million euros, while earnings before interest, tax, depreciation and amortization (EBITDA) rose 2% to 5.3 million euros, informs LETA/BNS.
28.06.2018
Enterprise Estonia (EAS) in the next five years will focus on three main directions -- export, foreign investments coming to Estonia and increasing tourism income, Minister of Entrepreneurship and Information Technology Urve Palo said at the government's press conference on June 28th, cites LETA/BNS.
26.06.2018
Latvian pharmaceutical group Grindex has completed the acquisition of Slovakia's HBM Pharma s.r.o., writes LETA, according to the Latvian company's announcement to Nasdaq Riga.
25.06.2018
Statistics Lithuania informs that, based on final data obtained from customs declarations, Intrastat reporting and VAT returns data, exports in 2017 amounted to EUR 26.41 billion, imports – EUR 28.52 billion. Exports of goods of Lithuanian origin amounted to EUR 15.69 billion. The foreign trade deficit of Lithuania amounted to EUR 2.11 billion.
22.06.2018
LiTak-Tak, a Lithuanian producer of air traffic control systems and radars, has failed to get an exports license due to information provided by the country's State Security Department, writes LETA/BNS.
21.06.2018
Latvia's largest grain mill Dobeles Dzirnavnieks operated with EUR 113.7 million in turnover in 2017, which was 27% more than the previous year, the company informed LETA.