International Internet Magazine. Baltic States news & analytics
Friday, 20.09.2019, 19:45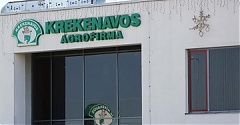 17.09.2019
Krekenavos Agrofirma, a meat processing company owned by the family of Viktor Uspaskich, the founder and chairman of the Lithuanian Labor Party, has become the first Lithuanian company to get the green light for beef exports to China, informed LETA/BNS.
16.07.2019
Viciunu Grupe (Viciunai Group), a business group controlled by Visvaldas Matijosaitis, mayor of Lithuania's second-largest city of Kaunas, has established a sales company, Vichiunai Sakartvelo, in the Georgian capital, informed LETA/BNS.
15.07.2019
US experts have on Monday started inspecting Lithuania's egg producer Baltic Egg Production, part of Lithuania's Viciunu Grupe business group, willing to export eggs and their products, reported LETA/BNS.
14.06.2019
Lithuania expects the conclusions of a recent week-long audit by Chinese experts into beef exports from the Baltic country in late summer, informed LETA/BNS.
10.06.2019
Bakery Latvijas Maiznieks launched sales in Norway, Sweden and Finland in May, as the company's board member Maris Daude told LETA.
05.06.2019
Lithuanian producers have been allowed to export frozen food products, including picas, dumplings etc, to Ukraine after Ukrainian and Lithuanian representatives agreed on that last year, Lithuania's State Food and Veterinary Service said LETA/BNS.
29.05.2019
Timber trading company SGK Nordic achieved EUR 28.079 mln in turnover last year, which is 2.4 times more than in 2017, and earned a profit of EUR 503,350, as opposed to losses recorded in 2017, according to Firmas.lv informed LETA.
27.05.2019
Bakery company Latvijas Maiznieks, a holding of Estonian company Maral Invest, has set its sights on selling its products in Scandinavian countries, spokespeople for the company said LETA/BNS.
16.05.2019
During the first four months of 2019, Latvia's Olainfarm pharmaceutical group raised sales 14% y-o-y to EUR 47.3 mln, according to the group's unaudited consolidated results for January-April 2019, informed representative of the Olainfarm.
10.05.2019
Latvia's New Rosme lingerie manufacturer raised turnover 15.2 percent year-on-year to EUR 5.875 mln in 2018, while the company's profit contracted more than threefold to EUR 182,786, according to information available at Firmas.lv.
10.05.2019
Lithuanian cooperative Pienas LT is focusing on China with hopes that this market will help the company to grow in the future, according the Verslo Zinios writes LETA/BNS.