International Internet Magazine. Baltic States news & analytics
Tuesday, 31.05.2016, 10:49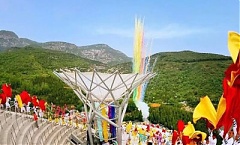 31.05.2016
Latvian vertical wind tunnel operator Aerodium in cooperation with Chinese investors has opened an indoor skydiving center, Flying Dream, in Dengfeng, China, near the famous Shaolin Monastery, the company announced LETA.
26.05.2016
Many non-tariff barriers still exist in the sanitary and phytosanitary sectors, the removal and reduction of which, without relaxing quality requirements, would simplify exports to the United States for the EU's food producers, experts said during a discussion on negotiations on the Transatlantic Trade and Investment Partnership (TTIP) agreement between the EU and the U.S.A., informs LETA.
26.05.2016
Latvia's forest industry exports continued moderate growth in the first quarter of this year, reaching EUR 537.527 million at the end of March, up 6.9% from the respective period in 2015, the Latvian Agriculture Ministry informed LETA.
26.05.2016
Consolidates sales of Daugavpils Lokomotivju Remonta Rupnica (DLRR), the train engine repair group based in the south-eastern Latvian city of Daugavpils, shrank 37% in the first quarter of 2016 to EUR 2.3 million, the company said in a statement to the Nasdaq Riga stock exchange, cites LETA.
25.05.2016
Latvian pharmaceutical company Rigas Farmaceitiska Fabrika (Riga pharmaceutical plant, Rigas FF) plans to increase its 2016 turnover by 10% by focusing on exports, informs LETA, according to the company's management report for 2015.
24.05.2016
Joint-stock dairy company Food Union is currently constructing two production plants in China. It is planned that the company will begin production in China in 2018, the vice-president of Food Union's strategy and business development Normunds Stanevics said during a discussion session organized today by the Bank of Latvia, informs LETA.
24.05.2016
Pieno Zvaigzdes, one of Lithuania's largest dairy producers, is gradually raising exports volumes to countries outside the European Union (EU), Verslo Zinios business daily said, cites LETA/BNS.
23.05.2016
Data compiled by the Central Statistical Bureau (CSB) show that compared to March, in April 2016 the level of producer prices in the Latvian industry decreased by 0.1%. The level of prices of both – products sold on the domestic market, as well as of exported products decreased by 0.1%.
23.05.2016
Latvia's largest timber processing concern Latvijas Finieris last year generated EUR 196.5 million in sales, compared to EUR 194.1 million a year ago, the company's council chairman Uldis Bikis told LETA.
19.05.2016
Latvian poultry farm Putnu Fabrika Kekava (Kekava) plans to raise exports by at least 10% annually, CEO Andrius Prankevicius said LETA.
18.05.2016
Latvian poultry farm Putnu Fabrika Kekava (Kekava) is set to invest EUR 7.4 million in production upgrades and expansion of its product portfolio in 2016, the company's CEO Andrius Prankevicius informed LETA.