International Internet Magazine. Baltic States news & analytics
Thursday, 28.08.2014, 16:07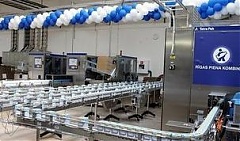 28.08.2014
Latvian dairy producers will have access to Chinese market already this fall, thus, dairy companies will have a chance to export their production to a country that has a rapidly growing food market, representatives of the Agriculture Ministry informed the business portal Nozare.lv, cites LETA.
21.08.2014
Even though dairy producers claim that they have been cornered by the Russian embargo, but brewers second the prime minister and find such commotion to be out of touch with reality, reports LETA/ELTA, referring to Vakaro zinios.
20.08.2014
Belarus is interested in Lithuanian agricultural and food products, especially raw milk and beef. Moreover, Belarusians would like to establish joint enterprises with Lithuania, stated Minister of Agriculture Virginija Baltraitiene who paid a working visit to Belarus, informs LETA/ELTA.
19.08.2014
In the first six months of 2014, Latvijas Finieris posted EUR 102 million in turnover, whereas the value of the company's exports was EUR 79 million, which is respectively 4% and 2% more than in the same period of 2013, the company's spokeswoman Jolanta Medne informed the business portal Nozare.lv, cites LETA.
19.08.2014
When Russia imposed import bans in the past, Lithuanian traders successfully diversified their sales, shows the analysis carried out by the State Tax Inspectorate (VMI). 2013-2014 first half results of companies trading with Russia were compared, reports LETA/ELTA.
19.08.2014
Lithuania has recently actively developed relations with the United States. US Ambassador Deborah McCarthy met with Minister of Agriculture Virginija Baltraitiene and assured that Lithuanian products are highly valued. Thus, it is in the interest of the two countries to work together on opening the US market to Lithuania, reports LETA/ELTA.
19.08.2014
The Government of Lithuania approved the action plan for 2014-2015 which was prepared by the Ministry of Economy. The action plan is aimed to diversify Lithuania's export and reduce Lithuanian companies' losses due to sanctions imposed by the Russian Government, reports LETA/ELTA.
19.08.2014
During the meeting with Latvian President Andris Berzins, several former prime ministers explained him the necessity for implementing European Union (EU) level market intervention and export subsidies, the Presidential Press Service informed LETA.
19.08.2014
The Ministry of Agriculture continues the active search of new markets for Lithuanian agricultural products. Lebanon and Serbia have opened their doors to Lithuanian meet, fisheries and dairy products, reports LETA/ELTA.
18.08.2014
During the first half of 2014, Latvian forest industry's export increased by 10%, reaching EUR 1.06 billion, compared to EUR 912,307 million in the same period in 2013, according to data provided by the Forest Department of the Ministry of Agriculture, cites LETA/Nozare.lv.
18.08.2014
Prior to the embargo of import of agricultural production introduced by the Russian Federation on 6 August, sales of Lithuania-based dairy company Zemaitijos Pienas to Russian market constituted about 18% of all sales of the company, informs LETA/ELTA.