International Internet Magazine. Baltic States news & analytics
Tuesday, 16.10.2018, 03:00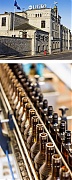 02.10.2018
AS Liviko entered into an export contract with Spanish distributor and wine manufacturer Sogas Mascaró. Crafter's London Dry gin, Crafter's Aromatic Flower gin and Vana Tallinn liqueurs are exported to Spain, the biggest gin market in Europe.
13.08.2018
Estonian software and business consulting firm Nortal has turned to deputy secretary generals of the Foreign Ministry and the Finance Ministry with a wish of Estonia entering into an agreement on the avoidance of double taxation with Botswana, informs LETA/BNS.
06.08.2018
Israel is looking into possibilities to import Lithuanian beef and eggs, the Baltic country's Agriculture Minister Giedrius Surplys says LETA/BNS.
06.08.2018
The team of Latvian vertical wind tunnel maker Aerodium has built the world's largest wind tunnel and trained Hollywood actor Tom Cruise to fly in it for the 2018 Hollywood action spy movie Mission: Impossible - Fallout, the company's representatives told LETA.
31.07.2018
For the first time after moving to the production area of the Estonian industrial group BLRT Grupp in Tallinn's Kopli district, the group's subsidiary Marketex Marine set afloat a fish farming barge weighing 400 tons, BLRT reresentative informed BC.
31.07.2018
During the first quarter of 2018 Latvian ICT services providers increased exports by 23 % against the same period last year, representatives of the Latvian Information and Communications Technology Association told BC.
19.07.2018
During the first half of 2018 Latvia's Olainfarm medicines producer raised sales by 5% against the same period a year ago to EUR 61.887 mln, according to preliminary figures released by the company.
19.07.2018
Ten Lithuanian meat processing companies have been given the green light for exporting chilled and frozen beef and pork and beef and pork products, reported LETA/BNS.
18.07.2018
The EU-Japan Summit yesterday 2018 saw the signing of the Economic Partnership Agreement (EPA) between the EU and Japan, which is the biggest ever bilateral trade partnership negotiated by the European Union, covering nearly a third of global GDP, the Latvian Foreign Ministry points out citing LETA.
13.07.2018
Wood processing company Timberex Group achieved EUR 20.621 mln in turnover last year, a 9.1% increase on 2016, while the company's profit decreased 18 % to EUR 122,531, according to Firmas.lv reported LETA.
11.07.2018
Lithuania is set to make an additional contribution to the capital of RB Rail, a joint venture established by the three Baltic countries for the implementation of the European-standard gauge railway project Rail Baltica, informs LETA/BNS.