International Internet Magazine. Baltic States news & analytics
Monday, 26.01.2015, 12:24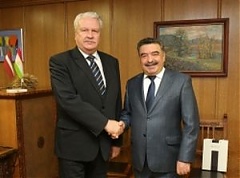 26.01.2015
In order to discuss cooperation in the agricultural sector, Agriculture Minister Janis Duklavs (Greens/Farmers) met with the Tajikistani Ambassador to Latvia Kozidavlat Koimdodov, reports LETA.
23.01.2015
Latvian grain processing company Rigas dzirnavnieks has launched exports to China; the very first shipment will go to Hong Kong, the company informed LETA.
23.01.2015
After the European Central Bank (ECB) decided to turn on the euro printing machine, bank DNB analysts say that even extended quantitative easing (QE) will not directly solve problems of the euro area as the roots of slow economic development lie within the loss of competitiveness, informs LETA/ELTA.
21.01.2015
Estonian Foreign Trade and Entrepreneurship Minister Anne Sulling, together with chairman of the board of dairy producer E-Piim and Estonian Dairy Union Jaanus Murakas met on Tuesday with the food sector leaders of the Japanese Marubeni Corporation, hoping to reach an agreement on Estonian dairy exports, LETA/Postimees Online reports.
16.01.2015
According to preliminary figures for 2014, consolidated turnover of the joint-stock pharmaceutical company Olainfarm from Latvia amounted to EUR 93.79 million last year, which is 19% more than in 2013, informs LETA.
15.01.2015
Latvia's exports in the first ten months of the 2014 increased by 1% when compared with the same period of the previous year, according to Eurostat, cites LETA.
14.01.2015
New types of medication will eventually be produced that will be a boon to expansion of the export market – this is the expected result of the opening of Olainfarm's new plant in Latvia in 2015.
13.01.2015
Estonian food industry PRFoods announced that its sales increased in 2014, but in the fourth quarter, sales from continuing operations were lower than in 2013, informs LETA.
13.01.2015
On Monday, January 12, Prime Minister Laimdota Straujuma held a meeting with a high-level delegation of the city of Shanghai (China) and entrepreneurs, reports BC press secretary to the Prime Minister Aiva Rozenberga.
12.01.2015
According to Statistics Estonia, in November 2014, exports of goods decreased by 1% and imports by 3% at current prices compared to November 2013. The decrease in exports was mostly influenced by the reduced exports of agricultural products and food preparations and mechanical appliances to Russia.
09.01.2015
Statistics Lithuania informs that, based on non-final data obtained from customs declarations, Intrastat reporting and VAT returns data, exports in November 2014 amounted to EUR 2.2 billion (LTL 7.5 billion), imports – EUR 2.5 billion (LTL 8.7 billion).