International Internet Magazine. Baltic States news & analytics
Wednesday, 12.03.2014, 03:36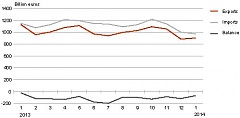 11.03.2014
According to Statistics Estonia, in January 2014, exports of goods decreased by 20% and imports by 15% at current prices compared to January 2013.
10.03.2014
Company group KG Group increased its turnover by 10% in 2013, it reached LTL 1.5 billion (EUR 0.44 billion), informs LETA/ELTA.
07.03.2014
UPB Holding, one of the leading groups of industrial companies in Latvia, has registered a subsidiary in London, which is the group's eighth subsidiary abroad, the Dienas Bizness newspaper reports, writes LETA.
06.03.2014
Lithuania's Prime Minister Algirdas Butkevicius see the possible financial threats related to the events in Ukraine for those companies whose activities are closely related to Ukraine and Russia, informs LETA/ELTA.
06.03.2014
Although growth slowed in Estonian exports in 2013, market share increased in the markets of Estonia's eleven main trading partners a little faster than before in the first three quarters of the year, and was 5.5% bigger over the year, LETA/Eesti Pank announced.
06.03.2014
Due to civil unrest in Ukraine and the political situation in Russia, as well as the rapid decline of the Russian ruble and the Ukrainian hryvnia, the Latvian fish processing company joint-stock Brivais vilnis has decided to suspend supplies to Ukraine and reduced supplies to Russia, according to the company's announcement to the Riga Stock Exchange, cites LETA/Nozare.lv.
04.03.2014
Latvian companies that have trade partners in Ukraine are already suffering losses, Latvian Chamber of Commerce and Industry (LCCI) Board Chairman Janis Endzins points out in an interview with Nozare.lv, cites LETA.
03.03.2014
The un-audited financial report of joint-stock company Valmieras stikla skiedra (Valmiera Fiberglass, VSS) confirms that the group's consolidated turnover for 2013 has reached EUR 88.41 million, informs LETA/Nozare.lv.
03.03.2014
According to unaudited consolidated data, AB Snaige has achieved a turnover of LTL 176 million in 2013 (i.e. 18% more than over the same period of year 2012). Unaudited consolidated loss before tax of the company in 2013 has reached LTL 8.6 million, informs LETA/ELTA.
28.02.2014
Lithuania's President Dalia Grybauskaite attended the opening of a new manufacturing building of the research-manufacturing company Light Conversion, informs LETA/ELTA.
28.02.2014
Joint-stock company Latvijas balzams (LB), the largest producer of alcoholic beverages in the Baltic States, operated with EUR 101.1 million in turnover in 2013, which is by 1.5% more when compared to the previous year, the company announced in its un-audited financial report submitted to the Riga Stock Exchange, cites LETA/Nozare.lv.