International Internet Magazine. Baltic States news & analytics
Thursday, 18.12.2014, 14:24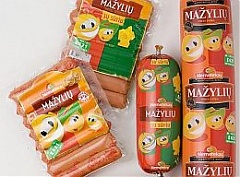 18.12.2014
The Food Safety and Inspection Service (FSIS) of the United States Department of Agriculture has officially proposed to ad Lithuania to the list of countries that are eligible to export meat and meat products to the United States. On 17 December the proposal was submitted for a public debate, reports LETA/ELTA.
15.12.2014
Estonia's exported last year more than 700,000 euros worth of Christmas trees, and the main target countries were Denmark and the United Kingdom, LETA/Delfi reports.
11.12.2014
Statistical data of the State Food and Veterinary Service (VMVT) shows that Lithuanian dairy product export totalled 17,044 tonnes in November 2014 and surpassed the volume of November 2013 by 5.6 times, informs LETA/ELTA.
10.12.2014
Provisional data of the Central Statistical Bureau (CSB) show that in October 2014 compared to previous month exports value of goods at current prices grew by 15.3%, but imports value of goods – reduced by 0.2%.
10.12.2014
Statistics Lithuania informs that, based on non-final data obtained from customs declarations, Intrastat reporting and VAT returns data, exports in October 2014 amounted to LTL 8.2 billion (EUR 2.4 billion), imports – LTL 8.7 billion (EUR 2.5 billion).
10.12.2014
According to Statistics Estonia, in October 2014, both the exports and imports of goods increased by 5% at current prices compared to October of the previous year. The increase in exports and imports was mostly influenced by the trade of electrical equipment and mineral products.
10.12.2014
The milk processing and dairy company Food Union from Latvia hopes to begin exporting its products to China in March 2015, the company's board chairman Normunds Stanevics told members of the press today, cites LETA.
09.12.2014
Egypt has confirmed to the Lithuanian State Food and Veterinary Service that Lithuanian beef meets the requirements and thus may be exported to Egypt, reports LETA/ELTA.
08.12.2014
The Sultanate of Oman and a Vilnius-based Lithuanian food company Straikas have signed an agreement on importing the Magnum brand fruit and vegetable juices to Oman, reports LETA/ELTA, referring to Times of Oman.
04.12.2014
Thanks to the continuing recovery of the construction sector and orders totaling EUR 3.5 million placed by the Latvian National Library, local furniture makers' total turnover will increase 15% in 2014, and the companies hope for another 10% increase next year if economic growth continues and demand for furniture on the local and foreign markets continues to increase, as the Latvijas mebeles (Latvian Furniture) association's executive director, Andris Plezers, told LETA.
02.12.2014
Estonian fashion and retail company Baltika's consolidated sales revenue from continued operations for November 2014 totalled 5.482 million euros, increasing by 13% compared to the same period last year, the company told the Tallinn stock exchange, cites LETA.