International Internet Magazine. Baltic States news & analytics
Tuesday, 16.07.2019, 01:41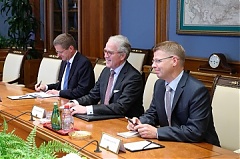 15.07.2019
US experts have on Monday started inspecting Lithuania's egg producer Baltic Egg Production, part of Lithuania's Viciunu Grupe business group, willing to export eggs and their products, reported LETA/BNS.
27.05.2019
Bakery company Latvijas Maiznieks, a holding of Estonian company Maral Invest, has set its sights on selling its products in Scandinavian countries, spokespeople for the company said LETA/BNS.
16.05.2019
During the first four months of 2019, Latvia's Olainfarm pharmaceutical group raised sales 14% y-o-y to EUR 47.3 mln, according to the group's unaudited consolidated results for January-April 2019, informed representative of the Olainfarm.
10.05.2019
Latvia's New Rosme lingerie manufacturer raised turnover 15.2 percent year-on-year to EUR 5.875 mln in 2018, while the company's profit contracted more than threefold to EUR 182,786, according to information available at Firmas.lv.
10.05.2019
Lithuanian cooperative Pienas LT is focusing on China with hopes that this market will help the company to grow in the future, according the Verslo Zinios writes LETA/BNS.
09.05.2019
The Viljandi-based developer and manufacturer of delivery solutions Cleveron has started cooperation with The Warehouse, New Zealand's largest general merchandise retailer, with The Warehouse installing a Cleveron 401 parcel terminal for issuing online orders at the Sylvia Park shopping center in Auckland, reported LETA/BNS.
09.05.2019
The Estonian Veterinary and Food Board received confirmation from the Hong Kong Center for Food Safety, according to which two Estonian meat processing companies can start the export of chilled and frozen beef to the Hong Kong Special Administrative Region of the People's Republic of China, informed LETA/BNS.
02.05.2019
Listed Estonian electrical equipment maker AS Harju Elekter finished the first quarter of 2019 with a sales revenue of 29.3 mln euros, which is 12.7 % bigger than the sales revenue posted for the same quarter a year ago, reported LETA/BNS.
29.04.2019
The Latvian pharmaceutical group Olainfarm has won an international World Health Organization (WHO) tender and clinched a EUR 3 mln contract to supply the anti-tuberculosis agent PASS sodium also in 2019 and 2020, according to the company's statement to Nasdaq Riga.
24.04.2019
Saaremaa Houses, a subsidiary of the company Saare Erek belonging to Saaremaa-based businessman Vjatseslav Leedo, is planning to open a second plant for the manufacture of wooden houses in China, according regional newspaper Saarte Haal reported LETA/BNS.
18.04.2019
Skeleton Technologies, a company of Estonian origin that is a global leader in graphene-based ultracapacitors and energy-storage systems, is to invest 25 mln euros in its plant in the German state of Saxony, reported LETA/BNS.