International Internet Magazine. Baltic States news & analytics
Friday, 27.02.2015, 18:51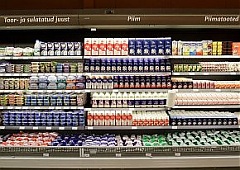 27.02.2015
In the export of Estonian agricultural produce and food products, the share of the European Union increased in 2014, Äripäev.ee cites the Ministry of Agriculture.
24.02.2015
As a result of sanctions, the volume of exports from the Baltic States to Russia will drop about one-fifth in 2015, according to Bloomberg forecasts, cites LETA.
20.02.2015
Statistics Lithuania reports that in December 2014, the volume of butter exports to Uzbekistan stood at 1,026 tons for EUR 4.7 million, which accounted for 12.8% of total Lithuanian-origin dairy exports as total exports were worth EUR 36.8 million, informs LETA/ELTA.
19.02.2015
Although the Russian market was closed off, Lithuania's dairy processors have diversified their production and continue exporting, says Minister of Agriculture Virginija Baltraitiene. However, the alternative markets to that of Russia are not so profitable, reports LETA/ELTA.
18.02.2015
Since the production of dairy products for the attractive Russia market is no longer viable, the Latvian dairy company DK Daugava is selling its dairy plant in the town of Serene for EUR 1.5 million, the company's co-owner Aigars Vaivars informed LETA.
18.02.2015
More than 500 workers in the textiles industry in Liepaja have been told to go on annual leave, as Girts Kronbergs, head of the Latvian Chamber of Commerce and Industry branch in Liepaja, told LETA.
18.02.2015
Israeli Ambassador to Lithuania Amir Maimon met with Minister of Agriculture Virginija Baltraitiene and assured that Israel is interested in buying meat from Lithuania. The possibility to export beef to Israel emerged after Lithuania legalised ritual slaughter of animals and preparation of meat under kosher requirements, reports LETA/ELTA.
17.02.2015
The joint-stock Latvian lingerie and undergarment producer Lauma Lingerie opened its first franchise store in Kosovo at the beginning of February, the company informed LETA.
17.02.2015
The value of Latvian wooden furniture exports in 2014 increased by 7.3% from 2013 to a total of EUR 119.98 million, which is 6% of the total forest industry exports last year, reports LETA, according to a report presented by the Agriculture Ministry's Department of Forests.
17.02.2015
Yet another continent is to be added on the list of markets of the Lithuanian food company Viciunu Grupe. The company will offer Australia dumplings made to a special gourmet recipe, reports LETA/ELTA, referring to delfi.lt.
16.02.2015
Latvian forest industry's exports amounted to a record-high EUR 2.015 billion in 2014, which is 8.6% up from 2013 when the forest industry's exports totaled EUR 1.855 billion, reports LETA, according to data from the Agriculture Ministry's Forest Department.