International Internet Magazine. Baltic States news & analytics
Wednesday, 20.06.2018, 22:08
Estonia gains 3 places in energy sustainability index, stays behind Lithuania and ahead of Latvia
Juhan Tere, BC, Tallinn, 30.01.2013.

Print version
Estonia gained three places in a year in international energy sustainability index that was revealed on Tuesday, being in the 35th position, LETA/Public Broadcasting reports. Lithuania is ranked even higher – 31st and Latvia 37th.
The World Energy Council says in its 2012 Energy Sustainability Index that Estonia rising in the index by three places to rank 35 was mainly triggered by significant improvements in energy security driven by a decrease in energy consumption, as well as a more diversified electricity production and an increased wholesale margin on gasoline.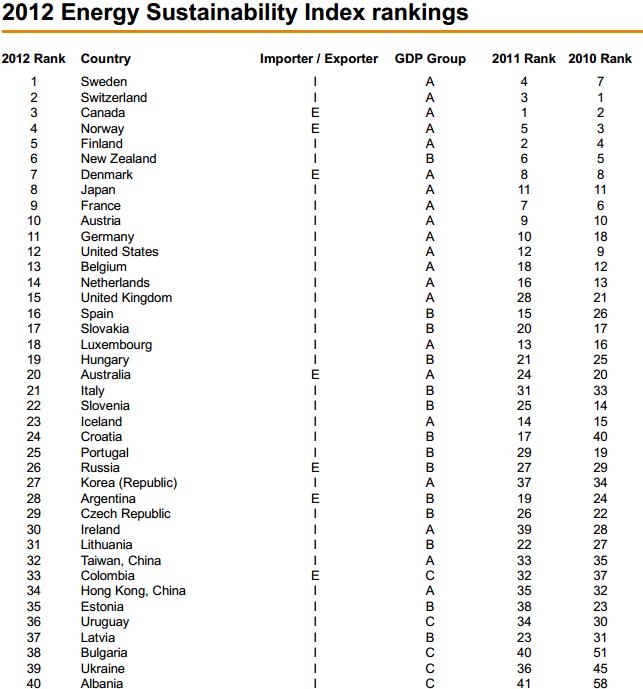 Environmental impact mitigation decreases due to a significant drop in the quality of air and water, which is partly offset by small improvements in CO2 emissions from electricity and heat generation. Estonia exhibits a constant performance in social equity and the contextual dimensions, the report states.
The report lists the key trends, which are expected to support Estonia's moving up in the index rankings: first, the continued increase of the share of renewable energy in the electricity production mix; second, the building of new interconnections with neighbouring countries; and third, the ability to satisfy most of its need for diesel fuel from refining shale oil. However, Estonian policymakers need to also focus on the other two aspects of the energy trilemma, environmental impact mitigation and social equity, while keeping energy security levels high, the report states.
The 2012 Energy Sustainability Index shows that developed countries such as Sweden, Switzerland and Canada are closest to achieving sustainable energy systems. This is in large part because a higher share of their energy mix comes from lowcarbon energy sources, such as hydro power and from nuclear power. These countries are leaders in terms of energy security largely because of their diversified energy mixes.


The Energy Sustainability Index ranks WEC member countries in terms of their likely ability to provide a secure, affordable, and environmentally-sensitive energy system. The rankings are based on a range of data and databases that capture both energy performance and the context of that energy performance.