International Internet Magazine. Baltic States news & analytics
Tuesday, 24.11.2020, 11:38
Purchase prices of round timber in Latvia varied between LVL 1-2 /m3 in H2
Sanda Rieksta, Statistics Latvia, 05.04.2013.

Print version
Compared to the 1st half of 2012, the average purchase prices of round timber in 2nd half of 2012 varied between LVL 1-2 /m3. Prices of coniferous tree sawlogs have not changed significantly, as compared to the 1st half. The only exception is thick pine industrial wood and spruce, prices of which have grown.
During the 2nd half of 2012, the volume of purchased coniferous tree round wood has diminished by 9%. Situation in sawlog market during the autumn was influenced also by the weather conditions. Data of the Forest Sector Information Centre show that in October and November the largest sawmills faced rather difficult situation in respect to the provision of coniferous tree sawlogs. Official purchase prices did not change, whereas market members have mentioned that several enterprises with an aim to purchase larger volumes offered to pay LVL 1-2 /m3 more. Supplies were clogged because truck movement on small roads was encumbered. As a result large volumes of timber were not transported away from the felling areas, thus obstructing further activities of the loggers.
While small sawmills, especially ones working with deciduous tree packing timber sawlogs, admitted that the supply of round timber is sufficient. Separate enterprises in Kurzeme even limited reception of supplies because of the large stock of round timber. Latgale was also sufficiently supplied with the timber. While packing timber producers in Vidzeme faced problems in relation to the wood procurement, and separate companies increased the purchase prices by LVL 1.
Currently in Latvia, due to the low purchase prices of pulpwood, coniferous tree cutting areas are felled less, resulting in insufficient availability of coniferous tree sawlogs. To facilitate work of the private forest owners in coniferous tree felling areas, at the end of July and middle of August several large sawmills announced that they are increasing the purchase prices by LVL 1-3 /m3.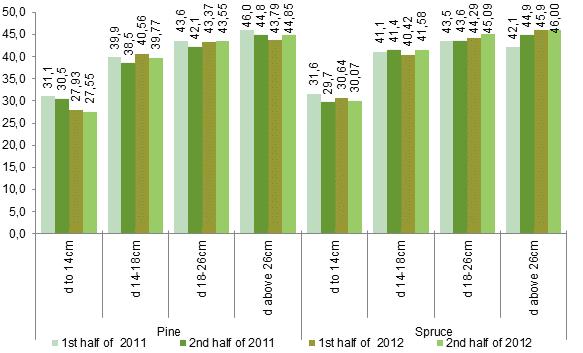 Purchase prices of coniferous tree sawlogs LVL/m3
Birch sawlog market in the 2nd half witnessed a slight price rise – on average of LVL 1.5 m3.
In comparison with the previous year, prices of birch veneer logs did not change.
Average purchase prices of thin asp sawlogs have grown by LVL 0.6 /m3, while thick black alder segment witnessed a drop of 8%, and that can be explained with the unpredictable situation in local and European markets, forcing enterprises to work under changing market conditions. One of the key factors influencing price is the producer competitiveness in the corresponding region.
Average purchase prices of round timber by tree specie and timber type LVL/m3
Timber type

1st half of 2011

2nd half of 2011

1st half of 2012

Pine

diameter to 14 cm

31.05

30.45

27.94

diameter 14-18 cm

39.86

38.51

40.52

diameter 18-26 cm

43.57

42.12

43.26

diameter above 26 cm

46.04

44.76

43.89

Spruce

diameter to 14 cm

31.58

29.68

30.66

diameter 14-18 cm

41.06

41.39

40.39

diameter 18-26 cm

43.48

43.56

44.22

diameter above 26 cm

42.14

44.94

45.86

Birch

diameter 18-24 cm

32.50

33.81

34.08

diameter above 24 cm

35.05

35.28

38.34

Black alder

diameter 18-24 cm

25.80

24.49

23.26

diameter above 24 cm

31.36

31.47

33.26

Asp

diameter 18-24 cm

25.57

26.21

23.63

diameter above 24 cm

28.98

29.94

29.21

Birch veneer logs

A category

40.32

42.69

44.73

B category

39.29

40.62

39.25

Packing timber (of deciduous trees)

26.14

25.67

24.23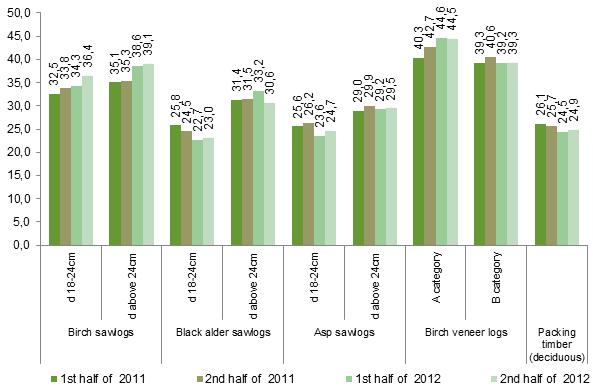 Purchase prices of deciduous tree sawlogs, veneer logs and packing timber LVL/m3