International Internet Magazine. Baltic States news & analytics
Friday, 25.05.2018, 23:20
Alexander Stubb: anytime is a good time for Latvia to join eurozone
Nina Kolyako, BC, Riga, 04.07.2012.

Print version
In an interview with LETA video, Finnish European Affairs and Foreign Trade Minister Alexander Stubb said that anytime is a good time for Latvia to join the eurozone.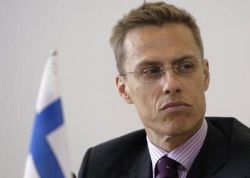 Alexander Stubb.
Stubb believes that Latvia can join the euro-zone, despite the current crisis within the monetary union, writes LETA.
Answering a question whether Latvia should join the euro-zone despite the current problems with the monetary union, the Finnish minister said: ''Of course this is the deepest crisis the euro-zone has gone through. But I believe we are starting to lose the perspective. Think about how many currency fluctuations European countries have gone through. Before joining the euro-zone, Finland devalued its currency at least ten times. This remains a crisis for the young euro currency, which does not yet have the instruments implemented to overcome a crisis. However, looking forward, this is the right time for Latvia to join the euro-zone.''
Stubb believes that Latvia is already benefiting from the euro at the moment, because many national currencies, whether they are pegged to the euro or not, are under an umbrella of sorts. ''The benefits Finland gained when joining the euro-zone - low interest rates, reduction in unemployment etc., were very positive, but the main benefit was the increase of our influence. Finland has never been as influential in the EU's decision making process as it is now,'' said Stubb, expressing confidence that Latvia will gain similar benefits.
Describing the euro-zone's future, Stubb said that he is an optimist and that the European single currency is too valuable to abandon. ''The current situation surrounding the euro can be described as being a bit too hysterical, with politicians, bankers and journalists sustaining this hysteria. I am confident that the euro will continue to exist, and we are ready for future challenges.''