International Internet Magazine. Baltic States news & analytics
Wednesday, 25.04.2018, 01:55
WCY: Lithuania among leaders in improving national competitiveness rankings in 2012
Danuta Pavilenene, BC, Vilnius, 28.06.2012.

Print version
The Swiss-based International Institute for Management Development (IMD) has recently published the World Competitiveness Yearbook (WCY) for 2012 that ranks and analyzes how a nation's business environment creates and sustains the competitiveness of enterprises, Invest Lithuania reports.
According this comprehensive and world-renowned report, Lithuania is basking in the highest competitiveness upgrade among EU countries and the second highest among 59 developed economies globally. Estonia ranks 31st and Latvia is not included in the list.
Milda Darguzaite, Managing director of Invest Lithuania, says that "the competitive ranking of a country is directly related to the quality of the local business environment. Global players looking for great investment opportunities will take note of the significant advances made by Lithuania", writes LETA/ELTA.
Lithuania was raised to 36th place in this year's ranking – an impressive improvement of nine places over last year. Only the United Arab Emirates advanced further, rising 12 places. Lithuania is ranked 27th for its positive attitude to economic and social reforms, and 38th for its attitude towards globalisation. (Ireland is in first and France in last place for both categories).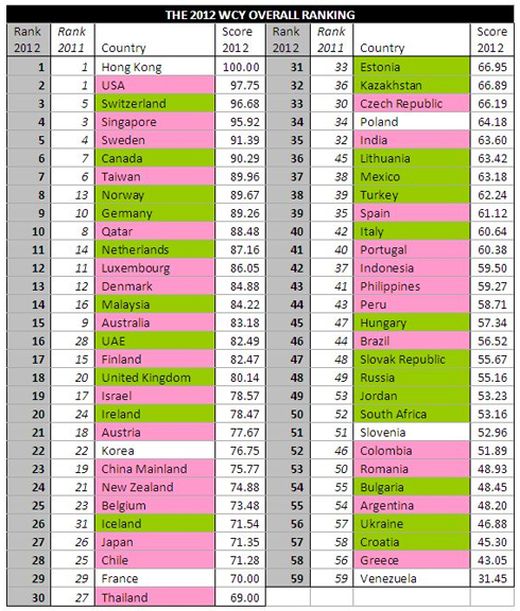 Lithuania earned the highest scores for its qualified workforce (cited by 84.8% of respondents), high level of education (84.8%), reliable infrastructure (65.2%), competitive prices (58.7%) and business efficiency (34.8%).
The most competitive of the 59 ranked economies in 2012 are Hong Kong, the US and Switzerland (see overall rankings table below). Despite all its setbacks, the US remains at the center of world competitiveness because of its unique economic power, the dynamism of its enterprises and its capacity for innovation.
The most competitive nations in Europe are Switzerland (3), Sweden (5) and Germany (9), which have export-oriented manufacturing and fiscal discipline. Meanwhile, Ireland (20), Iceland (26) and Italy (40) look better equipped to bounce back than Spain (39), Portugal (41) and Greece (58), which continue to scare investors.
Emerging economies are not yet immune to turmoil elsewhere. China (23), India (35) and Brazil (46) have all slipped in the rankings, while Russia (48) climbed only one place. All Asian economies have declined apart from Hong Kong (1), Malaysia (14) and Korea (22). Latin America also had a tough year, with every nation falling except Mexico (37).
The IMD World Competitiveness Yearbook 2012 includes data for 59 countries measuring economic performance, government efficiency, business efficiency, and infrastructure.
The IMD ranking is based on a survey of 4,200 global business executives from around the world.