International Internet Magazine. Baltic States news & analytics
Tuesday, 24.11.2020, 11:35
Construction costs in Lithuania increased 1.1% in May 2008
Nadiežda Alejeva, Statistics Lithuania, 27.06.2008.

Print version
Statistics Lithuania informs that construction costs in May 2008 as compared to April grew by 1.1%.
The diagram below presents monthly changes in construction costs as compared to the previous month.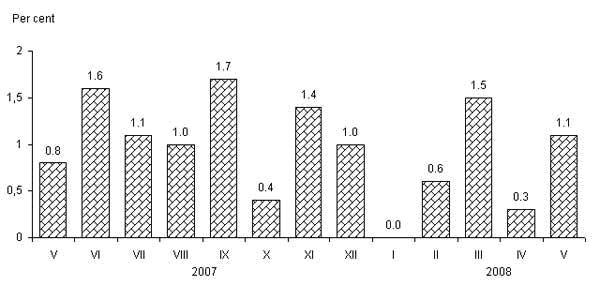 The general price change was mostly influenced by a 1.7% increase in wages and salaries and overheads and by a 0.8% increase in the prices of building materials and products. It was also influenced by a 0.7% increase in hourly labour costs on operation of construction machines and mechanisms.
The change in prices of building materials and products was mainly influenced by price rise for basic building materials, 2.0% – various types of concrete and mortar, 1.8% – insulation materials, 1.2% – general building materials. This increase was partly compensated by a 0.5% price drop for plumbing materials and 0.3% – wood products.
Table 1. Changes in construction costs by type of construction, May 2008, %
Specific weight against total construction volume

May 2008 against

April 2008

2007

December

May

All constructions

100.0

1.1

3.6

12.3

Residential buildings

25.5

1.1

3.3

13.3

Non-residential buildings

44.3

1.0

3.5

11.3

Civil engineering units

30.2

1.3

4.2

12.8
Table 2. Changes in main construction input prices, May 2008, %
Specific weight of construction costs

May 2008 against

April 2008

2007

December

May

Total construction costs

100.0

1.1

3.6

12.3

Materials and products

60.1

0.8

3.5

8.8

Operation of machines and mechanisms

6.8

0.7

5.3

13.6

Wages and salaries and overheads

33.1

1.7

3.5

17.6